Catholic scouts due in Rome to meet the pope, discuss Europe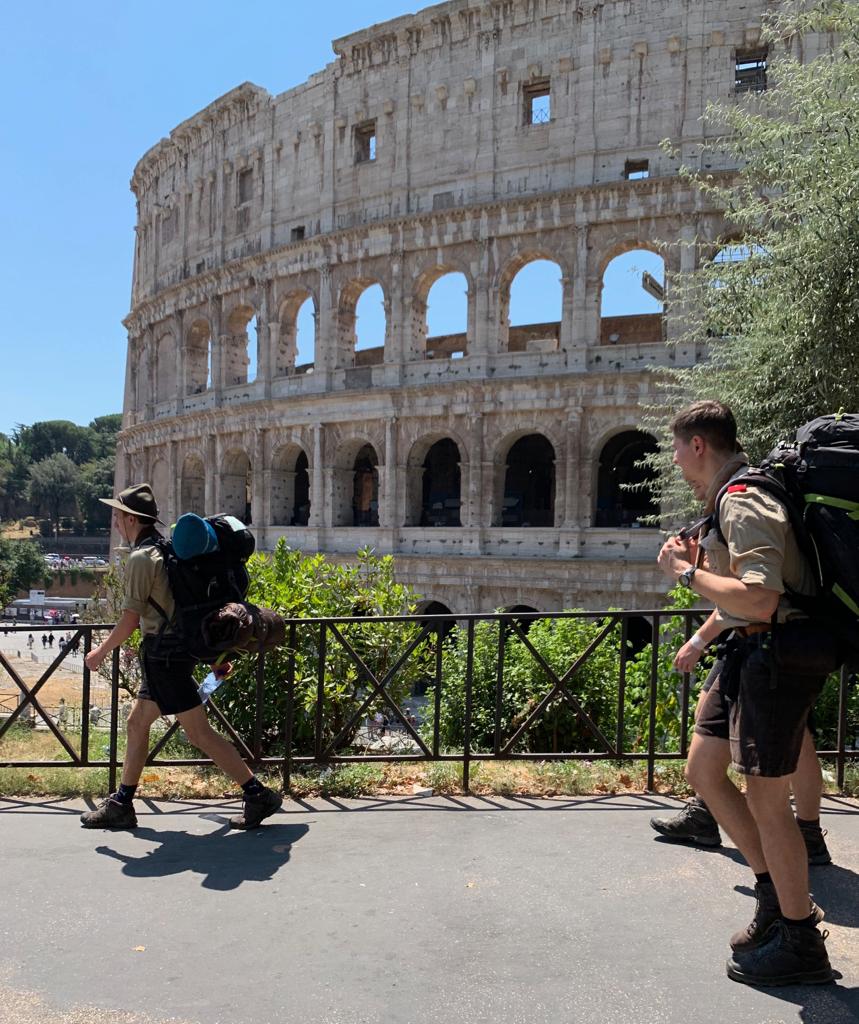 ROME – The eternal city is pretty used to invasions, having experienced numerous cases of raids and sacks, not to mention the yearly incursion of tourists. But this summer a different kind of troop will come to Rome: Over 5,000 scouts will arrive August 3 flaunting pro-European and pro-Christian sentiments.
"These young people of 21 nationalities have the opportunity not to talk about Europe, nor to study Europe, but to concretely make Europe living side by side, sharing the road, the joy and the hardship, everything that comes with the journey," said Father Paolo La Terra, General Assistant of the Italian Association of Catholic Guides and Scouts of Europe (AIGSEC), to Vatican News.
Starting July 27, scouts between the ages of 17 and 21 left their home to embark on a five-day pilgrimage that will lead them to Rome. Along the way, they will put down their tents and gather to discuss Europe, human dignity and liturgy.
All the scouts will meet at the so-called "yellow points" in and around Rome, having followed four paths inspired by the lives of Saint Francis, Saint Benedict, Saint Catherine of Siena and Saint Paul.
This journey is called the "Euromoot – Parate Viam Domini," which means "Prepare the way for the Lord." The event takes place in the wake of the October 2019 Synod of Catholic bishops on young people, which will serve as a framework for reflections.
The motto of the pilgrimage, said Head Scout Francesca Ventura to the Italian bishops' newpaper Avvenire, "means to love our neighbor in all the little things, from chores at home, to work, to answering in a kind manner. Making it so that it's clear that we are Christian not just in words, but also in action."
The majority of the scouts are Italian, but there are also French (837), Polish (435), Belgian (139), Spanish (129) and a few from Argentina, Canada, Brazil and Mexico.
The 5,000 youths are members of the International Union of Guides and Scouts of Europe and The European Scouting Federation, which were recognized by the Pontifical Council for Lay people in August 2003 and count 70,000 members.
This summit in Rome, which will end August 3 with an audience with Pope Francis, is a follow-up event for the many young scouts who gathered in France in 2014 for a similar encounter when they were between 11 and 16 years old.
Unlike the United States, scouting in Europe still remains a religious, and particularly Catholic, affair. The umbrella groups organizing the Euromoot are principally Catholic but welcome Evangelical and Orthodox entities in an ecumenical spirit.
"The tight relationship with the parishes is a peculiarity that distinguishes [Boy Scouts in Italy] even in the European context," said La Terra, who is also a canon lawyer and religion teacher, in an interview with Crux last year.
La Terra hopes that the pope will have words of recognition for the formation that scouting provides, but also that he will point to the efforts that the scouting world has made to the creation of a Europe of peoples.
He referred to the "witness to the great and important values of faith, life, welcoming, solidarity and the union of peoples," that scouts learn through their formation, as well as "the ability to cultivate a great identity that has its roots in the culture of a nation, but is open to the welcoming of others in a communion of faith."
"Today it can be hard to be Christian," La Torre said, "so there is need for a lot of courage and a lot of strength and I am sure that the words of the pope will give us this. He has a privileged relationship with young people, and he can, even with a few words, touch their heart in a very significant and beautiful way."
After the audience with Francis, the scouts will go to St. Peter's Basilica to attend a Mass by Italian Cardinal Angelo Bagnasco, president of the Council of the Bishops' Conferences of Europe.
Follow Claire Giangravè on Twitter: @ClaireGiangrave
---
Crux is dedicated to smart, wired and independent reporting on the Vatican and worldwide Catholic Church. That kind of reporting doesn't come cheap, and we need your support. You can help Crux by giving a small amount monthly, or with a onetime gift. Please remember, Crux is a for-profit organization, so contributions are not tax-deductible.