Italian nun channels 'Mr. Rogers' as coronavirus restrictions extend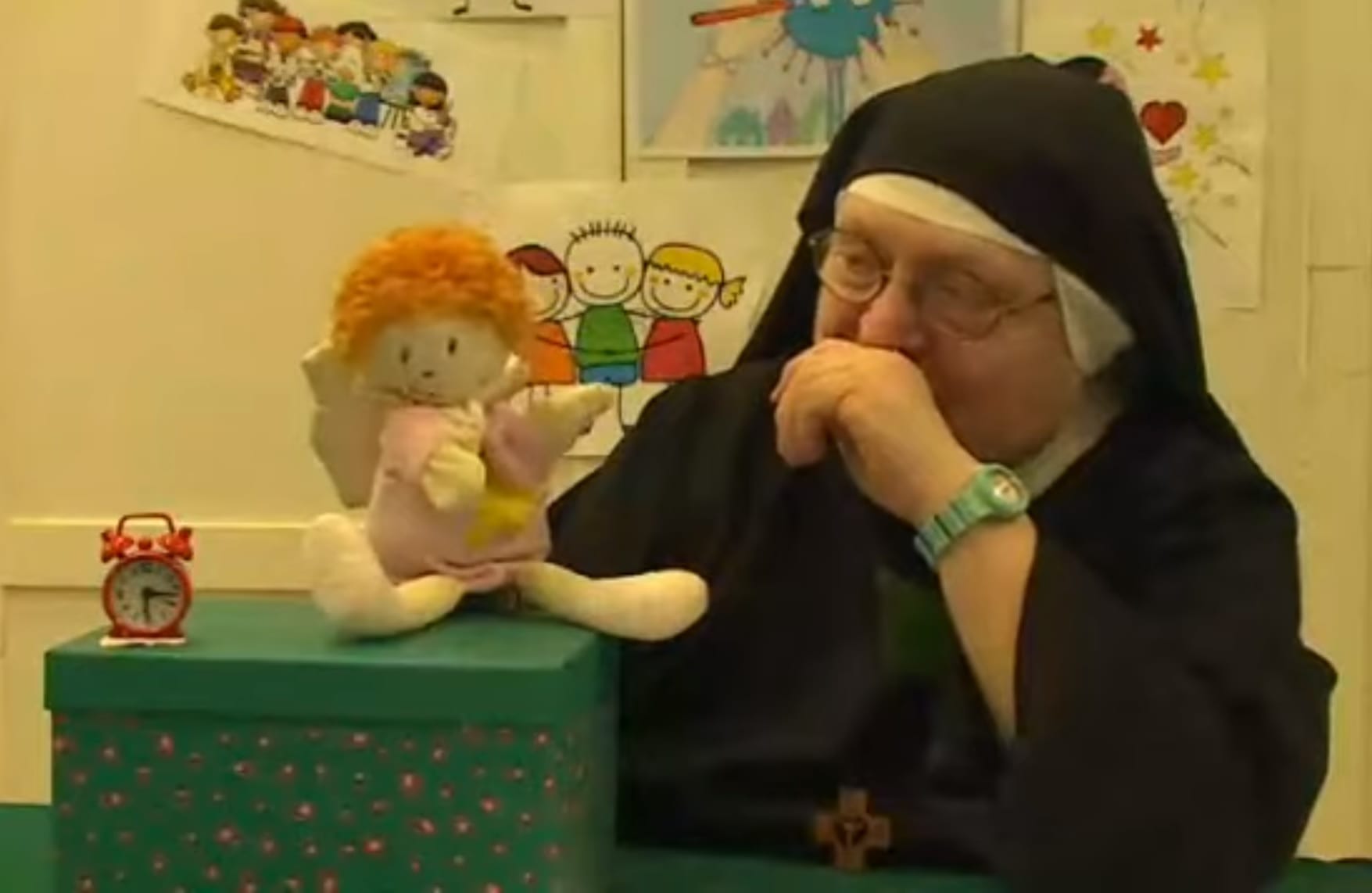 ROME – When Italy's COVID-19 coronavirus lockdown first began, people saturated social media with videos of singing, neighborhood flash mobs and musical numbers, but the tone of late is significantly bleaker as the country's death count continues to climb, prompting an extension of a tight nationwide lockdown.
However, one Italian nun has sought to break the somber atmosphere by offering children – and their parents – a smile through a series of lighthearted puppet shows livestreamed on her convent's Facebook page.
"Sister Sandra" – reports Avvenire, the official newspaper for the Italian bishops' conference – is a former elementary school teacher who entered the convent in 2010. She is offering her own version of the famous 31-season television series "Mister Rogers Neighborhood," using puppets, character voices and colorful screen animation to tell nursery rhymes and stories.
There are some other similarities: In real life, Fred Rogers was an ordained Presbyterian minister; Sister Sandra is an Augustinian cloistered nun. She is one of four cloistered sisters who live at the Santa Cristiana monastery in the small city of Santa Croce sull'Arno, near Florence.
The monastery was founded by Blessed Christine of Santa Croce, an Augustinian nun also known as Oringa Menabuoi, who was born in Santa Croce sull'Arno around 1240 and died in 1310.
Since 2013 the sisters have published videos on their social media channels, most of which focused on daily Mass with a reflection afterwards on the thoughts of St. Augustine. However, the children's videos are a novelty.
Sister Sandra began uploading the videos in mid-March, with the first one being livestreamed March 16. Titled, "The Stories of Sister Sandra," the show is primarily directed at children, but also offers a message for adults who want to tune in.
Each video is livestreamed at 6 p.m. local time and runs about seven to 15 minutes long, and includes puppets such as an angel, a piece of pizza and a dog wearing a surgical face mask to help explain to children why so many people are wearing them during the lockdown.
Most of the stories the nun tells were either written or inspired by Gianni Rodari, an Italian author known for his children's books. This year marks the centenary of his birth and the 40th anniversary of his death.
Sister Sandra's first episode focuses on the emergency related to the COVID-19 coronavirus. In the brief, 5-minute video, she uses an angel puppet to help her explain to children what a virus is, using a poem written by Italian poet Roberto Piumini on the virus.
Piumini, who wanted to explain to children what the virus is clearly but without causing fear, said in the poem that the coronavirus is "a virus that wears a crown, but it is certainly not a king, and neither is it a person; so, what is it? It is a small little guy, so small that just to see it up close, you need a microscope."
"It's a poisonous little guy, who never stands still: He's intrusive and spiteful, he wants to go here and there," the poem reads, calling the coronavirus a "microscopic warrior" who wants "to get into people."
"I can, and you can too, leave that rascal out," Piumini writes, telling children in the poem that, "If a sneeze escapes you, sneeze into your arm: stop the flight of that brute: you do it, and I do it too."
"When you go out, as soon as you get back, go to wash your hands: every time, every day, not just today, also tomorrow. Wash with soap, wash for a long time, and with care, and so, if there is, the rascal will go down with the rinse," he said, also telling children to avoid touching their mouth, nose and fingers.
"I, you and all people, with prudence are care, will certainly beat the unpleasant prankster. And maybe when we have overcome this test together we will learn a wise and new life," the poem concludes.
At the end of each video, Sister Sandra tells children that, "A smile a day makes the virus go away!"
In other videos, the nun focuses on different stories and tries to teach children a lesson, urging them to think about little things they do, which might seem unimportant, but can make a big difference.
Speaking to Avvenire, Sister Sandra noted that as a contemplative order, the sisters are not "forced to stay at home because of the coronavirus." But with people unable to visit them, "we are still trying to be close to the people of Santa Croce. First of all, with prayer. And then also with these small videos," she said, noting that the videos were conceived with the help of the monastery's priest, Father Donato Agostinelli.
"Since I made these videos," Sister Sandra said, "I have been receiving WhatsApp messages from people who thank me because even with these simple stories they feel more relieved, they feel our closeness."
Comments on the videos show just how much people appreciate the lighthearted stories in a time of anxiety.
One viewer described the show as "always very fun and joyful," while another thanked Sister Sandra, saying the videos "will help us with our children with distance learning."
"Sister Sandra awes us every day giving us a smile in our sad days," one commenter said, with another insisting that the joy the videos provide "do a lot of good," especially as worries grow.
A proposal was also made to give Sister Sandra and the sisters a full-time television show, so she can "entertain all children so gracefully."
One comment that the sisters will likely especially appreciate is from one viewer who thanked God for the videos, which she said, "Show us His face."
Follow Elise Ann Allen on Twitter: @eliseannallen