ROME – If you ever find yourself driving along the solitary roads of the far West region of New South Wales in Australia, you might run into a man. He will be driving a car with a camper-trailer, and his lone companion will be a fluffy little dog (it answers to "Molly"); there will also be the sound of bagpipes or country music blasting from the radio.
You have just come into contact with Bishop Columba Macbeth-Green.
The Diocese of Wilcannia-Forbes is unique for many reasons, one of which is the fact that geographically speaking, it's the largest diocese with neither a coastline nor a city with more than 20,000 people. Just to give an idea, it's the size of France.
As large as it is, it's far from being the most populous diocese in the world: There are 105,000 people in the region covered by Macbeth-Green, only 30,000 of whom are Catholics.
The bishop in charge of Wilcannia-Forbes is somewhat unique in that he belongs to the Pauline religious order. Of the more than 5,400 bishops the Catholic Church has right now, only three come from this order.
"When I joined a monastery from an order that doesn't really have bishops, I thought I had escaped Wilcannia-Forbes, but turns out I didn't!" Macbeth-Green said with a laughter that reaches his eyes. "I was a full-time police chaplain running a Marian shrine. I had no qualifications, meaning, no degrees, I never worked at a chancery … So I think I got the job just because I was from the diocese!"
The fact that the bishop is from the region, he thinks, has helped him connect with his people, as he understands the challenges they face, from isolation to extreme weather conditions that can fluctuate from droughts to floods. There's also the fact that "big faceless international corporations" continue to buy land, making family farms disappear, and since it's a rural area, there's no shortage of other economic challenges.
Having seen more than his fair share of pain working as a police chaplain, Macbeth-Green has a very particular sense of "quirky humor": He has a belly laugh that can wake the dead and lacks some of the political correctness that many leaders cling to nowadays.
"Life is too short … humor is of utter importance," he said. "The problems of the world, the problems of the Church, they are many. But you cannot forget about the Joy of the Gospel. It's not the Sadness of the Gospel!"
"If there's something funny, why not laugh about it?" he insisted. "It doesn't mean you're irreverent, it means that you can laugh at yourself and with others. People are people, and everyone needs a laugh."
These traits, that can seem out of place at the Vatican – and that led him to stay tongue-tied during most of the meetings he took part in with the rest of the Australian bishops who were in Rome for the ad limina visit – come in handy when he's visiting a "station," as the largest ranches are called in his neck of the woods.
"People are very simple but profound, close to the earth, with a good sense of humor," he said. "And what you have to do out there is visit people a lot to bring the sacraments to them, and afterwards perhaps help them shear the sheep, lend a hand to fix a fence or just share a beer."
Being a bishop "with the smell of the sheep," as Pope Francis says, is a challenge he faces head on, sometimes by literally grabbing the bull by the horns. Recently, during the opening of a charity event, he was invited to be the first to ride a mechanical bull, which he did reasonably well, evidence of which is available on the internet.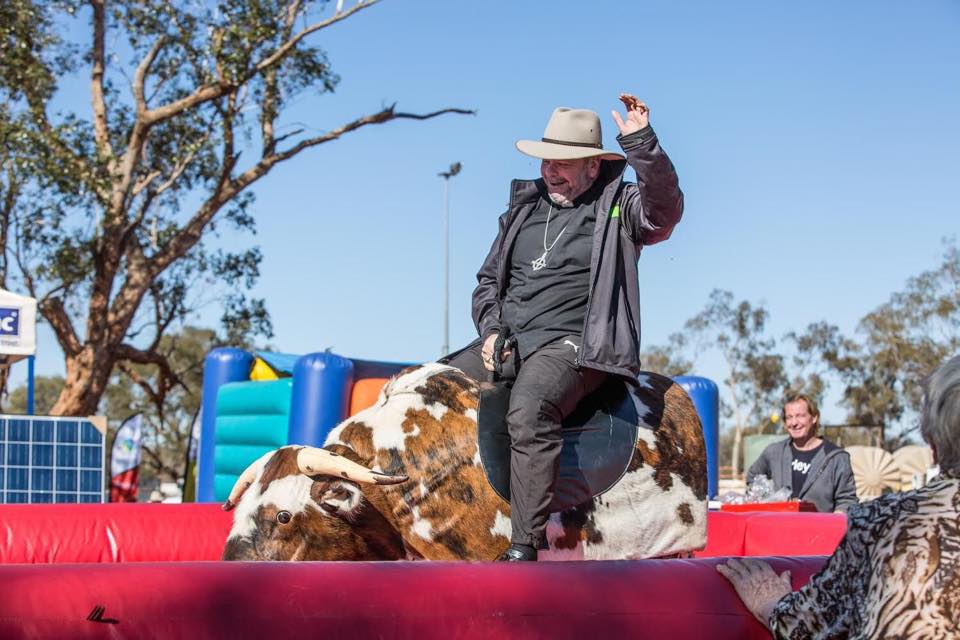 "I wasn't so good with the whole 'getting on the bull' part, but video evidence of that has been kept private!" he said, proving that he's the first one to laugh at himself for this. His Facebook page, which he sees as a pastoral tool, is a mixture of prayers, reminders of Catholic feasts, and pictures and videos of him that most bishops might find embarrassing: Dancing with a group of Italian children "as if nobody was watching," riding the mechanical bull, or quite literally, showing off his cowboy hat which he paraded through Rome and, he claims, most bishops envied during the heat wave.
His sense of humor has also helped him connect with Australia's indigenous people, which he does as the chairman of the Australian Bishops' Commission for Relations with Aboriginal & Torres Strait Islander Peoples.
According to Macbeth-Green, most people are afraid of engaging the Aboriginal peoples with humor due to political correctness, but this only makes them come across as "strict and non-engaging."
"They fear humor can be offensive," he told Crux last Saturday, a day before his 51st birthday. "Respect doesn't mean that you don't have a sense of humor! On the contrary, the fact that you can share a joke means you respect them, you're disarming yourself and letting them know that you are not all that different to them."
The primary place Macbeth-Green gives to humor came through loud and clear during his hour-long conversation with Crux, and he insisted several times that it's all about the Joy of the Gospel.
"If you don't find something each day that makes you smile, even if it's a butterfly, something that gives you some real joy, you have a spiritual problem," he said. "You get into the vortex of doom and gloom, and everyone around you will get sucked into it."
"But a bishop, as a leader of the Church, is a minister of hope and the joy of Jesus Christ in the middle of whatever," he said.
This perspective is something he shares with Archbishop Emil Nona, head of the Chaldean Catholic Eparchy of Sydney. Before being appointed to Australia in 2015, he was the Archbishop of Mosul, in Iraq, a city currently in ruins due to the violence perpetrated by the Islamic State group. A lot of the people he ministers to had to flee their villages due to the violence.
According to Macbeth-Green, despite understanding the challenges facing the Church in Australia, Nona doesn't always understand when other bishops speak of "deep crisis."
"At least no one is shooting or bombing us here!" Macbeth-Green quoted Nona as saying. "The sky is not falling! There's a difference between seeing the problems as they are and dwelling on them, letting them consume you and swallow your life."
However, this doesn't mean that the bishop is not conscious of the pain caused by the abuse scandals.
When the issue comes up, his demeanor changes completely. The laughter is gone from his eyes, and he says the response to what needs to be done when a victim comes forward is clear: "You have to shut up and listen, talk with them, spend time with them. But you have to be genuine in doing that. You have to do so because you want to, not because you have to or because the judge ordered you to do so."
"When someone is in pain, sometimes, nothing is going to work. But you take on their pain, you're there, sometimes cry with them," he said.
"I was a trauma chaplain, and I was called in to talk to victims who've suffered the worst people can do to other people, like murder their children," he said. "But even then, in the right place and at the right time, you have to be able to maintain your sense of humor, because it's a coping mechanism. Why do you think people in the force sometimes have some of the darkest sense of humor?"
You have to sit with them for however long they need, he said, going back to survivors of clerical sexual abuse: "You sit with them, but you don't bring your lawyers, you find out what they need and react appropriately."
"If someone is pastorally sensitive and aware, you know what to say and when to say it, if we allow the Holy Spirit to inspire us," he said. "There are people you just can't reach, but you have to give them the privilege of trying to. The difficulty is not passing on their tragedy on another person. Yet seeing what I have seen, if I didn't have a sense of humor, I'd be in the loony bin or just lying on the floor in a fetal position."
Macbeth-Green also says that he has no problem knowing all his priests, something Pope Francis has asked bishops to do, as there are only 14 of them. He does have other challenges, like the fact that he has to drive for 9.5 hours to get to his cathedral, or for four hours to celebrate Pentecost Mass for 15 people. Confirmations can imply hours in the car, or flying in a small, 10-passenger plane to confirm three kids.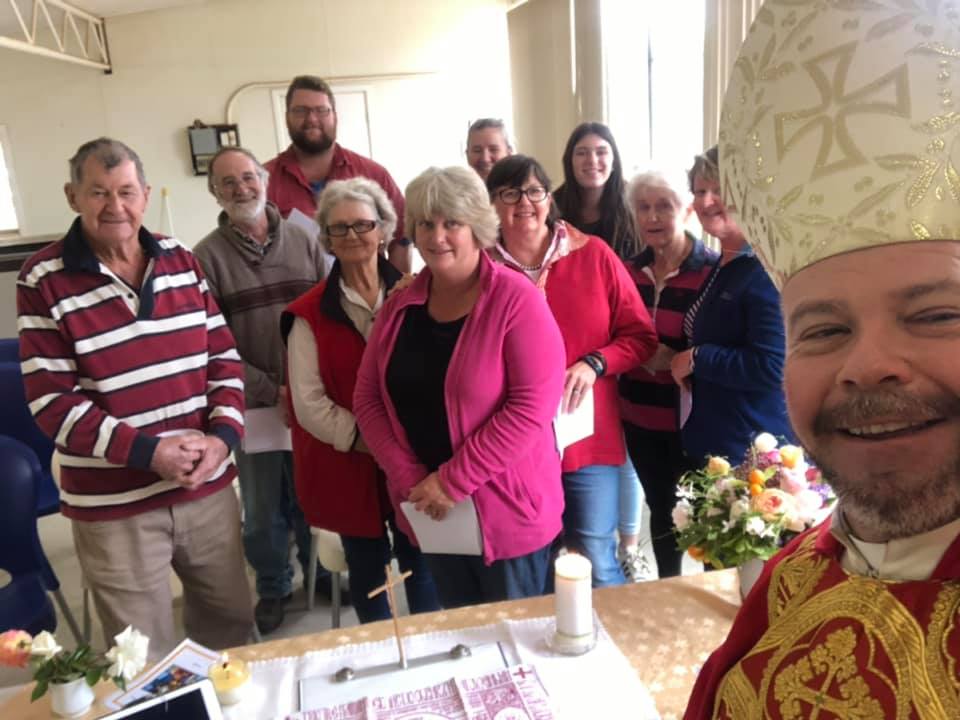 When he puts on the vestments to say Mass, he doesn't go humble, instead bringing the best he has, which is often met with "bishop, there's no need for you to do that." His answer, however, disarms them and often has them asking if "are there more layers?"
"Why would they deserve any less than the people who go to Mass at a cathedral in a big city?" Macbeth-Green said. "People are people, and all deserve for us to give our best, to share the beauty the liturgy has."
Despite the restrictions of canon law, weddings rarely take place in a church, as they're usually little more than a shed with no proper ventilation, in a region where temperatures can easily reach the 110s (even in winter).
Despite the fun amidst the challenges, Macbeth-Green is more than just the bagpipe playing bishop. Every week, he uploads a five-minute homily for people to download and see in community on Sunday and afterwards a minister gives Communion, the closest thing to weekly Mass most people get in this diocese. The diocese has youth groups, despite the fact that sometimes Catholic young people can be hours away from one another, and they also provide yearly spiritual retreats for them.
In addition, there's the School of the Air, a catechetical program delivered through the internet, a ministry that also includes a series of videos that children see in schools.
So it is a challenge, but it has its perks.
"But everyone knows who the bishop is," he said. "When the children see me arrive, they all ask if I brought Molly, the bagpipe and the violin."
Follow Inés San Martín on Twitter: @inesanma
---
Crux is dedicated to smart, wired and independent reporting on the Vatican and worldwide Catholic Church. That kind of reporting doesn't come cheap, and we need your support. You can help Crux by giving a small amount monthly, or with a onetime gift. Please remember, Crux is a for-profit organization, so contributions are not tax-deductible.