U.S. Supreme Court death penalty decision could be victory for due process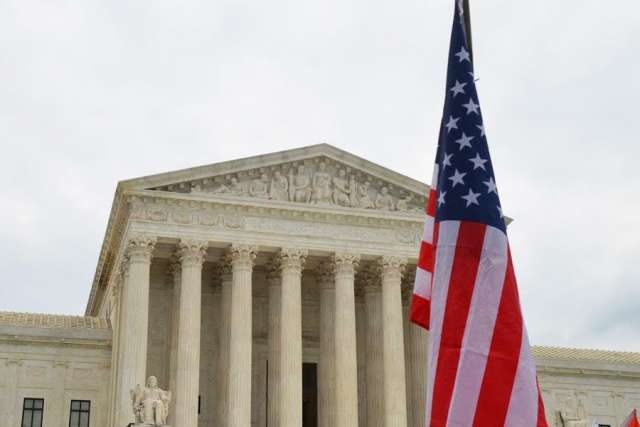 WASHINGTON, D.C. — The Supreme Court on Monday ruled that a defendant has a right to a mental health evaluation independent of the prosecution, which could have wide-ranging implications for the justice system.
"This is a very important decision," Robert Dunham, executive director of the Death Penalty Information Center, told Catholic News Agency of the Supreme Court's 5-4 decision in McWilliams v. Dunn.
"A mental health expert helps the defense investigate mental health defenses in the case," he explained June 19. "Although most states already routinely provide independent mental health experts for the defense, this decision makes clear that this type of expert has always been required by due process," he said.
The defendant in the case, James Edmond McWilliams, was convicted in 1985 in Alabama of robbing, raping, and murdering a store clerk. He was sentenced to death the following year.
A three-member "lunacy commission" was organized by the state to evaluate his condition, and they concluded that McWilliams had not been significantly impaired by mental illness at the time of his crime. McWilliams was convicted of capital murder.
Before his sentencing hearing, his defense had requested a mental health expert to conduct neurological and neuropsychological tests, as he had previously suffered serious head trauma.
However, the mental health expert was provided by the state. The neuropsychologist Dr. John Goff concluded that McWilliams had exaggerated his condition but nevertheless showed signs of neuropsychological problems.
However, the results of McWilliams' evaluation were not given to his lawyers until two days before the sentencing hearing. They reportedly did not receive his mental health records until the day of the hearing.
At the hearing, his lawyers requested more time to review the report and the records, as well as a mental health expert to help interpret those records, but their request was denied by the judge, who promptly sentenced McWilliams to death.
The 11th U.S. Circuit Court of Appeals had ruled that the decision did not manifest the "substantial and injurious effect or influence" required for relief in the case, and denied McWilliams' request for relief.
On Monday, the Supreme Court reversed the ruling and sent it back to the circuit court. Justice Stephen Breyer, writing the majority opinion, wrote that Ake v. Oklahoma, a 1985 Supreme Court decision, "does not require just an examination" of a defendant's competency.
"Rather, it requires the State to provide the defense with 'access to a competent psychiatrist who will conduct an appropriate [1] examination and assist in [2] evaluation, [3] preparation, and [4] presentation of the defense'," he continued.
Alabama failed to meet this standard in McWilliams's case, he said, as "petitioner in this case did not receive that assistance."
The availability of a mental health expert independent of the prosecution was critical to the case, Dunham argued.
"An independent mental health expert would have been able to explain that McWilliams had brain damage and other serious mental health impairments," Dunham said, "but without an independent mental health expert, the Alabama trial judge who imposed the sentence found no mitigating evidence at all.
"It's not unusual that the prosecution will present a mental health expert or a forensic expert who offers unscientific or even junk science testimony," he added. "We've had dozens of cases where prosecutors have presented junk science testimony about bite marks" or "microscopic hair comparison."
Justice Samuel Alito wrote the dissenting opinion, joined by Justices Clarence Thomas, John Roberts, and Neil Gorsuch. The question at hand, he argued, was whether the defense is entitled to a mental health expert that it can select.
"We granted review in this case to decide a straightforward legal question on which the lower courts are divided: whether our decision in Ake v. Oklahoma, 470 U. S. 68 (1985), clearly established that an indigent defendant whose mental health will be a significant factor at trial is entitled to the assistance of a psychiatric expert who is a member of the defense team instead of a neutral expert who is available to assist both the prosecution and the defense," he wrote.
"The answer to that question is plain: Ake did not clearly establish that a defendant is entitled to an expert who is a member of the defense team," he stated.
Ultimately, the decision will have wide-ranging effects in the justice system, Dunham said, affecting more inmates than McWilliams.
Two inmates in Arkansas, Bruce Ward and Don Davis, recently received stays of execution based on the outcome of the McWilliams case. Their scheduled executions were two of eight that were planned by the state in the span of 10 days in April, and because of Monday's decision they now have "an opportunity to get relief," Dunham said.
Monday's decision is also significant because the Supreme Court found precedent in the case. Thus, it was able to apply the 1985 Ake decision to McWilliams's case, which began shortly after that decision was issued.
Dozens of inmates have been executed, Dunham said, because "the courts have not applied the Constitution to their cases." Now, this precedent can apply to all cases dating back to 1985.
McWilliams's counsel of record Stephen Bright stated that the decision is ultimately "about fairness."
"The adversarial process cannot function properly if the prosecution can retain mental health experts, but the defense is not even allowed to consult with an expert," he stated.
"James McWilliams could not have a fair trial without a mental health expert to assess his brain damage and other mental impairments and to help his counsel present that information to the sentencing court. He was denied such assistance."