Christian leaders pray for Hugh Hefner, pornography's victims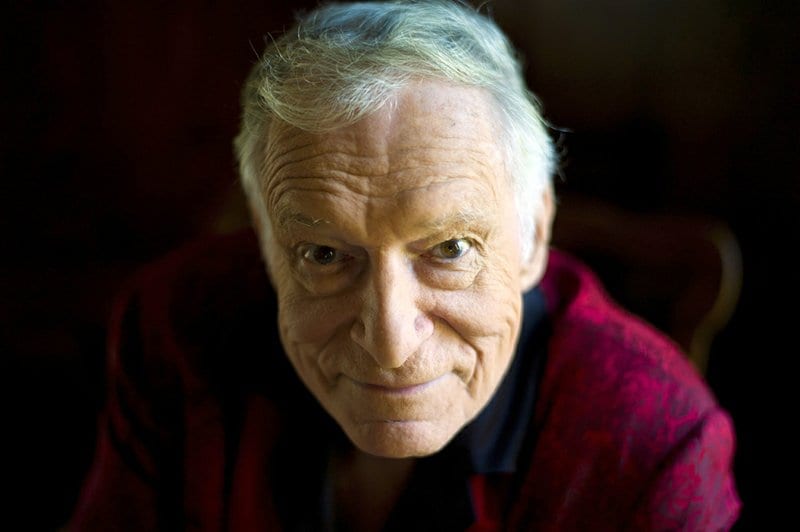 LOS ANGELES – Christian leaders in the fight against pornography have called the death of Hugh Hefner "tragic," while reminding Catholics to take seriously the impact of Hefner's legacy on American culture.
"Nobody should ever take joy in anybody's passing," Alan Sears, founder of Alliance Defending Freedom, told CNA Sept. 28. "There have been thousands of people praying for Hugh Hefner's conversion for years, and the saddest part to me of his passing, is that we see no evidence of conversion on his part.
"Apparently up to the end, he took joy in this exploitation of women, of sexuality and all the other things that the secular media is lauding him for," said Sears, who under President Ronald Reagan served on the staff of the Attorney General's Commission on Pornography, known as the Meese Commission.
Hefner died on Wednesday, at the age of 91 at the Playboy Mansion in Los Angeles. His son Cooper Hefner, chief creative officer of Playboy Enterprises, said his father lived "an exceptional and impactful life as a media and cultural pioneer and a leading voice behind some of the most significant social and cultural movements of our time in advocating free speech, civil rights, and sexual freedom.
"He defined a lifestyle and ethos that lie at the heart of the Playboy brand, one of the most recognizable and enduring in history," the younger Hefner said.
Hugh Hefner was raised Methodist. He launched Playboy Magazine in December 1953 after writing for Esquire. His first issue, whose centerfold was an old nude photo of rising film star Marilyn Monroe, sold 50,000 copies. In 1963 he was arrested on obscenity charges but the jury failed to reach a verdict and charges were dropped.
Hefner advocated a "Playboy philosophy," attempting to give an air of sophistication and savvy to his life.
His magazine carried fiction from Ray Bradbury, Ian Fleming, Joseph Heller, Jack Kerouac, Margaret Atwood, Joyce Carol Oates, and Ursula K. Le Guin. It interviewed leading figures in music, culture and politics. It was best-known, however, for its nude photos of women.
Hefner would gather Playboy centerfolds and other models to live at his Playboy Mansion, where he hosted sordid parties. His critics said he kept women who lived there under strict rules, pushed drugs on them, required sex acts, and manipulated their lives, according to Nathan J. Robinson, editor of the magazine Current Affairs.
Political and social change were among Hefner's goals. The Playboy Foundation funded work against obscenity laws and anti-abortion laws, while also funding sex research at the Kinsey Institute and even the dissenting group Catholics for Choice. Future Supreme Court justice Ruth Bader Ginsburg, then an attorney at the American Civil Liberties Union, co-signed a thank-you letter published in the August 1973 issue of Playboy in response to one donation, Vice Magazine reports.
Sears reflected on the missed opportunities of Hefner's life. If Hefner had had a public conversion, "he could have a great influence for the good," he said.
"Who knows what the influence would be on some young man who admired one of these pornographers, if the pornographer came forward and repented of the harm that he had done to women and children, to families, to marriages?" said Sears.
He cited the influence of abortion provider Bernard Nathanson, who had performed thousands of abortions before his conversion, then became a pro-life spokesman and saved countless lives.
For Patrick Trueman, president of the National Center on Sexual Exploitation, Hefner left "a sad legacy."
"We shouldn't be celebrating. We should be mourning his death. He lived the life of a predator and sexual exploiter," he said, contending that Hefner has fewer admirers than he did 10 or 20 years ago because the harms of pornography are better recognized.
Four states have passed resolutions proclaiming pornography to be a public health crisis.
"Reams of research show that Internet pornography is linked to neurological harms, sexual dysfunctions, and increases in rates of sexual violence," Trueman continued. "Hugh Hefner was not a champion of free speech. He was a pioneer in the sexual objectification and use of women."
Playboy Magazine presented women's sexuality in a subordinate role and as universally accessible to men.
Sears said that everyone researching the effects of pornography in the 1980s recognized Playboy Magazine as "the gateway to lower people's inhibitions" that increased acceptability of more extreme pornography.
He pointed to Hefner's portrayal of legally adult women in "very young" situations, dressed in school uniforms and pigtails or using lollipops, portraying them as children.
Playboy marketed its trademark across many products and venues, including several clubs around the world staffed by waitresses dressed as bunnies.
The women who worked for Playboy both promoted, and suffered from, "the idea that your intimate self is a commercial product for sale," according to Sears.
While the Playboy centerfold opportunity had a reputation as a glamorous career-launcher, Sears said the women whom his commission interviewed had the opposite impression.
"They were at vulnerable points in their life, they were naïve, they thought this would be a great thing. In many cases, this led to great personal trauma in their own life," he said.
"Boyfriends thought that because the women had posed in Playboy, by the mere fact that they had posed, were now sexually free to do any act," he said, noting that some Playboy models reported being sexually abused.
Trueman said Playboy itself was a victim of the tendency of pornography to extremism.
While the magazine introduced a person to pornography, people's brains would then demand more hardcore and deviant material.
"Over time that made Playboy passé, because the internet could supply the hardest and most deviant material," Trueman said. "Just as Playboy was undone by its portrayal of sexual images, an individual's life becomes undone by consuming pornography."
Playboy Magazine sales peaked in the November 1972 issue, when close to 7.2 million copies were sold. By 2015, the magazine was selling less than one million copies per issue, CNBC reported. The magazine was still sold in over 20 countries, and Playboy Enterprises claimed over $1 billion in sales annually of trademarked assets in 2017, the U.K. newspaper The Guardian says.
Sears characterized Hefner as a "destroyer."
"He was a destroyer of innocence, of youth, of the unborn. He was a destroyer of respect for the rule of law. I think he even did great damage to lots of families and lots of marriages," he said. "In terms of innocence: His whole drive was to make pornography acceptable and approved."
According to Sears, efforts to counter Playboy's influence could include the wise use of St. John Paul II's Theology of the Body. Churches, ministries and social leaders need to provide good models, including good models of healthy sexuality, as they work to uphold marriage, the dignity of women and the human person.
He said the enforcement of seldom-enforced anti-obscenity laws are another possibility.
Trueman's National Center on Sexual Exploitation has convinced most major chains in the hotel industry to stop carrying pornography in their rooms and has convinced Google to stop selling advertising to the pornography industry.
"We have various other initiatives that help people to understand that pornography is sexual exploitation," he said, comparing the anti-pornography efforts to the campaign against smoking.
"Smoking stinks, and it isn't good for you. Pornography stinks, and it isn't good for you," he said.