To understand border issues, Americans immerse themselves for a week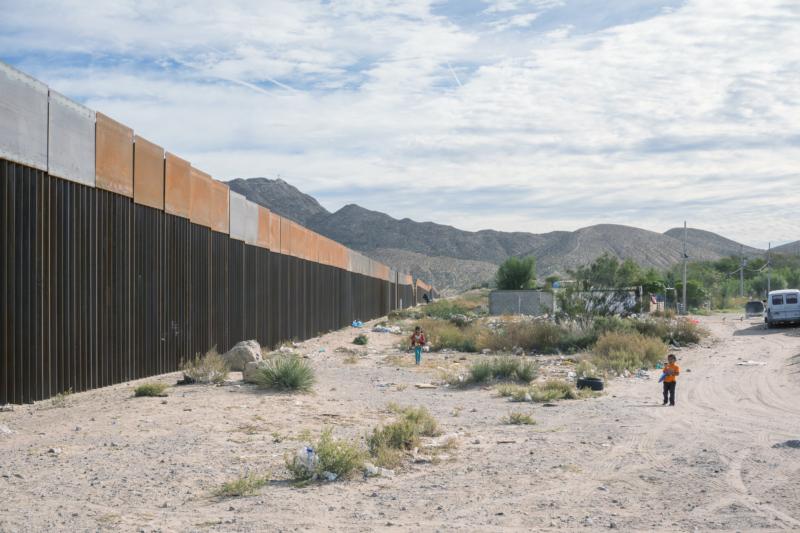 EL PASO, Texas — Eight U.S. citizens caught glimpses of hope and inequity during a week spent along the U.S.-Mexico border.
"You can learn things in books, but I'm one of those people who learn things by seeing them firsthand," Mercy Sister Eileen Trainor, one of the participants from New York City, told Catholic News Service.
For five days, the group visited local changemakers in refugee shelters, churches and associations in El Paso and in Ciudad Juarez, Mexico. They shared meals, prayers and daily reflections in an excursion organized by the Sisters of Mercy and the Columban Mission in El Paso.
Brunella Bowditch, biology professor at New Jersey's Georgian Court University, participated because she notices how current U.S. politics impact her students' performance and behavior.
"A lot of my students are Dreamers from Mexico and Central America," she said of young people who are allowed to work or attend classes in the United States under the Deferred Action for Childhood Arrivals program, or DACA. "I can see when my students are troubled, so I came here to understand them better."
Understanding immigration and its close cousins, poverty and violence, starts at the border fence. The 8-foot-high wall dividing El Paso and Ciudad Juarez was an initial shock for the group.
"The landscape is stunning and there is no natural separation," Bowditch said. "You see the difference between what God made and what humans made. … The wall itself is a sign of harshness."
For one of the organizers, Mercy Sister Kathleen Erickson, the wall symbolizes the artificial split between people.
"We act as though we're separated, but we're not," she told CNS. "With the help of science, we can understand that we are all made of the same stuff; these divisions are not made for humanity."
Beyond the wall, another division struck the participants: The stark contrast in wealth between El Paso and Ciudad Juarez.
"This morning, in El Paso, I saw kids with music instruments at the bus stop, while in Juarez, we see kids who cannot even go to school," Trainor said in mid-November. Sometimes, only $100 can make a difference in a child's education, but this amount may be hard to come by for Juarez's families.
"It all depends on which side of the border you're born," she said.
As the group learned from Columban Father Bill Morton of Corpus Christi Church in Ciudad Juarez, poverty stems from rampant systems of corruption and the lure to work for low-paying corporations. Morton experienced graft in Mexico firsthand and had to leave the country for a while.
The participants expressed surprise at the influence exerted by U.S. factories dotting the border. These manufacturers are locally known as maquiladoras and contribute to Ciudad Juarez's economic growth and, for some families, to poverty and social disintegration. The factories produce car parts, electronics and textiles that are sold to the U.S. market at a low price.
"People come on immersion trips and they're appalled because we're raised as good people," said Erickson. "But we don't understand we are benefactors of the things we are fighting against.
"And many of these good people work in the corporations that go to another country for better profit. … We don't understand our actions have consequences, such as extreme poverty elsewhere."
Participants had glimpses of hope: Morton's work, as well as associations such as the Proyecto Santo Nino (Holy Child Project), run by the Sisters of Charity of Cincinnati, which provides therapy for children with special needs in Anapra, Mexico.
"What the sisters are doing for disabled children, who are being sent away from their homes, is amazing," Bowditch said. In a clinic built with cement, adobe and straw bale, the sisters offer physical and speech therapy to the children and teach parents how to care for them.
"They are making a difference, and it brings hope," Bowditch said, adding that she planned to talk about social justice in her classrooms.
The participants witnessed the realities of the border with both despair and optimism.
"Sometimes, when you're just reading about it, it can feel distant," Clara Lombardi, communications specialist for Sisters of Mercy in the mid-Atlantic region, said after the border immersion. "But to meet person after person who gets up day after day to respond to (the issues of the border) in their particular way makes it more immediate. … I think this experience opened up a new level of awakening for me."
"I believe everything we are going through (as a country) has to do with spiritual awakening," Erickson said. "I don't know what to do next or how to dismantle oppressive structures, but with divine help, which takes things from the head to the heart, we can have wisdom."