At pro-life march, Trump vows to defend 'very first right to human life'
WASHINGTON, D.C. – Speaking to tens of thousands of predominantly young people gathered in the nation's capital on Friday, U.S. President Donald Trump pledged that "we will always defend the very first right … to human life."
The president addressed the crowd at the 45th annual March for Life on the National Mall via satellite from a Rose Garden ceremony at the White House, making it the first time a United States president addressed the event in such a manner.
While Presidents Ronald Reagan and George W. Bush addressed the rally via telephone, in 1987 and 2008 respectively, this marked the first time a U.S. president appeared live on camera.
Trump praised the "big hearts" and "tireless devotion" of pro-life activists in fighting against what he described as some of "the most permissive abortion laws in the world."
He was introduced by Vice President Mike Pence, who hailed Trump as "the most pro-life president in American history." Pence also made a historic appearance at last year's March for Life, marking the first time a vice president appeared at the rally.
Trump described the event as "one beautiful cause" and "a movement born out of love," a nod to the March's official theme of "Love saves lives."
The president hailed various pro-life initiatives of his administration, including the reinstatement of the Mexico City Policy, which bans federal funding for countries that support abortion, along with new conscience protections for healthcare workers. He also used the occasion to tout his administration's economic accomplishments, giving specific attention to shrinking national unemployment rates.
Trump's remarks were followed by an address from Speaker of the House Paul Ryan, who gathered on stage at the National Mall with nearly 50 members of the United States Congress. March for Life president Jeanne Mancini welcomed the bipartisan mix of senators and representatives as "the most pro-life Congress in a generation."
"Can we just thank God for giving us a pro-life president back in the White House?" Ryan asked the crowd at the beginning of his remarks.
"The pro-life movement is on the rise," Ryan announced to raucous applause, attributing recent pro-life gains to truth and science.
Ryan commended pro-life activists for their work in bringing "healing and acceptance" to post-abortive women, as well as the courage of single mothers and crisis pregnancy centers.
"We strive to make our time in congress a March for Life itself," said Ryan, as he listed a number of recent Republican led pro-life initiatives, including legislation to defund Planned Parenthood and the Pain-Capable Unborn Child Protection Act, which would ban abortions after twenty weeks.
While the march is often known for widespread turnout despite frigid January temperatures, this year's marchers were greeted with 45 degree-Fahrenheit temperatures, which proved to be a common topic of conversation — and delight — among those moving along the 1.5 miles from the National Mall to the steps of the Supreme Court.
Annie Roufs, an 18 year-old first time attendee who traveled to Washington for over 30 hours by bus with a group from the University of Mary in North Dakota, told Crux she decided to attend out of both intrigue and a sense of obligation.
Pro-life issues have "become the norm in our society," said Roufs, "and it's important to me that we end the thought process that life in the womb isn't life."
Tensions over Trump
The appearance by Trump, however, was the cause of some concern for pro-lifers present who argued that his policies on the environment and immigration fail to represent a consistent pro-life ethic.
"I'm baffled by the choice" to have Trump speak, said Father Jacek Orzechowski, parochial vicar for the past ten years at St. Camillus parish in Silver Spring, Maryland. Orzechowski gathered on the mall with 20 fellow friars, postulants, and members of his parish, and held a large banner saying "Choose Life! Support a Consistent Ethic of Life."
"To be truly pro-life, one has to be pro-justice, and against racism, against the destruction of the earth's ecosystem, against this scapegoating of immigrants," Orzechowski told Crux. "In addition to speaking against abortion, we also speak about the travesty of tearing apart immigrant families."
"Integrity matters," he added. "I'm not willing to sacrifice the integrity of the gospel of life at the altar of partisan politics."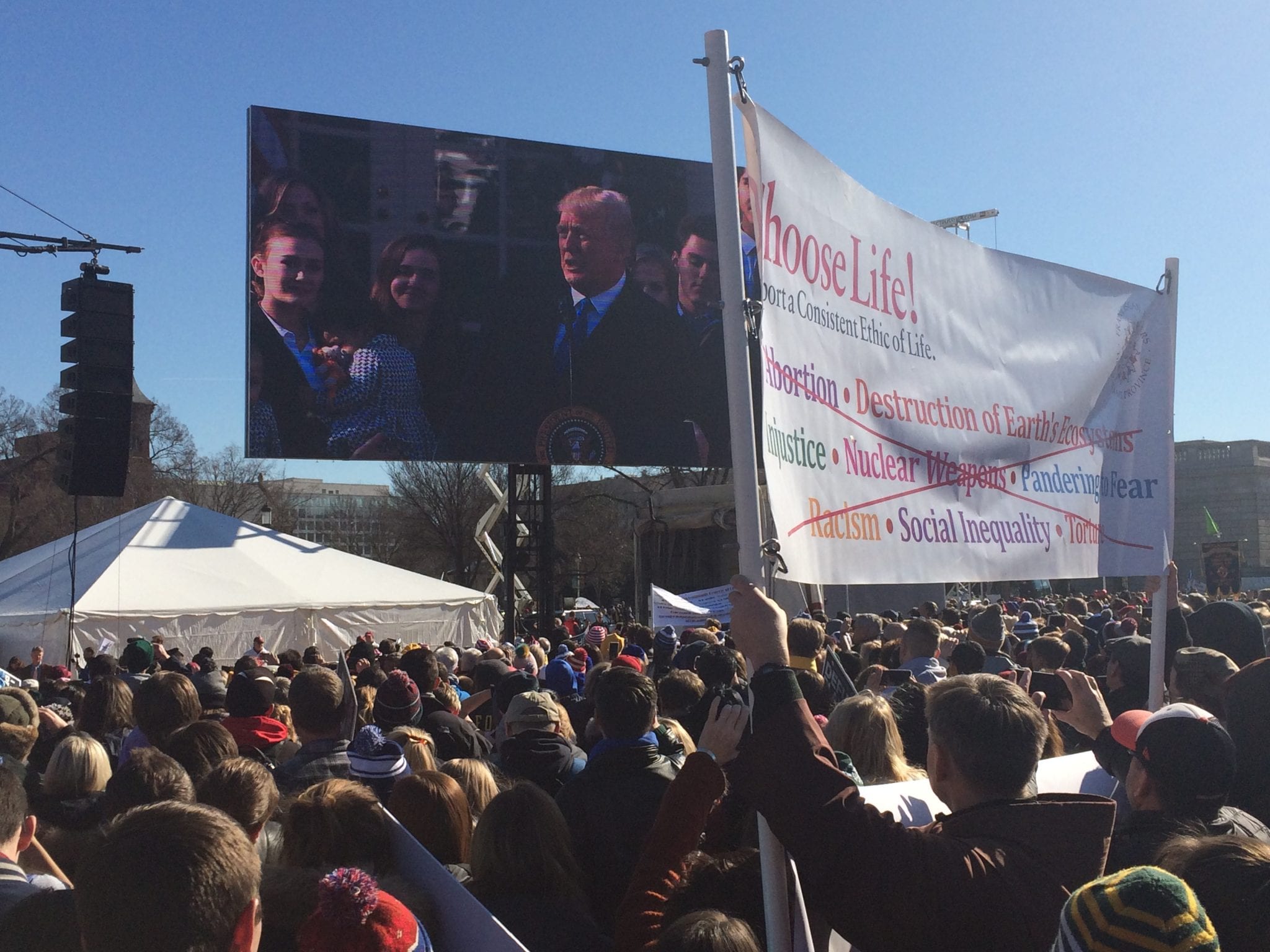 Alongside Orzechowski was a 39 year-old migrant from El Salvador who is a member of his congregation. Rosario, who asked for her last name to be withheld, has lived in the United States for the past fifteen years and told Crux her husband is a beneficiary of the Temporary Protected Status (TPS) program allowing for victims of natural disaster or violent situations to reside in the United States, and her son is a DACA beneficiary.
Last week the Trump administration announced it would end the TPS program for El Salvador, which could send up to 200,000 El Salvadorans back home. Congress also appears to be in a gridlock on DACA, which provides legal status to individuals who came here as minors and allows them permits to work and to stay for their education.
"I'm here because protecting life must also be about protecting vulnerable immigrant families," Rosario told Crux.
Also on hand were volunteers with the Catholic Mobilizing Network (CMN), an organization that seeks to end the practice of the death penalty in the United States.
Alexandra Carroll, director of communications for CMN, said she was at the March for Life "to lift up the voice of the consistent pro-life ethic."
"It's great to see the leadership of the United States entering into the pro-life conversation," she told Crux, "and I hope it's one we can continue to have to open hearts and minds to realize that pro-life is a consistent ethic and has to include a whole host of things and has to play out into more than just one policy," said Carroll.
She pointed to the recent example of Bishop Anthony Taylor of Little Rock, Arkansas who made headlines earlier this week when he announced he would not attend a local March for Life rally since its keynote speaker opposed Catholic appeals for clemency for death row inmates.
"He made it very clear that he could not support a speaker that was not consistently pro-life … and that's why we're here, to remind people that this is an issue too," Carroll told Crux.
Technology saves lives
Marcie Little of Save the Storks, a faith-based non-profit that sends mobile medical units to provide ultrasounds to women outside of abortion clinics said that she was at the March to promote technology as a tool for saving lives.
Volunteers with Save the Storks marched with bright blue signs with the face of the Reverend Martin Luther King, Jr., with his words "Our lives begin to end the day we become silent about things that matter."
According to Little, four out of five women that they provide ultrasounds to will eventually choose not to terminate their pregnancies.
When asked about the political ramifications of the event, Little acknowledged there were some divisions within the pro-life community over the Trump administration, but insisted that his record speaks for itself.
"He appeals to a wide swath of Americans, that's why he was elected," said Little. "Some people like his fireball approach because it forces people to think about the issues more. He shakes things up, and I think his track record from his first year in office speaks tremendously to that."
Paul Camarata of the Catholic Medical Association joined the marchers in his white lab coat and told Crux this marked his eighth time attending the March. Camarata, a neurosurgeon in Kansas City, Kansas, said "as a physician, I need help, and I get invigorated every time I come here."
He also extolled the announcement this week from the Department of Health and Human Services that it would enact new measures to protect doctors, nurses, and other healthcare workers who object to performing abortions if it violates their religious beliefs.
Such a move shows "we have an ally in the White House," said Camarata, adding that "it's been a long time."
Growing support for abortion restrictions
The March for Life was founded in 1974, one year after the Roe decision by Nellie Gray, a Roman Catholic convert who quit her job as a lawyer in the U.S. Department of Labor to dedicate her life to pro-life advocacy and pledged to work to end abortion in this country.
While it remains one of the most culturally explosive and politically divisive topics in the United States, earlier this week, a new poll conducted by the Marist Institute for Public Opinion found that 76 percent of those surveyed indicated support for "significant" limits to abortion in the U.S., with 63 percent supporting a ban on abortion after 20 weeks of pregnancy.
Among those surveyed, 92 percent identified as Republicans and 61 percent as Democrats, indicating bipartisan support for these restrictions.
The polling was sponsored by the Knights of Columbus, a principal sponsor of Crux.
On Friday, Pope Francis released a tweet with the message: "Every life counts: from the beginning to the end, from conception to natural death."
While there is often a misguided effort to read into the pope's Twitter messages as providing sub-commentary on American politics, in 2014 he gave specific mention to the March for Life in Washington. Following his tweet on Friday, Paloma Garcia Ovejero, vice director of the Holy See Press Office, re-tweeted the pope's message with the official March for Life hash tag, offering a fairly strong indication of the pope's intentions.
According to Mancini, the March for Life in Washington is "the largest annual human rights demonstration in the world." In her opening remarks, she thanked the tens of thousands in attendance saying their presence is a tribute to the "60 million Americans" lost to abortion.
"We grieve their lives," she added.
For Justin Menno, a theology teacher at Grand Rapids Central Catholic High School, it's that very purpose that motivates him to bring his students to the annual event.
"We come down here to march no matter who the speakers are, no matter how friendly or unfriendly the administration is," said Menno.
"We need to protect prenatal children in law and welcome them in life and there's no binary in that," he added. "We seek to make our witness to all human life, most especially the preborn and expectant mothers, joyful and credible."