'He Gets Us' Super Bowl ads about Jesus spark buzz, debate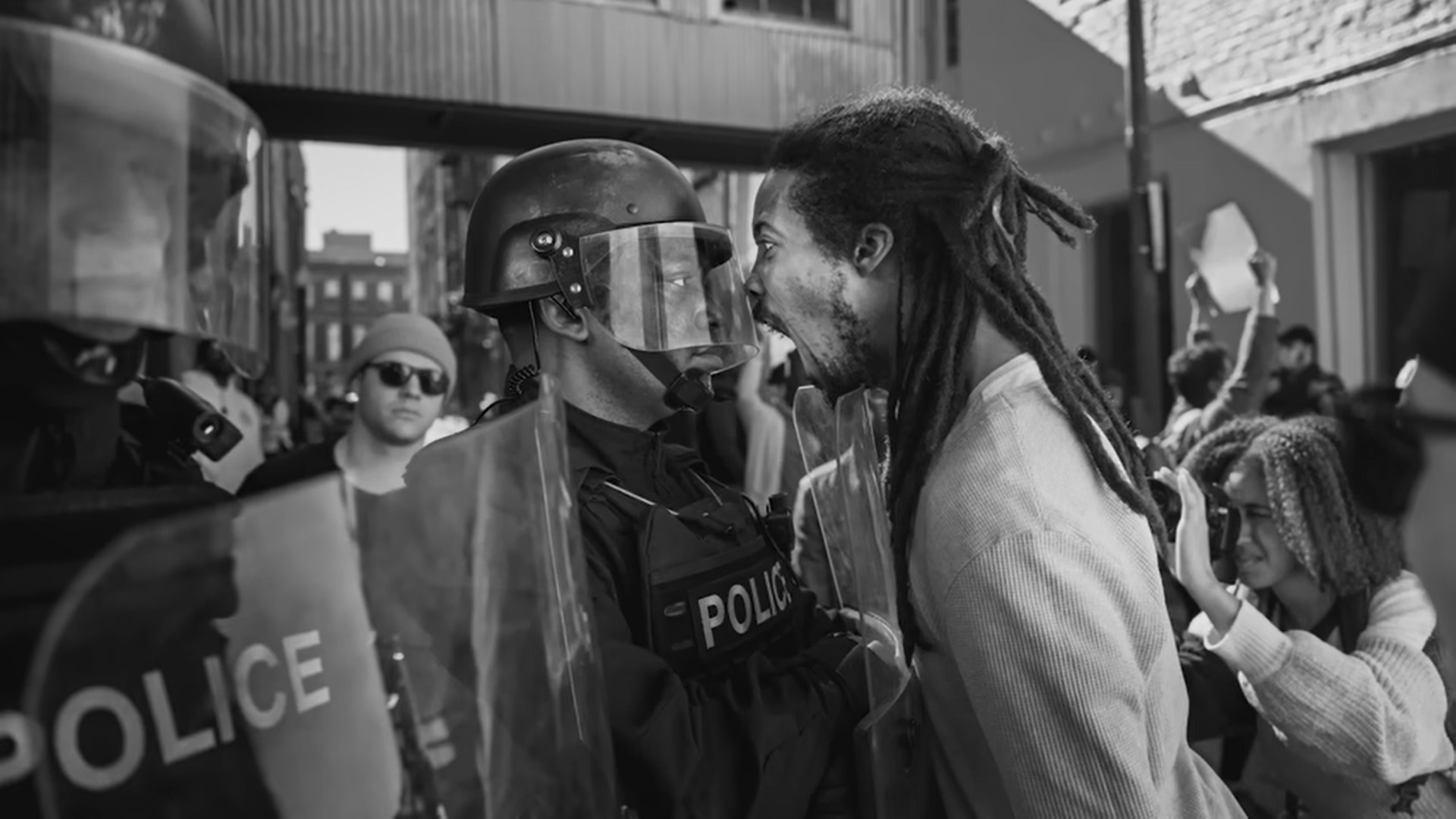 ROME – It's a well-known fact that whenever Super Bowl Sunday comes around, millions of Americans at home and abroad tune in not only to see the most-watched sporting event of the year, but also, and perhaps especially, the commercials.
The big game has become famous for its creative, quirky and humorous ads, many of which are talked about for days or even weeks after. Online ad-meters are quick to put out their lists of the top-rated commercials.
One ad campaign that rated especially high on this year's buzz-meter was the so-called "Jesus commercials."
Two separate videos totaling about 90 seconds aired during the game, the first of which, titled "Be Childlike," was a 30-second clip that showed mostly black and white images of children helping and embracing one another before text appeared saying, "Jesus didn't want us to act like adults."
Another 60-second ad titled "Love Your Enemies" ran during the second half of the game, showing scenes of violence, conflict and social disorder – including disputes over anti-COVID protocols, violent anti-racism riots, and angry political rallies – before the words "Jesus loved the people we hate" popped up on the screen.
According to EDO, a company that measures TV commercials people watch with the online engagement of the product after viewing, the "Love Your Enemies" video was the second most engaged Super Bowl ad, second only to a Warner Brothers commercial about its next movie, "The Flash."
The videos are part of a digital campaign called He Gets Us, which, according to spokesman Brad Hill, is "a movement to re-introduce people to the Jesus of the Bible" through television, radio, digital ads, billboards, and experiential platforms.
Since they aired last Sunday, the ads have become a major topic of national conversation – and, probably unsurprisingly, also a source of controversy, with some criticizing the decision to spend millions on the Super Bowl slots and others saying the ads were partisan.
However, speaking to Crux, Hill said the campaign's goal was to take advantage of "a cultural moment that will captivate millions of Americans."
The Super Bowl, he said, is "a unique program in that many people watch as much for the ads as they do the game," and the goal of the commercials was "not only inspire those who may be skeptical of Christianity to ask questions and learn more about Jesus, but also to encourage Christians to live out their faith even better and to exhibit the same confounding love and forgiveness Jesus modeled."
In terms of the public debate about the ads, Hill said, "We want to spark a conversation" on Christianity and how Christian faith is lived daily, exhibiting the love and forgiveness that Jesus preached.
"Though we could have never known that we would be one of the brands with the most mentions throughout the night, we do believe this was the start of an important national conversation," he said.
The "He Gets Us" campaign was launched in March 2022 and is an initiative of The Servant Foundation, also called "The Signatory," which is a Christian foundation based in Overland Park, Kansas, and which is classified as a 501(c)(3) organization with a 100/100 Charity Navigator rating.
The Servant Foundation has also reportedly donated significant funds to the "Alliance Defending Freedom," an organization which provides legal aid to people whose religious liberty they believe has been violated, such as midwives who refuse to perform an abortion or bakers who refuse to make cakes for same-sex weddings.
"He Gets Us" has a budget of $100 million, with the goal of starting faith conversations among a vast array of people. The ads they produce direct viewers to their website, which provides information about Jesus, bible reading plans, and allows visitors to connect with people who can answer their questions.
While many benefactors of "He Gets Us" remain anonymous, it receives significant funding from Hobby Lobby CEO David Green, a Christian who made headlines in a landmark Supreme Court case in 2014, in which Hobby Lobby won the right on religious grounds to refuse to provide contraception and the morning-after pill as part of its employee health benefits.
West Michigan publishing company Heaven reportedly spent $20 million to purchase the Super Bowl commercial slots for the He Gets Us ads.
U.S. Rep. Alexandria Ocasio-Cortez (D-NY) was among the most prominent critics of the ads, writing on Twitter Sunday, "Something tells me Jesus would *not* spend millions of dollars on Super Bowl ads to make fascism look benign."
A Catholic, Ocasio-Cortez received backlash from several users over her criticism, with attorney Eric Owens responding, "That's your take from a great Super Bowl ad reminding us of the truth, universal to all religions and all wisdom, that hate is bad? Are you serious?"
"You have jumped the shark. Presumably, an intern is writing your tweets while you wear a fancy dress to a Super Bowl ball," he said.
"Are you a theologian now? What can you not do?" another Twitter user asked the New York congresswoman.
U.S. Rep. Marjorie Taylor Greene (R-GA) also responded to Ocasio-Cortez on Monday morning, saying, "Jesus died a horrific death on a Roman cross so that our sins can be forgiven and whoever believes in Him will have eternal life. That's proof there's nothing Jesus wouldn't do to show us His love. AOC needs to know Jesus."
Charlie Kirk, founder of the conservative campus group "Turning Point USA," also criticized the ads, which he said "pander to liberals" and called the campaign "one of the worst services to Christianity in the modern era," saying the people behind it are "woke tricksters."
Despite accusations that it's either a far-right conservative campaign, given its funding, or that it has a left-wing agenda, Hill insisted that "He Gets Us" is non-partisan and non-denominational.
"We are getting pushback from all sides of the spectrum," he said. "We actually see that as a sign that we're doing something right, and welcome the discussion that is taking place."
"Ironically, it's similar to the way that people reacted to Jesus as well – he drew support and criticism from all sides of culture," he said.
The reason "He Gets Us" exists in the first place, he said, is that their own internal research has shown that there is "a broad openness to Jesus" in society, more so than to Christianity generally, or any particular church.
"When we show how Jesus' life and example can relate to the same experiences of people today, they show a strong willingness to learn more. The more people are exposed to Jesus' radical, confounding love, the more likely they are to become curious and have a desire to dig deeper," Hill said.
"It's more important now than ever for the real, authentic Jesus to be represented in the public marketplace as he is in the Bible," he said.
Though he did not comment on the "He Gets Us" ads directly, Giampaolo Mattei, president of the Vatican's sports group, Athletica Vaticana, told Crux that he believes sports provide an "impressive" message of humanity and have "an extraordinary ability to communicate" among people from different backgrounds.
Sports, he said, has the ability to foster peace and dialogue, and to build community, and they offer "a strong Christian witness" through their emphasis on inclusion and, often, support to teammates who are struggling.
Mattei said sports are "an activity that has meaning, that has a goal…it's not imposing on the other, but doing something with an objective, with meaning," and is an ideal platform to "evangelize oneself and others."
Follow Elise Ann Allen on Twitter: @eliseannallen