Twitter unveils emojis for Pope Francis' visit to Mexico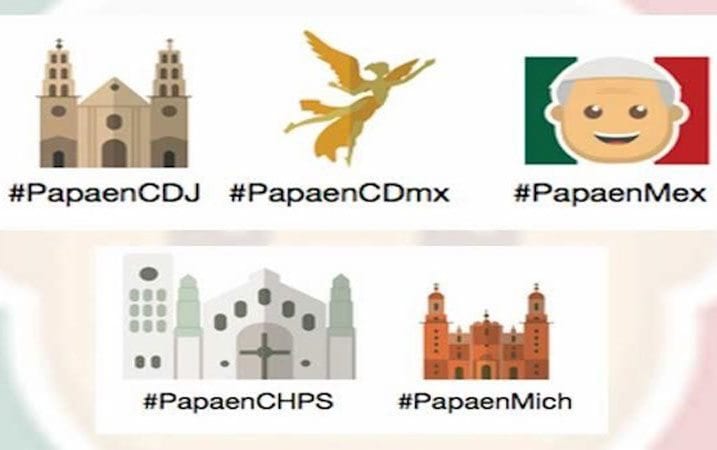 Pope Francis will once again get rock star treatment on one of the world's most influential social media platforms during his upcoming visit to Mexico.
Twitter released five emojis to correspond with special hashtags to commemorate Francis' Feb. 12-17 to Mexico, which includes a massive public Mass in Juarez, which borders the United States at El Paso, Texas.

A cartoon visage of the pope appears superimposed on the flag of Mexico when Twitter users type #PapaenMex. Four other images appear when users Tweet hashtags for the specific regions the pope will visit: Juárez (#PapaenCDJ), Mexico City (#PapaenCDmx), Chiapas (#PapaenCHPS), and Michoacán (#PapaenMich).
Pope Francis has about 26 million followers on Twitter, where he publishes short messages about two or three times each week in nine languages, including English, Arabic, and Latin. His Spanish account is the most popular, with 11 million followers.
Twitter did the same for the pope's September visit to the United States, which included the US flag, as well as the Capitol building in Washington, the Statue of Liberty, and the Liberty Bell in Philadelphia. The US-themed emojis no longer appear, however, vanishing from Twitter shortly after the pope's visit wrapped up.
Bishops in Mexico launched a special Twitter account for the faithful to learn information about the visit: @ConElPapa.
It's during his visit to Juarez, which US bishops are marking with a campaign called "Two Nations, One Faith," that the pope is expected to wade into the intense debate about migration to the United States, praying with undocumented US migrants gathered just 65 feet away in Texas.
The Diocese of El Paso is hosting a concert and viewing of the Mass at Sun Bowl Stadium. Pope Francis is expected to bless the crowd on the US side of the border during the Mass. Tickets are available via TicketMaster of through local parishes. Two US bishops will travel to Mexico to represent American Catholics during the visit.
Twitter isn't the only place to find cartoon versions of Pope Francis. A smartphone app called Popemoji includes several from the pope's US visit, and will be updated with special emojis for Mexico.