Catholic bishop kidnapped, beaten in southern India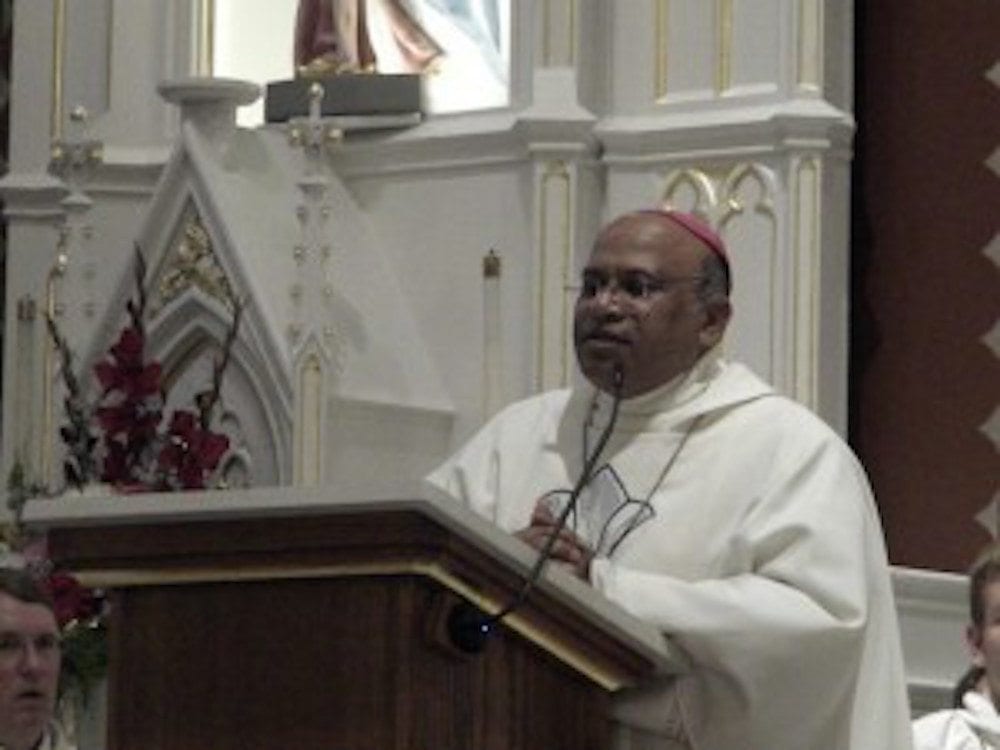 MUMBAI — One of India's leading Catholic prelates has denounced a brutal assault on a fellow Catholic bishop in the southern Indian state of Andhra Pradesh, calling it "unbelievable that such a violent atrocity is perpetrated on a high-ranking religious leader of a minority community."
According to a news release issued April 28 and signed by Archbishop Thumma Bala of Hyderabad, 54-year-old Bishop Prasad Gallela of Cuddapah was assaulted by unidentified persons on Monday, April 25, while returning from a religious function at Karunagari in Kadapa district.
Bala's statement says that Gallela and his driver were "blindfolded, forcibly confined and brutally attacked for several hours stretching through the night."
The Hyderabad archbishop condemned "the ruthless manner" of the attack, saying that Gallela has "fully devoted his whole life to God and is totally dedicated to the service of the needy and marginalized."
Gallela serves in a diocese with a Catholic population of 81,000, where 95 percent of Catholics are landless agricultural laborers made up of "Dalits," meaning the "untouchables" under India's ancient caste system. One priority for the diocese under Gallela's leadership has been providing educational opportunities for children, especially child agricultural workers.
Bala also appealed to police and law enforcement authorities to probe the case and arrest those responsible for "the heinous crime, so that safety and security of minorities can be ensured and lives of leaders of religious communities be protected."
Police officials have told Church leaders in the area that they have "good leads" and hope to make arrests in the case soon.
In an interview with the Union of Asian Catholic News on Friday, Gallela said that unidentified kidnappers came in two vehicles and took "me to an undisclosed location."
"They hit me and punched me resulting in injuries all over my body. I did not resist," Gallela told ucanews.com.
"Police are trying to find those behind the incident," Gallela said. He said the kidnappers repeatedly asked him about financial transactions of the diocese.
The kidnappers demanded 5 million rupees (US$75,325) and said that since "I help so many people, I should help them too," the bishop recounted.
"When I asked who they were, they said they are from the police, but the police does not behave like this," he said.
The prelate said that early the next day the kidnappers let him go and left him roughly 55 miles away from his diocese is based.
"They appeared to be paid goons and non-Christians from the way they talked and behaved," Gallela told UCAN.
It was not immediately clear whether the assault was linked to India's recent increase in anti-Christian violence, fueled largely by Hindu extremism, but activists in the country say on average there's one physical attack on a Christian somewhere in India every other day.
Father Anthoniraj Thumma, the executive secretary and spokesman for a group called the "Federation of Telugu Churches," told Crux it is unclear whether the attack was "communal" in nature, which is generally how Indians refer to animosities based on ethnicity, religion, or both.
"The motive is not clear yet, we are not sure if this was a communal attack," he said. "It could even be for money."
Thumma said Gallela has wounds on his head and his face, which are swollen, and is receiving treatment for his injuries in his residence.
Recently, Cardinal Baselios Cleemis, president of the Catholic Bishops' Conference of India, led two other officials in meeting Prime Minister Narendra Modi, who came to power in 2014 backed by Hindu nationalists.
That meeting was taken as a sign of a possibly warming relationship between the country's Christian minority and the political wing of the Hindu nationalists, the BJP party. The government's response to the assault on Gallela may be viewed as a test for how serious any such improvement turns out to be.
Gallela was born into a family of teachers in 1962, and pursued his theological studies in India. He was ordained in 1989, serving as both a youth minister and a parish priest in the Diocese of Kurnool.
In the late 1990s, Gallela went to Rome for further studies at the Dominican-run Angelicum University, writing his doctoral thesis on "Christian Charity as Witnessed by Mother Teresa of Calcutta."
From 2000 to 2004, Gallela served abroad in the Diocese of San Angelo, Texas, in the United States. In 2004 he returned to India to teach in a seminary, and was named Bishop of Cuddapah by Pope Benedict XVI in 2008.