New poll finds Americans side with the Little Sisters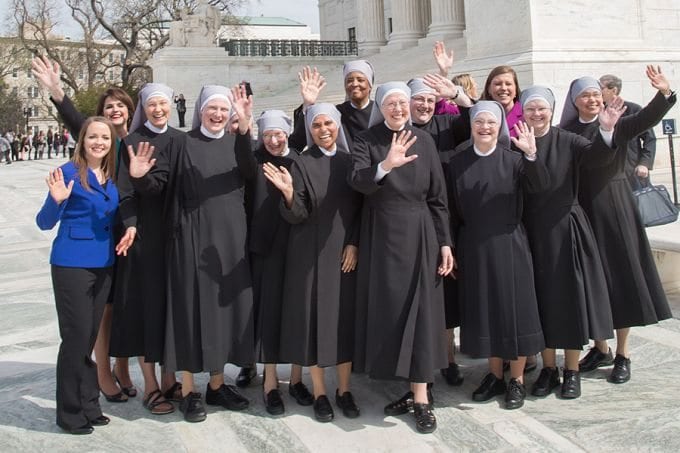 A new survey says most Americans think the Obama administration's federal contraception mandate is unfair to the Little Sisters of the Poor and other religious groups defending themselves before the U.S. Supreme Court.
About 53 percent of Americans said the process required by the government is "unfair," while only 32 percent did not, according to a new Marist Poll commissioned by the Knights of Columbus.
The federal government has exempted many other organizations' employee health care plans from a requirement to provide contraception and drugs that can produce abortions. But it has no exemption for the Little Sisters of the Poor, who help run houses to care for the elderly poor.
"It is not reasonable for the government to demand that some – and only some – religious employers engage in activity that is totally unnecessary to the government's stated purpose of providing elective and morally problematic drugs to employees," Carl Anderson, Supreme Knight of the Knights of Columbus, said April 18.
"Such action doesn't just violate the rights of employers like the Little Sisters, it is also at odds with the American people's understanding of basic fairness, and our long-standing commitment to protecting the deeply-held beliefs of every American – especially when those beliefs are the minority view."
The federal government has adjusted the rule several times. It presently provides what it describes as an "accommodation" that requires the Little Sisters of the Poor and other religious organizations to sign a form for the government that directs their insurance providers to offer the objectionable coverage through their health plan.
The Little Sisters and other plaintiffs say that since sending the government their objection is the action that prompts the coverage through their own health plans, they are forced to act as "gatekeepers" and "facilitate" the objectionable coverage. Furthermore, they argue the government is "hijacking" their health plan, which is an agreement between them and their insurer.
Failure to comply with the mandate would result in steep fines, which the Little Sisters say would be crippling to their ministry of caring for the elderly and dying poor.
A Supreme Court decision on the case is expected by June.
The Marist Poll survey of 1,020 adults was sponsored by the Knights of Columbus, a Catholic fraternal organization with over 1.8 million members worldwide. Among other media projects, the Knights are a partner of Crux.
The new poll claims an overall margin of error of plus or minus 3.1 percentage points.