Iraqi priest embodies love in the face of hate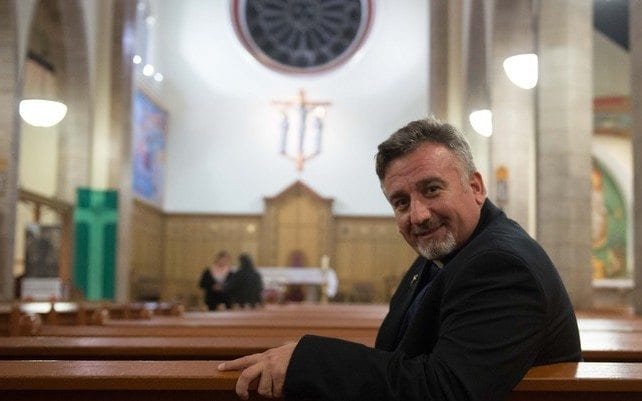 It's not during every interview that my eyes well up with tears, but Father Douglas Bazi isn't every interviewee.
He's a Chaldean priest from Iraq, and as he sat across from me just before St. Patrick's Day this Lent, all he wanted was what we all want, when it comes down to it: to be known.
In his case, should Christianity disappear from its historical cradle — something he does more than his fair share to keep from happening — he wants the world not to forget its long history there, and not to gloss over the genocide that is happening there today.
It was only days later – on March 17th – that the U.S. officially recognized the genocide of Christians and other religious minorities by the so-called Islamic State, chiefly in Iraq and Syria, after months of indications that the Christians would be left out of any acknowledgement.
So now we're at least telling the truth.
I couldn't help but note that I was sitting across from Bazi during the year of mercy, and he in many ways embodies it. Sitting across from me was a man who has been tortured by Islamic militants, who is prepared to die for Christ. Looking into my eyes, he was a tender father, devoid of the bitterness that would be quite understandable.
He could ask me why his people, living in storage containers on Church property in Kurdistan, having fled ISIS in Mosul, aren't worth at least as much media attention as the Kardashians or whatever is distracting us this week.
He could have questioned me about some of the arguments I made or published about Iraq over the years that didn't always consider how things might work out for the Christians there.
Those of us who have been at times indifferent, or reckless, or conveniently ignorant, bear some complicity in the suffering of these people. Bazi isn't interested in recriminations, though. He knows. He forgives.
"Merciful like the father" certainly came to mind as he accepted my insufficient apology. Now is the time for making up for our sins of indifference and bipartisan erratic foreign policy in the region.
"How can I explain our people in a few words?" Bazi asked as began his homily an hour or so later. We were now two blocks from the White House, at the Catholic Information Center, which happens to house the closest tabernacle to the White House.
Despite being in the U.S. to plead that we pay attention to the suffering of his people, he was overflowing with thanksgiving.
"We are not angels," he said about Christians in Iraq, "but we have grace from God."
"Christianity is not just for good days but bad days. As Christians in Iraq, we have a lot of bad days for a long time." He was quick to add, "we're not complaining about that."
Bazi said: "We are not looking for revenge. We just want the world to tell the truth, as we try to live in dignity."
And then he gave thanks for the "many people" who "care about us." He had described to me earlier how overwhelming it was when he first realized that though very far away, there are Americans who are close to Iraqi Christians in prayer.
"This makes us realize that we are not alone," he said. "We know that we have not been forgotten. Thank you for opening your heart to my people. Because of you we now know we are not forgotten."
Bazi is currently in the U.S. on a speaking tour, which began last week at the United Nations thanks to the Holy See mission there. When he describes his people he sounds a lot like Pope Francis, as he did Thursday in New York, talking about "living, breathing human beings, not museum pieces."
He says that it's important that Christianity survives in Iraq because peaceful people have a right to live in security and dignity.
"And when the world stands by and watches any peaceful people disappear, it is a wound to the entire world," he said. "Over time, this wounding will kill us all."
Encounter Father Douglas Bazi, if you can – at St. Peter's cathedral in San Diego on May 5, and at Mart Mariam Chaldean Catholic Church in Chicago on Saturday and at Masses in the city in both Arabic and Aramaic on Sunday. In Washington, D.C. next week, I'll be co-hosting an event co-sponsored by the National Review Institute at the Heritage Foundation on Wednesday, May 11, at noon, with Bazi and some others — and if you can't make a lunch event, the Catholic Information Center has him speaking there the night before.
Do something to make sure he goes home with the message that we know him and his people, and give thanks for them. At a time of identity crisis here in the U.S. on many fronts, he reminds a distracted country of what's important: love in the face of hate, gratitude for the gifts of life, and hope even in the midst of genocide.
 Kathryn Jean Lopez is senior fellow at the National Review Institute, editor-at-large of National Review Online, and a nationally syndicated columnist. She is co-author, with Austen Ivereigh, of the revised edition of How to Defend the Faith without Raising Your Voice (available from Our Sunday Visitor and Amazon.com).