Pictures of mercy: How pope, Caravaggio bring Matthew 25 to life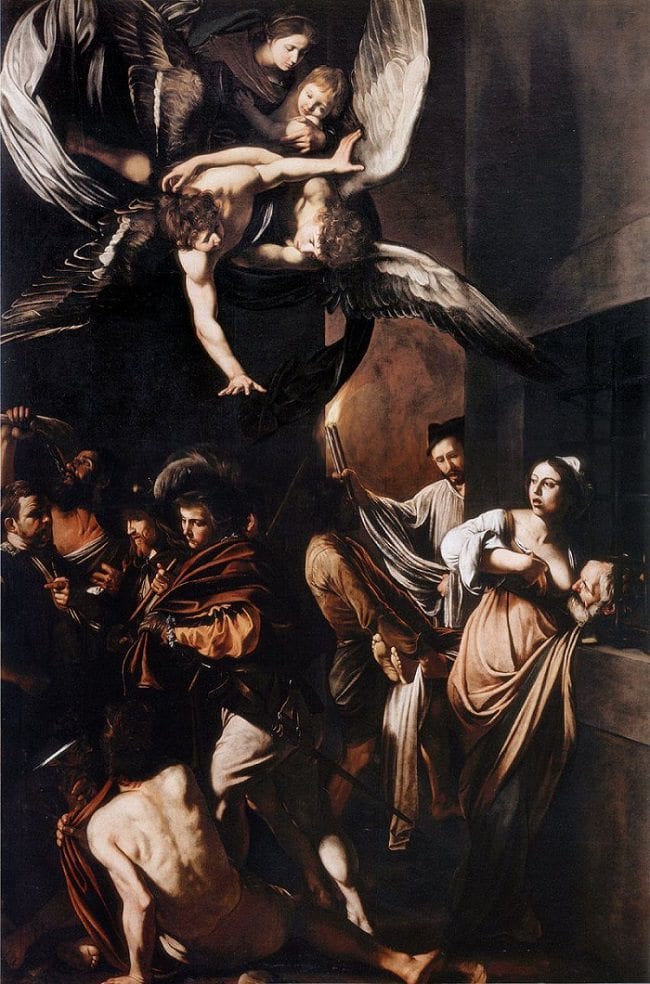 ROME — Pope Francis's Year of Mercy, which ends Nov. 20, has been a refresher course for Catholics, a reminder and an inspiration to follow Jesus's command to show compassion through works of mercy.
While the pope has spent his whole pontificate offering Gospel reflections and teachings on mercy, nothing stands out more than the memorable real-life examples he has given with his own outreach.
He has been painting, in essence, a visual catechism of the works of mercy with so many images captured of him embracing prisoners, for example, or offering shelter to refugees.
There is another striking image that makes Chapter 25 of the Gospel of Matthew concrete, a U.S. author said.
"If there is any painting that sums up this Year of Mercy" and Pope Francis's call for compassion and human solidarity, it is the "The Seven Acts of Mercy" by Caravaggio, said Terence Ward, in his latest book, "The Guardian of Mercy."
Just as the pope seeks to make Christ's teachings real with his own actions, Caravaggio sought to "give veracity" to the Gospel with his revolutionary "chiaroscuro" style and shocking use of everyday people as his flawed, flesh-and-blood models, Ward told Catholic News Service. The author was in Rome in October for a book launch.
The immense 13-by-8 1/2-foot painting, located in the Pio Monte della Misericordia church in Naples, answers the question, "What is mercy?" he said, by showing life-size figures engaged in simple yet moving gestures to relieve others of their misery.
For example, some of the seven corporal works shown are: a battle-weary, murderous Samson slaking his thirst; a poor passerby holding the feet of a dead man in need of burial; a woman without food secretly breastfeeding her ailing, elderly father imprisoned in jail; and St. Martin of Tours, whose Nov. 11 feast day comes near the end of the Year of Mercy and symbolizes charity, slices his red cloak in half for a half-naked man on the ground.
"Some people say Caravaggio was too strong" in his use of imagery, Ward said.
So many artists at the time, he said, painted figures from an imaginary ideal or from memory because "we prefer beauty rather than the direct experience. And yet this is what's real. Sometimes we don't want to see the truth and we choose to 'Disney-fy' it."
But Caravaggio, he said, was struck by what was being done by his contemporaries, Sts. Charles Borromeo and Philip Neri. These churchmen inspired a new movement of outreach by laypeople and clergy to those in need, and to "embrace the common man" with charity.
That same impulse is seen in all of Caravaggio's works, Ward said, in that "he reaches out into the streets for his models" and depicts them as saints with all their human imperfections.
His use of "real" versus idealized figures mirrors the same effectiveness of the incarnation, the author said. God became human, humble and poor "so that all of us could identify, so that he could speak to every one of us," he said.
This "theology of Caravaggio" carried the Gospel's own radical message: "If a common person from the street can be plucked out" and become a barefoot disciple, a saint or even the Mother of God, it means "that it could be any one of us. That we all have that potential inside," Ward said.
Even Pope Francis has been struck by the way Caravaggio captured that same shocking "Who me!?" moment in "The Calling of St. Matthew," who sits in a custom house counting coins, perplexed by the man calling to him, "Follow me."
"That finger of Jesus, pointing at Matthew. That's me. I feel like him. Like Matthew," who is a sinner and wretched, yet is still chosen because of God's mercy, the pope told an interviewer in 2013.
Ward's book explores the painter's power to speak to and change the life of — not a pope — but a real life "ordinary man," a city sanitation worker who ends up as a custodian at the Pio Monte church.
Just as the guardian, named Angelo, felt the painting speaking to him, he began emerging from the shadows of the church to speak up and talk to visitors casually passing through about the power of Caravaggio's approach, Ward explains in his book.
The story juxtaposes the lives of Caravaggio and Angelo and how the figures on the canvas inspire the author to get a glimpse of works of mercy still unfolding on the rough streets of Naples.
The people caught unaware in the middle of an act of mercy on Caravaggio's canvas could be anywhere: in Cairo, Kolkata or the Bronx, Ward said. The universal message is that nothing empowers people more or makes them more human than by showing solidarity, "reaching out to the other, having compassion and being moved."
Both Caravaggio and Pope Francis show that mercy comes alive with the simplest of things. "Begin today, begin with what's next door," Ward said.
When Pope Francis holds the hands of an elderly person or comforts the sick, "the picture — the action — says it all. Don't delegate and, he would say, 'If I can do it, can't we all?'"