'On Being:' Extraordinary people with faith-filled lives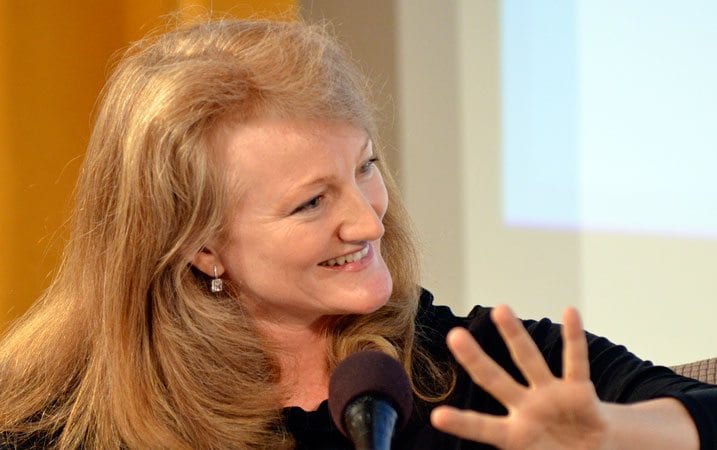 Looking for a podcast that will improve your mood, expand your brain, and maybe even lower your blood pressure while you walk the dog or commute to work or lounge in bed with your first cup of coffee?
May I suggest Krista Tippett's "On Being." That is, if you're not listening to her already.
Last week she posted her interview — nearly impossible to get — with the Pulitzer Prize-winning poet Mary Oliver, one of America's best-selling poets and a Jesuit favorite known for haunting observations of the natural world. Oliver wrote poetry for half a century in Provincetown and talked to Tippett about how writing, and an intense relationship with nature, saved her from a brutal childhood.
And faith is "one of the most important interests of my life," Oliver, now 80, tells Tippett. "I have no answers, but have some suggestions. I know that a life is much richer with a spiritual part to it. And nothing is more interesting, so I cling to it."
Here's a line from Oliver's "Praying":
This isn't a contest but the doorway into thanks, and a silence into which another voice may speak.
Here's part of "The Gardener":
Have I lived enough?
Have I loved enough?
Have I endured loneliness with grace?
Before Tippett spoke to Oliver, she talked with Sister Simone Campbell, the famed nun on the bus, lawyer, and lobbyist for economic fairness and justice. Maybe you saw Campbell on TV with Jon Stewart or Stephen Colbert or addressing the Democratic National Convention in 2012. She is relentlessly buoyant.
"Sometimes we think in the United States that we ought to do something about everything and that it's my job to fix everything. Well it's not. That's way beyond us," Campbell tells Tippett. "Just do one thing. That's all we have to do."
Campbell says her Zen practice helped her learn to give up the grasping that leads to fear and to finally understand what it means, as we hear constantly in Catholicism, that "we're all one body. All of creation is one body. And I'm only just a little piece of it. But the freedom of knowing that," Campbell says, "I mean, I don't know how to communicate how freeing that is."
Before Tippett spoke to Oliver and Campbell, she interviewed Jean Vanier, a philosopher and founder of the half-century-old L'Arche community, where people with and without mental disabilities live together as a big, extended family. There are now 147 communities in 35 countries run by L'Arche. That means "ark" in French, with all the symbolism that word holds in Christianity, Judaism, Islam, and Hindu scripture.
"It took me awhile to put a name to the rare quality that is palpable in Jean Vanier's life and presence. It's a wisdom of tenderness," Tippett says. "He has devoted his life to the practical application of Christianity's most paradoxical teachings; that there's power in humility, strength in weakness, and light in the darkness of human existence."
Vanier explains how he has tried "to create a culture which is no longer a culture just of competition, but a culture of welcoming, where tenderness, where touch is important," he says. "This is what people with disabilities are teaching us …
"The deepest desire for us all is to be appreciated, to be loved, to be seen as somebody of value," Vanier says. That is what the people of L'Arche desire as well. Then Vanier quotes the words of Jesus to Peter at the end of John's Gospel: "Do you love me?"
You hear Vanier's voice, slow and soothing, describing a community like nothing else in our dog-eat-dog world. It's like listening to a living saint.
Listening to Tippett's own honeyed cadence isn't bad, either.
This is what "On Being" offers: a chance to hear extraordinary human beings expound, at length, in detail, on how they try to live and how they want to be.
The podcast goes on for 50 minutes — 90 if you prefer the unedited version that includes behind-the-scenes chitchat between Tippett and her interviewees as they adjust microphones and test volumes. Then Tippett begins with her standard first question: Was there a spiritual background to your childhood? Tell us about it.
"On Being" began 12 years ago on National Public Radio and still airs on stations all around the country. Last year, Tippett was among 10 Americans to receive the National Humanities Medal from President Obama for "thoughtfully delving into the mysteries of human existence … avoid(ing) easy answers, embracing complexity, and inviting people of all faiths, no faith, and every background to join the conversation."
Many of her interviews do not, in fact, focus on faith or spirituality, Catholic or otherwise. But many do, including sitdowns with the Dalai Lama, the world-renowned Zen Master Thich Nhat Hanh, the South African anti-apartheid crusader Bishop Desmond Tutu, Congressman and civil rights leader John Lewis, Buddhist Mirabai Bush, and John O'Donohue, the Irish poet and priest best known for popularizing Celtic spirituality.
What has Tippett herself gleaned from this? "What I've focused on and am fascinated with is the intersection of what you believe and how you live. That's the litmus test." Tippett, 54, says her own faith life is eclectic and, at the moment, "cobbled together." She prays, but "it's informal and kind of spontaneous …. I'm like a lot of people at this point in my life." She identifies as Christian, but does not belong to a church. She does do lots of yoga and lots of reading, including the works of her many subjects. And their faith journeys influence her own. In some ways, she's also like the millennials who make up a significant part of her audience. "Theologically curious and very engaged," she calls them, "but allergic to the kind of strident public religiosity that they've seen too much on display in the world they've grown up in."
Tippett says she's particularly fascinated by interviewees like Mary Oliver. "A lot of people might imagine Mary Oliver with a halo around her head." Yet Oliver, smoking cigarette after cigarette as they spoke, told Tippett how, as a little girl, she escaped unhappiness by running into the woods with her books, "Whitman in the knapsack," her pencils and scraps of paper; how she still struggles with confinement and despair.
"There's a lot of suffering and darkness there," says Tippett. Yet Oliver looks out at the world and sees something else. "Hope and grace and beauty," says Tippett. "That's what I'm interested in."