Cardinal facing charges for views on gender and 'gay empire'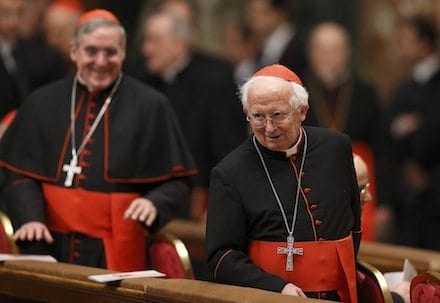 ROME— Criminal proceedings under hate speech laws have been initiated against a Spanish cardinal for his commentary on theories styling gender as a personal preference, in which he termed them "the most insidious ideology in the history of humanity," and for his warnings against  a "gay empire."
The Spanish Network of Help to Refugees has filed a complaint against Cardinal Antonio Cañizares of Valencia for his remarks, made on May 13. Under Spanish law, such a charge is required to be investigated.
"The family is haunted today, in our culture, by an endless threat of serious difficulties, and this is not hidden from anyone," Cañizares said in his May homily.
"We have legislation contrary to the family, the action of political and social forces, with added movements and actions of the gay empire, of ideas such as radical feminism, or the most insidious of all, gender theory," he said.
In Catholic circles, the term "gender theory" is used to describe the ideas of some scientists and cultural critics who argue that sexual differences between men and women are socially constructed rather than given in nature.
Soon after Cañizares spoke, a coalition of 55 pro-LGBT associations accused him of being homophobic, saying that his words "go beyond freedom of expression and can be considered hate crimes."
One of these associations is Lambda, which unites Valencia's LGBT community. They presented a formal complaint against Cañizares, a former prefect of the Vatican's Congregation for Divine Worship and the Discipline of the Sacraments.
Fani Boronat, coordinator of Lambda, said that what they expect from the prelate now is for him, in a different homily, to make a "strong" declaration in favor of the LGBT community, supporting diversity, equality, and feminism.
On Monday, the pro-migrant network initiated criminal proceedings, saying Cañizares's words against gender theory constitute hate crimes, as do, in their eyes, statements he made about migrants last October.
At that time, Cañizares asked if all the migrants arriving to Europe from the Middle East and Africa were "clean wheat," asking if it'd be possible that some of those arriving are in reality "Trojan horses."
In a statement, the pro-migrant network said that Cañizares "is an ultra-conservative trying to subvert the constitutional order," accusing him of nostalgia for "times when immigrants, gays, lesbians, bisexuals, transsexuals and women were subjected to the dictates of a society governed by the powers of the Catholic Church."
They also say that in his opposition to open borders, the prelate was "aligning himself with neo-Fascist organizations" that "consider persons of other ethnicities or religious beliefs as dangerous and potentially criminal."
The network is a lobbying organization that advocates on behalf of migrants amid what is considered Europe's worst refugee crisis since the Second World War. Critics, however, point out that it does not operate any refugee assistance center, while the diocese of Valencia under Cañizares' command helped an estimated 40,000 migrants in 2015.
Valencia is an autonomous community, currently the only Spanish region governed by Podemos, a left-wing populist party, through a coalition forged with Compromís, a leftist association, and IU-Valencia, a communist party.
Last week, the region's government decided that students who receive a scholarship with public funding can't use it in a private university, most of which are Catholic. They also ruled that medical students who attend private universities can't perform their mandatory internships in public hospitals.
Some legal experts believe the two decisions violate a concordat between Spain and the Vatican, which stipulates that students of Catholic institutions should be treated the same way as those of other universities.
The governor of Valencia, Ximo Puig, has denounced Cañizares' statements, accusing him of "fomenting hatred" and claiming that "the whole world understands that each person can love whom he wants."
Puig's vice-president, Monica Oltra, likewise accused the cardinal of being a "misogynist," and sided with those who accused him of inciting hatred.
For his part, the cardinal hasn't relented, issuing an open letter asking for "objective" lawyers and jurists to read the full homily in which he delivered the controversial remarks, and to point out what part of his text broke the law.
Cañizares also has called for Christians in Valencia to refuse to comply with a bill that would allow minors to have a gender reorientation surgery, financed by the state, even without their parents' consent (which under the law they would still need, for instance, to get a tattoo).
In what was supposed to be a private letter to Puig and Oltra, but which was leaked and appeared in the Spanish press, Cañizares told the regional leaders that they reminded him of the regime of Spanish dictators Francisco Franco.
Despite recognizing Catholicism as the official religion, Franco also prohibited "seditious" sermons and other actions deemed offensive to the government or the military, or damaging to the unity of Spain.
Manolo Mata, the spokesman of Valencia's socialist government, said Wednesday the party considered the issue "resolved" after they failed to get the needed support to make the Corts Valencianes, the autonomous region's main legislative body, condemn Cañizares.
The criminal proceedings, however, are on-going.