Cries of Syria's children must not go unheard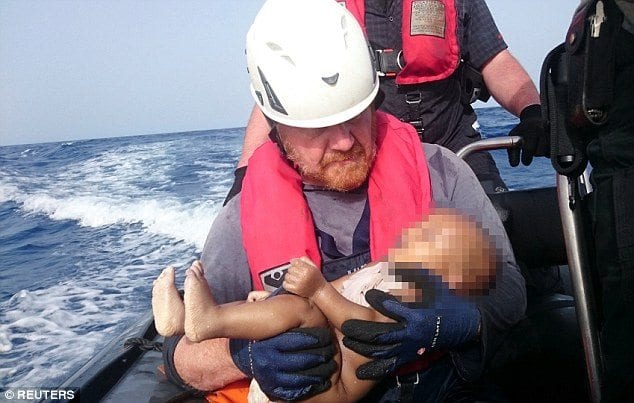 A few days ago, the heart-wrenching picture of a German charity worker cradling the lifeless body of a one-month old child likely touched even the most hardened person.
The baby was lifted from the Mediterranean Sea, one of seven hundred migrants who were drowned, desperately trying to flee the ravages of war in overcrowded boats with the hope of a better and more secure life.
The picture brought back painful memories of another Syrian child: three-year-old Aylan Kurdi, whose lifeless body was washed up on a Turkish beach in September 2015. That image made world headlines.
It's more than five years now since the Syrian civil war began in March 2011. The violence has caused unbelievable misery for millions of people, particularly Syrian children.
Ever since he began his pontificate in March 2013, Pope Francis has consistently highlighted the reality of the refugees and internally displaced persons, or IDPs. It therefore came as no surprise when on Sunday, May 29, during his Angelus message in the Vatican, he once again brought the world's attention to the millions of Syrian children who have been killed, displaced or orphaned as a result of the civil war.
The pontiff called attention to a special prayer for peace that took place on Wednesday.
"On the occasion of International Children's Day, the Christian communities of Syria, both Catholic, and Orthodox, will have together a special prayer for peace, which will have children as its protagonists," he said.
"The Syrian children invite children from around the world to join their prayer for peace," Francis said.
Pope Francis' appeal comes at a time when there is a renewed sense of urgency to stop the war, to respond more generously and inclusively to the plight of the refugees and above all, to do much more for the children who obviously suffer the most.
There are innumerable stories of suffering that most Syrian children have to go through, but there are also stories of resilience and of hope. There are cries that make us wonder why the world is not doing much more to restore peace and normalcy to a broken people.
Batoul, for instance, is eleven years old and highly traumatized by the deaths of his mother and two sisters a year ago. They lived in a small village in rural Damascus. One night they had to flee, because their village was heavily bombarded.
He, his elder brother, Alaa, 13, and his father managed to escape. His mother and two little sisters were with another group, and were not so fortunate as they were caught in a crossfire.
Today, Batoul often falls into long spells of silence. The Child Protection Centre in Zaramana provides him and several others with the counselling and the therapy they so desperately need.
For seven-year old Shirin, it's fifteen months since her parents and four siblings fled from war-ravaged Syria to the safer and more secure environment of neighboring Lebanon. She doesn't remember very much about the day they had to leave the comfort of their small home near Damascus.
"It was very painful and difficult," she says, and then tunes out, clearly trying to forget the way her family had to come away from the place they once called "home."
Batoul dreams of becoming an engineer, and Shirin a doctor. Their stories are those of more than two million Syrian refugee children who today live in the neighboring countries of Lebanon, Jordan, Iraq and Turkey, or who are IDPs inside Syria itself.
In March 2016, UNICEF published a report titled "No Place for Children," stating that "an estimated 3.7 million Syrian children – 1 in 3 of all Syrian children – have been born since the conflict began five years ago, their lives shaped by violence, fear and displacement; this figure includes 306,000 children born as refugees since 2011."
The report highlights that, "In the earlier years of the conflict, most of the children recruited by armed forces and groups were boys between 15 and 17 years old; however, since 2014, all parties to the conflict have recruited children at much younger ages – as young as seven – and often without parental consent."
When they flee, children are often forced to start working in order to help provide for their families, and usually take jobs or work daily/seasonally in the agricultural sector. Many of the children are exposed to pesticides, toxic chemicals, heavy loads and exhausting hours. Many are also subject to sexual and other forms of physical and mental exploitation.
The recently concluded World Humanitarian Summit in Istanbul made a passionate plea for education for all children affected by conflict. The Syrian children need quality and inclusive education, which hopefully would address the seriousness of their situation.
The hope is that the children's prayers on Wednesday, joined by Pope Francis, will not fall on deaf ears, but will lead to healing, reconciliation and peace as a response to the cries of Shirin and Batoul, as well as the lifeless bodies of the one-month child and Aylan Kurdi.
(Father Cedric Prakash, S.J., is a human rights activist, and is currently engaged with the Jesuit Refugee Service(JRS) in the Middle East and is responsible for advocacy and communications. JRS(MENA) works in Lebanon, Syria, Jordan, Iraq and Turkey responding to the needs of the refugees, and particularly with Syrian children in education and child protection.)