Nigerian bishop says rosary is key to beating Boko Haram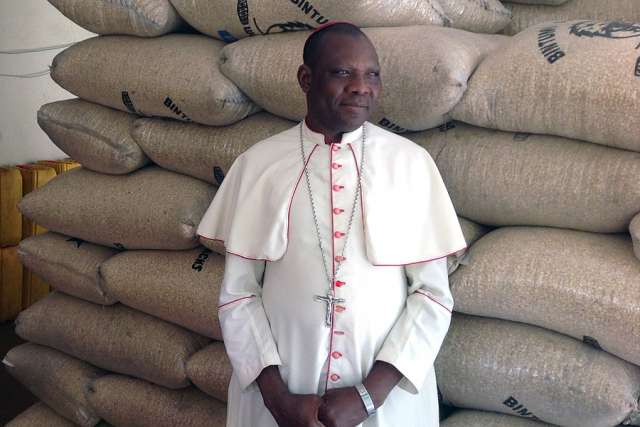 MAIDUGURI, Nigeria — Amid the apparent decline of the radical Islamist group Boko Haram, a Nigerian bishop who had a vision of Christ has repeated his belief that praying the rosary will bring victory over the group.
Bishop Oliver Dashe Doeme of Maiduguri said his vision of Christ encouraged the people of his diocese to believe "that the rosary would ultimately give us victory over this evil.
"Boko Haram is evil, ISIS is evil," he told the U.K. newspaper the Catholic Herald. "So as long as we go to a place with His Mother, especially by praying the rosary, which is the most pronounced form of Marian devotion, we will be victorious."
According to the bishop, "Boko Haram will soon fizzle out, mostly because of the prayers of the people."
"Before, Boko Haram members were everywhere. But now they are not everywhere," he continued. "They have been pushed to the forests."
Doeme heads the Diocese of Maiduguri, in northeastern Nigeria's Borno State. In 2009, there were around 125,000 Catholics under his guidance. A surge in violence from Boko Haram displaced tens of thousands of his people.
Due to the conflict, 2.6 million people in total have been displaced. An estimated 800,000 people are living in burned-out villages and camps across Borno. About 3.8 million people in the region suffer from malnutrition and as many as 49,000 children will die without assistance, a recent Unicef report said.
Last year Boko Haram pledged alliance to the Islamic State, also known as ISIS or Daesh.
However, there are reports of a power struggle and a split within the organization, CNN reports. The Nigerian army says the group has been significantly weakened, and some civilians are returning home.
In December 2015, Nigerian President Muhammadu Buhari told BBC News that Boko Haram could no longer make conventional attacks, though some critics have questioned the degree of military success against the group.
Doeme said the rosary "has worked wonders, and has liberated nations." He cited the 1571 Battle of Lepanto which defeated a Turkish fleet, and the deposition of President Ferdinand Marcos in the Philippines in 1986.
He told the Catholic Herald he believes Christ appeared to him in 2014 "in order to console his people, that His mother is there for us."
In April 2015 he recounted his vision to CNA.
"Towards the end of last year I was in my chapel before the Blessed Sacrament… praying the rosary, and then suddenly the Lord appeared," he said.
In the vision, the bishop said, Christ didn't say anything at first, but extended a sword toward him, and he in turn reached out for it.
"As soon as I received the sword, it turned into a rosary," Doeme said, adding that Christ then told him three times: "Boko Haram is gone."
"I didn't need any prophet to give me the explanation," he said. "It was clear that with the rosary we would be able to expel Boko Haram."
The bishop said he didn't want to tell anyone about the vision, but he "felt that the Holy Spirit was pushing him to do so."
He told CNA, "prayer, particularly the prayer of the rosary, is (what) will deliver us from the claws of this demon, the demon of terrorism. And of course, it is working."