Former Jesuit leader who faced stiff tests dies at 87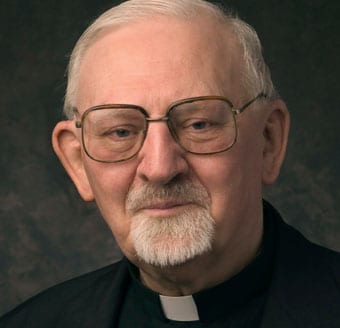 Father Peter Hans Kolvenbach, who led the worldwide Jesuit order for a quarter century from 1983 to 2008, and who broke with tradition by voluntarily resigning what had once been a lifetime job, died on Sunday in Beirut four days shy of his 88th birthday.
An internal Jesuit email broke the news of Kolvenbach's death and told members that "further information will follow."
Born in the Netherlands, to a Dutch father and mother of Italian heritage, Kolvenbach did his early Jesuit studies at a college in Nijmegen in the years immediately after World War II.
Kolvenbach spent much of his career in Lebanon, having earned his doctorate in Beirut and being ordained as a priest of the Armenian Catholic Church. At one point he was also the superior of the Jesuits' Middle East vice-province, which includes Lebanon, Syria and Egypt.
From 1964 to 1976, Kolvenbach taught general and Oriental linguistics both in Europe and Beirut. Eventually he was appointed Professor of General Linguistics and Armenian at Université de Saint-Joseph, and after that served as rector of the Pontifical Oriental Institute in Rome.
Kolvenbach took over leadership of the Jesuits at a sensitive moment, after St. Pope John Paul II set aside the order's constitutions by imposing his own interim team – in part because the then-superior, Father Pedro Arrupe, had suffered a stroke, but also because Arrupe's strongly pro-social justice and church reform orientation was seen by critics as having made the Jesuits something akin to John Paul's in-house opposition.
Over his tenure as the "Black Pope," Kolvenbach generally tried to stay out of the limelight, but at times found himself handling delicate situations such as the Vatican investigation of Belgian Jesuit theologian Father Jacques Dupuis.
Kolvenbach tried to work some back-room diplomacy but still saw Dupuis' work criticized by the Congregation for the Doctrine of the Faith under then-Cardinal Joseph Ratzinger, the future Benedict XVI.
Over time, Kolvenbach was credited with having managed to win back the trust of John Paul II and his Vatican team, without alienating the more liberal members of the order.
In 2006, Kolvenbach informed his fellow Jesuits that with permission of then-Pope Benedict XVI, he would resign his office two years later. Benedict himself, of course, would follow suit a few years later, resigning the papacy.
Upon retirement Kolvenbach returned to Beirut, making his home in a Jesuit community in the city.