Religious freedom report highlights threat of 'Islamic hyper-extremism'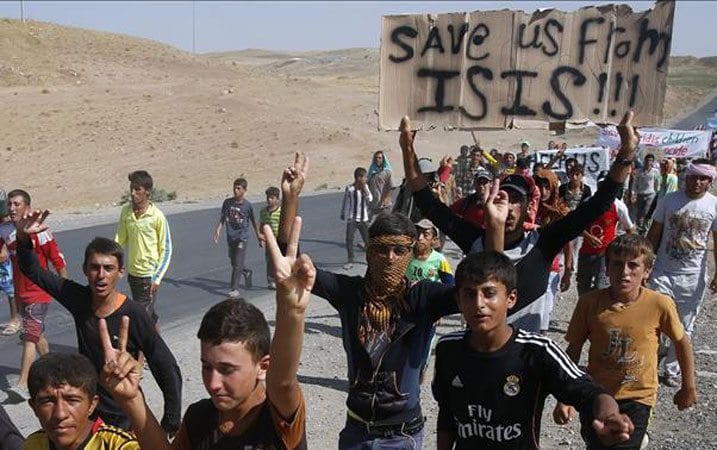 ROME— "Why don't you talk about us? Because we're not European?"
This was the challenging question posed by Sister Guadalupe Rodrigo, an Argentine-born missionary in the Middle East to hundreds gathered last April in the Roosevelt Hotel in New York for the #WeAreN2016 congress, dedicated to the theme of anti-Christian persecution.
"Do you remember the attacks in Paris? The reaction of the people was spectacular, the media, the social networks…It happened on a Friday. Imagine there was another attack on Saturday. And then one on Sunday," she said. "Imagine what the reaction would have been."
"This happens every day in Syria," she deadpanned.
In recent years Christians and other minorities in the Middle East have not only suffered violence and persecution, they have been victims of kidnapping, hanging, crucifixion, executions and sexual enslavement, but also abandonment, she said.
"The West has turned its back on us," said Rodrigo, who's been serving in the Middle East for 20 years.
The situation she described doesn't happen only in Syria, where Unicef estimates half a million children live under siege, almost completely cut off from humanitarian aid and basic services.
It happens also in Bangladesh, where on November 26, some 20 thieves armed with knives looted the Catholic church of Mathbari in Gazipur, near Daka.
In a country often portrayed as an example of peaceful religious coexistence among Muslims, Buddhists and Christians, this small Catholic community of 3,500 has suffered eight attacks in three years.
Speaking to Asia News, Father Vincent Bimal Rozario, the chaplain of Mathbari who was tied and gagged during the assault, said that despite assurances from the police for increased protection, seeing how these incidents continue to happen, he's concerned about the safety of the community.
In 2014, a local convent was attacked and two nuns assaulted and raped.
These are not isolated cases, in isolated communities, but part of a trend that continues to grow: Violence, persecution and executions for religious reasons, including of Christians around the world.
According to the latest report from the papal charity Aid to the Church in Need (ACN), presented in the United Kingdom last week, the situation is getting steadily worse.
The Religious Freedom in the World report was compiled by in-country experts, including journalists, academics and commentators, and examines the degree to which nation states uphold the principle of religious freedom and the impact of destabilizing extremist groups within society.
The report even speaks of a new form of religiously motivated violence, described as "Islamist hyper-extremism."
This phenomenon, the study found, has had a "toxic impact regarding religious liberty around the world:" From June 2014 to June 2016, one in five countries in the world has seen at least one attack by Islamic extremists, from Austria to Sweden, including 17 African nations.
It's worth noting, as the study does, that one of the characteristics of this extreme radicalization are systematic attempts to annihilate or drive out all groups who don't conform to their outlook, including other Muslims who are either moderate or of different traditions.
For instance, Asad Shah, an Ahmadiyya Muslim shopkeeper in Glasgow, was killed in March 2016 by another Muslim because he had wished his Facebook friends a happy Easter.
The study, conducted in 196 countries, also found that in parts of the Middle East, including Syria and Iraq, but also in parts of Africa and the Asian sub-continent, this hyper-extremism is eliminating all forms of religious diversity, intending to replace pluralism with a religious mono-culture.
Yet the findings aren't reduced to a growing religious intolerance in these regions, nor is it only of Islamic origin.
In Europe, for instance, there has been an upsurge of anti-Semitic attacks, a trend that according to the report came to the world's attention with the January 2015 attacks on a kosher restaurant in Paris two days after the killings at the office of the Charlie Hebdo satirical magazine. Australian Jews recorded 190 anti-Semitic incidents in 18 months between 2014 and 2015.
Also in Europe, the arrival of refugees fleeing countries such as Afghanistan, Somalia and Syria because of hyper-extremism has had its ripple effects, including the rise of right-wing and populist groups, discrimination and violence against minority faiths and a decline of social cohesion.
The ACN report includes several case studies, such as one of a Buddhist monk in Burma (Myanmar) who leads an anti-Muslim campaign, stoking anti-Muslim attitudes through his grassroots nationalist group, the 969 movement.
Myanmar is 90 percent Buddhist, but a monk named U Wirathy and his followers claim the country is under threat from what they say is a dangerous, rapidly growing Muslim population.
Cardinal Charles Maung Bo, addressing the United Nations Human Rights Council in March 2016, urged the international community to encourage Burma to uphold religious freedom.
The government's response? Drafting a "Protection of Race and Religion Laws," which would eliminate a person's right to convert and to marry someone outside "their race and religion."
According to Fortune, a senior United Nations official has accused the Burmese authorities of carrying out a campaign of ethnic cleansing against the Rohingya Muslim minority in the country's western Arakan state.
And Myanmar is far from being the only country where religious persecution comes from the government. For decades now, North Korea has been the most dangerous country in the world for Christians.
In China, in Zheijang and nearby provinces, more than 2,000 churches have had their crosses demolished because religious groups refuse to follow the party line.
According to the report, in more than half of the 28 Asian countries studied, the lack of religious freedom is either high or medium, and in only 21 percent of them there's no reason for concern at all.
The situation is worse in the Middle East, where there's a lack of religious freedom in the 16 countries studied. Persecution is medium or high in 87 percent of these countries.
In Europe, according to the study, there's a reason for concern over religious freedom in the United Kingdom, France, Norway, Denmark, and Germany, while the situation is even more worrying in Cyprus and Greece.
One in three people live in a country with no religious freedom, and one in six Christians live in a country where they're persecuted.
All in all, despite improvements in a handful of countries from the 2012-2014 study, the report says the situation has worsened in 11 of the 23 countries with less religious freedom, adding to a spiral of violence Pope Francis has dubbed "a piecemeal war" or a third war in pieces.
Although some would like to blame religious beliefs for the world's violence, those who've fallen victim to religiously motivated hatred disagree.
"If we are to break the cycle of violence threatening to engulf our world, we need to replace war with peace," Syriac-Catholic Father Jacques Mourad wrote in the foreword of the ACN report.
Mourad knows what he's talking about: In 2015 he was kidnapped by ISIS and together with a deacon held in a 19-by-10-foot bathroom that served as their prison cell for 84 days, until they managed to escape.
"In this day and age more than ever, it is time to cast aside religious hatred and personal interests and learn to love one another as our faiths call us to do," he writes.