Muslim Bangladesh goes gaga over Catholic cardinal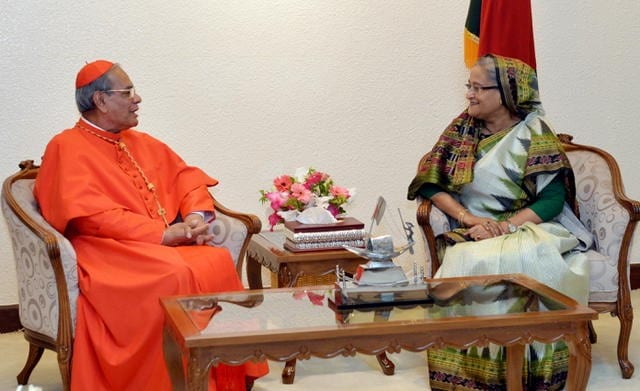 MUMBAI, India – Bangladesh is the fourth largest Islamic country in the world by population, with almost 150 million Muslims, representing a robust 86 percent of the country's total. Its Muslim ethos is clear, including a 1988 constitutional amendment declaring an "Islamic way of life" as a basis for national identity.
Yet right now, Bangladesh is basically going gaga over a Catholic cardinal.
In November, Pope Francis tapped Archbishop Patrick D'Rozario of Dhaka, the nation's capital, as the first-ever cardinal from Bangladesh. In a country long accustomed to being overshadowed by its mammoth regional neighbors India and Pakistan, the choice set off a national surge of pride that shows no signs of abating.
The honor also came at a time when Bangladesh was still reeling from a July terrorist attack, the worst in the country's history, involving a siege in an affluent neighborhood of Dhaka that left 29 people dead and instilled fear that the religious extremism long troubling the rest of the region had finally arrived at home.
In that context, having a good news story to tell, one with overtones of tolerance and respect for religious minorities, seemed to be just what the doctor ordered.
Recently President Abdul Hamid held a session with members of Bangladesh's Christian community to express Christmas greetings, saying there was more "joy and festivity" than normal because of the rejoicing over D'Rozario's elevation as a Prince of the Church.
"Bangladesh is a country of communal harmony. The people of the country have been tied with love and harmony from time immemorial and we all have to play an effective role in further strengthening this tradition of harmony," Hamid said, arguing that D'Rozario's promotion will "brighten further the country's existing trend of communal harmony across the globe."
D'Rozario was in attendance at the reception, joined by ambassadors, representatives of foreign missions in Bangladesh, leaders of various religious communities and assorted professionals and dignitaries.
That meet-and-greet built on an earlier encounter on Dec. 22 between D'Rozario and Prime Minister Shiekh Hasina, the second time the two had met after the new cardinal returned from the Nov. 19 consistory in Rome when Pope Francis inducted him into the Church's most exclusive club.
"The Hon. Prime Minister was so happy," D'Rozario said.
"She's known me personally for many years. She told me, 'I am so happy with your becoming a cardinal. You have brought a big honor for the nation. With you, the country has been dignified and honored'," he recalled.
During the Dec. 22 reception, Hasina urged Bangladeshis to uphold their tradition of tolerance against what she called religious "fakes" seeking to stoke conflicts.
"Those who pretend to practice religion create clashes between religions, but those who believe in religion truly and have confidence and trust in themselves never take unjust measures," she said.
The premier said the religion is undermined if anybody wants to use it for violent ends.
"So, it's the responsibility of everybody to maintain dignity of his or her religion and take it to a more dignified position," she said.
Beyond delight over having their own cardinal, Bangladeshis these days are keenly anticipating another sign of papal favor: A visit by Pope Francis in tandem with his trip to India, scheduled for sometime in 2017
On that front, D'Rozario said he doesn't have any new intelligence as to dates, but expects the visit will fall late in the year, possibly November or December.
Now 73, D'Rozario is a member of the Congregation of Holy Cross, the same order that runs the University of Notre Dame in the United States. He took over in Dhaka in 2011.
In November, he told Crux that he'd been startled by the widespread national interest his appointment had generated.
"By now I must have given interviews to 20 TV channels" about becoming a cardinal, he said. "Muslims, Hindus, Buddhists, Christians, everybody in the country is excited about it."
Ironically, he said, many of his Muslim and Hindu interviewers seem better-briefed on the details of becoming a cardinal, such as the precise vestments he's now entitled to wear or the mechanics of electing a pope, then he yet is.
"To tell you the truth, I've learned a lot from them!" he said.
"This is a real gift for the country of Bangladesh," he said, insisting he means by that "the entire country," not just the tiny Christian minority.
"It's a recognition of the good things we have," he said.