Another Pope Francis bishop is named in India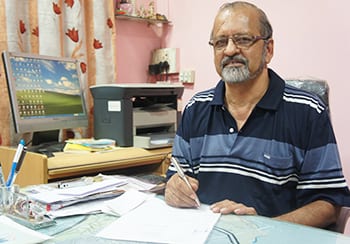 MUMBAI, India – On January 28, the Archdiocese of Bombay (now called Mumbai) on the west coast of India will welcome two new auxiliary bishops, and at least one of them fits the dictionary definition of a "Pope Francis bishop."
The Vatican announced on Dec. 20 that Fathers Barthol Barretto and Father Allwyn D'Silva have been tapped by the pope to be auxiliary bishops of Mumbai, which is led by Cardinal Oswald Gracias, a member of the pope's "C9" council of cardinal advisers.
D'Silva, who's dedicated his life to working with the poor and advocating for the environment, has clearly been cut from Francis's cloth.
For decades he has been deeply involved in human rights issues, social concerns and most recently environmental matters at the local, regional and national level.
From Jan. 1, 2015 to Dec. 31, 2017, D'Silva will serve as the Secretary of the Federation of Asian Bishops' Conferences (FABC) Climate Change Desk. Since assuming this role, he has attended various programs and has been a speaker and resource person for environmental matters.
"'Care for Creation' will be my episcopal motto," D'Silva told Crux and added that "My appointment is a recognition of the Church that works for justice and environment issues."
The FABC also recently appointed him as secretary of the office of Human Development.
D'Silva was ordained in 1975. He was in charge of the Justice and Peace Commission for the Archdiocese of Bombay for several years and was also the coordinator of the Prison Ministry in the Archdiocese.
He has also spoken many times on the issue of climate change and more specifically about Laudato Si, Pope Francis' 2014 encyclical on this topic.
In other words, D'Silva has dedicated his life to working in the peripheries that Francis holds so dear.
D'Silva seems to understand the gravity of being a bishop in a challenging world and the particularity of having been appointed by this pope.
"My appointment is very challenging especially during the tenure of Pope Francis, because the Holy Father has set high standards for us bishops," he said. "He has mentioned that the pastor should have the smell of the sheep. That is a big challenge for us bishops as well as for the Church."
He sees his appointment as a "recognition of the work for justice, the work for the marginalized" he's done through his life, as well as of the fact that he has been "taking care of the apostolate on environment and creation on the Asian level."
He is looking to help make the "church in Mumbai and Asia more environment friendly, more conscious of global warming" as well as keeping the justice issues front and center.
"My apostolate will be more towards the peripheries, the marginalized," D'Silva said.
Pope Francis couldn't have said it better.