Catholic Cemetery vandalized in Goa, India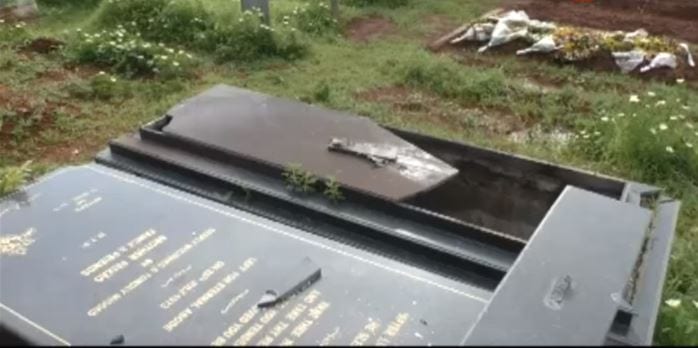 MUMBAI, India — Police in Goa say vandals destroyed CCTV cameras before using heavy machinery to desecrate a Catholic cemetery in the Indian state.
They destroyed or damaged 28 niches, 9 granite crosses, 5 wooden crosses, 16 tombs, and the entrance gate of Curchorem cemetery.
Goa – a former Portuguese colony which was annexed by India in 1961 – is considered a center of Catholicism in the country, and Christians make up about a quarter of the population, compared to less than 3 percent for India as a whole.
Despite its large Christian population, the state has been suffering from a string of anti-Christian incidents, with four acts of vandalism in the last month alone. The local archdiocese is investigating the matter.
"These violent incidents seem to be designed by vested interests to provoke communal discord and promote religious hatred," said Archbishop Filipe Neri Ferrão of the Archdiocese of Goa and Daman.
"While we strongly condemn the same, I personally appeal to our brothers and sisters of all faiths to refrain from taking any retaliatory action or even fanning the flame of religious hatred in their hearts," he said.
Ferrão said Goa is traditionally known for interreligious harmony and peace.
"Let us keep these sacred values at all costs, especially in these troubled times, when violence seems to have become the order of the day. At the same time, we urge the government authorities to thoroughly investigate these acts of vandalism and to bring the perpetrators to book," the Archbishop said.
Rupinder Kumar, a local police official, said they are investigating the matter, and a special team has been established dedicated to stop the vandalism.
Since 2014, India has been ruled by the Hindu-nationalist Bharatiya Janata Party (BJP), which has strong links to the Rashtriya Swayamsevak Sangh (RSS), a militant Hindu nationalist organization.
The BJP has ruled Goa even longer, taking power in 2012. However, the party is more solicitous of religious minorities in Goa than nationally.
Six BJP members of Goa's legislative assembly are Catholic, including former deputy chief minister Francis D'Souza.
D'Souza told The Navhind Times the vandalism is a "deliberate attempt by outsiders" to disturb the peace in the state.
"The culprits however, as is always the case, are a little too smart for the police and have even damaged the CCTV camera installed at the Curchorem cemetery to hide their identity," he said.
D'Souza has tried to distance the attacks from politics – saying it's "a matter pertaining to crime" – but at a recent Hindu convention in Goa, preacher Sadhvi Saraswati called on Hindus to "pick up their weapons in defense of the cow, our mother."
Alina Saldanha, another Catholic serving as a BJP member of the state legislative assembly, said Saraswati and any other person "who make hate speeches" should be banned from Goa.
"It is very obvious that this act, and others in the recent past, are aimed to destroy communal harmony," she said.
Father Savio Fernandes, the executive secretary of the Council for Social Justice and Peace, said a fact-finding team representing national Church organizations would arrive in Goa on July 13 to investigate the attacks.
He said the team will prepare a detailed report after visiting the places which have been vandalized and speaking to witnesses.