Sister Ruth Pfau, "the Mother Teresa of Pakistan," dies at 87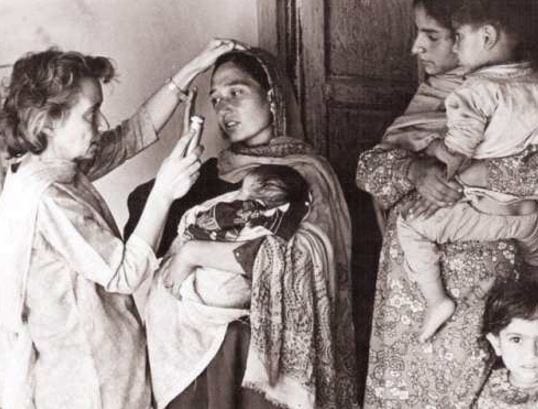 MUMBAI, India – A German nun known as the "Mother Teresa of Pakistan" will be given a state funeral, according to Prime Minister Shahid Abbasi, after dying Aug. 10 at the age of 87.
Sister Ruth Pfau died in Karachi in a hospital affiliated with the Marie Adelaide Leprosy Center, which she founded.
Abbasi called her service to the country "selfless and unmatched," and said Pfau "may have been born in Germany, but her heart was always in Pakistan.
"She gave new hope to innumerable people and proved through her illustrious toil that serving humanity knows no boundaries," the prime minister said in a statement. "We are proud of her exemplary services, and she will remain in our hearts as a shining symbol in times ahead."
Pfau earned a medical degree in West Germany during the 1950s, and then joined the Daughters of the Heart of Mary.
She was sent by her order to India, but during a stop in Karachi, Pakistan, visa problems kept her from entering India, and she ended up staying. During a visit to a leprosy colony in the city, she decided she would devote her life to helping those with the disease.
She spent the rest of her life in Pakistan, and established 157 medical centers to treat people infected with leprosy. Because of her efforts, Pakistan was one of Asia's first countries to be declared leprosy-free by the World Health Organization in 1996.  Now the medical infrastructure she established is helping in the fight against tuberculosis.
"During her lifetime, Dr. Ruth worked tirelessly for the poor and the marginalized communities and was locally known as the Mother Teresa of Pakistan," said a statement issued by the National Commission for Justice and Peace, a rights-based organization affiliated with the Pakistan Catholic Bishops' Conference.
"With her endless efforts and continuous struggle, she helped Pakistan eradicate the disease and become leprosy free in 1996," it said. "She has been a prominent symbol of human empathy, motherhood and selfless love and service due to his six decades long service in Pakistan."
The statement was signed by the organization's chairperson, Bishop Joseph Arshad; national director, Father Emmanuel Yousaf Mani; and executive director, Cecil Shane Chaudhry.
"Dr. Pfau will always be remembered as a national hero, a legend whose services for humanity were nothing less than a pure manifestation of God's Divine Love," – the statement continued – "The vacuum created by her demise can never be filled."
Chaudhry told Crux that although he never met Pfau, he had visited the centers associated with her charity.
"I was so impressed by the extensive work they were doing," he said. "Further, the simplicity and commitment to continue this work without any major promotion of it was commendable. I saw firsthand how even their staff was so deducted which reflected Dr. Ruth's commitment to the cause as she had instilled the same qualities in her team, too."
Her state funeral will take place on August 19 at St. Patrick's Cathedral in Karachi. She will be buried in the city's Gora Qabristan Christian cemetery.