MUMBAI, India – A Catholic archbishop led an interfaith prayer rally in Bhopal, India, to mark the anniversary of the birth of Mahatma Gandhi.
Gandhi, the leader of India's independence movement, was born on October 2, 1869. He was later assassinated in 1948 by a Hindu nationalist angered at Gandhi's supposed "complacence" towards Muslims, which many Hindu nationalists said helped cause the violence surrounding the partition of British India into India and Pakistan 6 months earlier.
Archbishop Leo Cornelio of Bhopal said the reason he organized the event on the day of Gandhi's birth is because the "father of India" preached non-violence and constantly spoke about unity, peace and harmony in society.
RELATED: Bishops of India meet with nation's new president
"In the present polarizing tendency by fringe elements in society, we decided that good thinking people cannot sit silent. We need to respond in a proactive way," Cornelio told Crux. "Additionally, these elements are trying to create a rift in society, based on lines of religion, language, culture, etc.; and this is dangerous for the society and nation, this causes communal disharmony – an evil which Gandhi spoke out against. Gandhi encouraged the people of India to bring peace and harmony to the nation."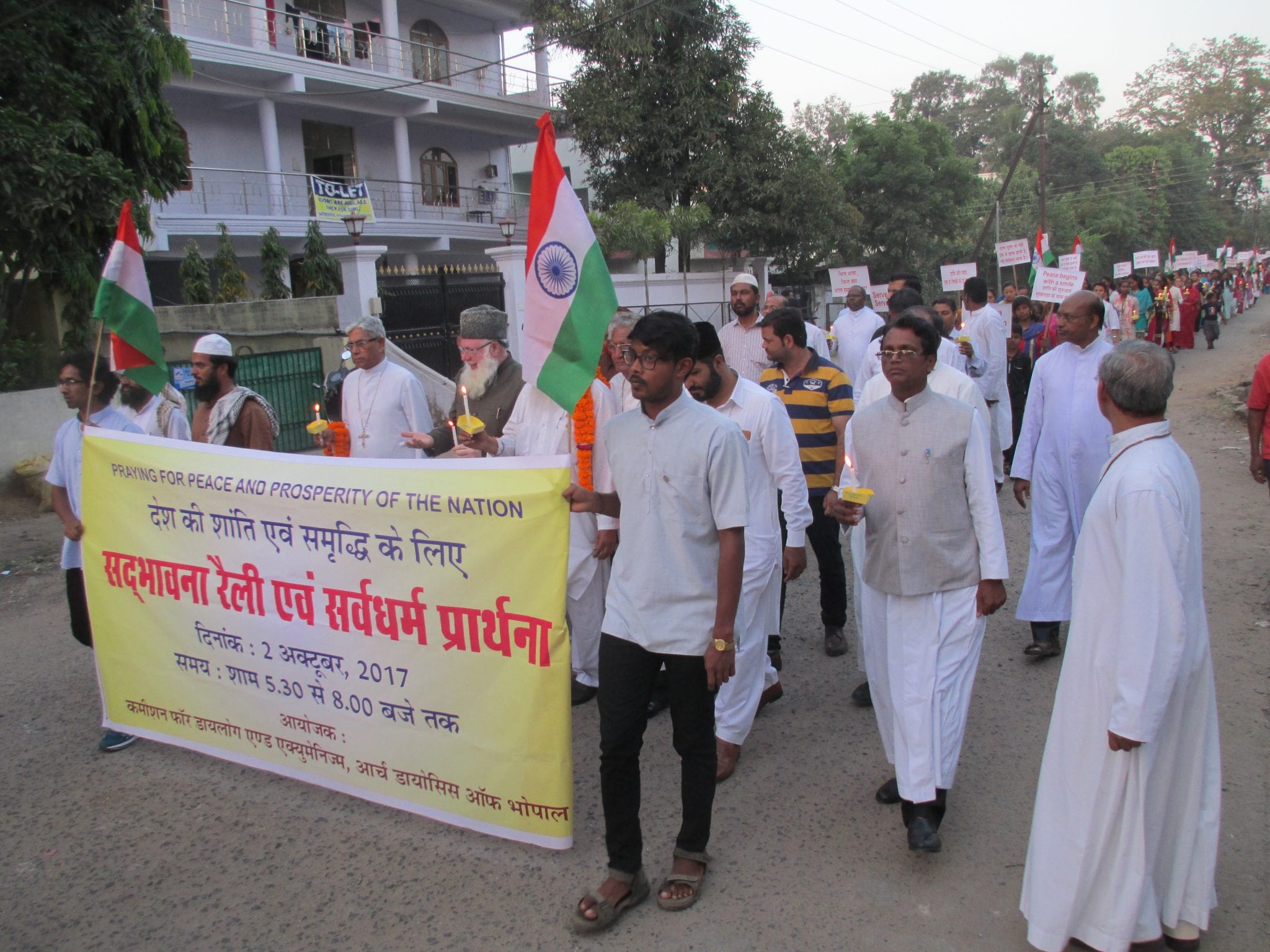 Since 2014, India has been ruled by the Hindu-nationalist Bharatiya Janata Party (BJP), which has strong links to the Rashtriya Swayamsevak Sangh (RSS), a militant Hindu nationalist organization.
Incidents of harassment against the small Christian minority have increased over the past few months, with various Christians being detained or arrested for "attempted conversion," and places of worship being vandalized.
More recently, a spate of killings related to "cow vigilantism" have happened around the country. The slaughter of cows – which are sacred in Hinduism – is illegal in most parts of India, although beef is often eaten by some Dalits (low-caste Hindus previously called "untouchables") and members of some religious minorities, such as Muslims and Christians.
Members of "cow vigilante" groups often attack people accused of slaughtering cows, and several people – predominantly Muslims – have been killed over the past year.
RELATED: Church in India remembers 2008 anti-Christian riots on 'Kandhamal Day'
Last month, a hostel run by the Catholic Syro-Malabar diocese in Mohanpur was confiscated by the government, and Cornelio said this was a sign that Christians were "under threat."
The archbishop said the rally was held "to promote unity and brotherhood" in the country.
In addition to Cornelio, Muslim leader Haji Mohd. Haroon, Sikh leader Sardar Dileep Singh, Hindu leader Acharya Krishna Kumar Dubey, Protestant Pastor C.P. Singh, and Buddhist leader Bhante Rahul Putra took part in the ceremony and offered prayers for the various needs of the nation.
Over 500 people attended the rally, and the various leaders offered floral tributes to Gandhi.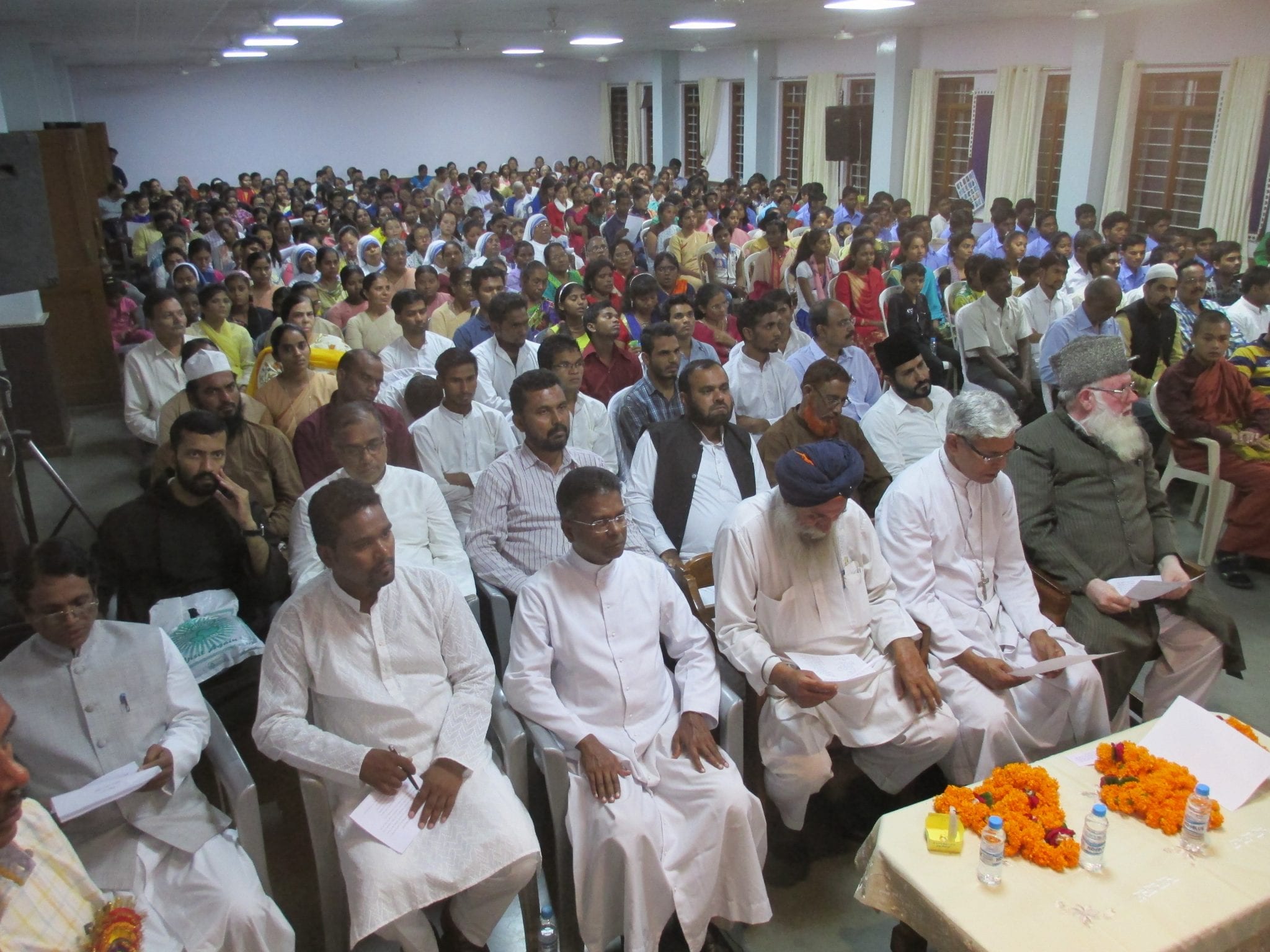 Cornelio said many of Gandhi's teachings had universal application, and could be embraced by all religions.
"The message of Gandhi is very much in keeping with the Gospel values of love, peace, joy, and fraternity," he explained.
"After His Resurrection, Jesus said 'Peace,' and this is the Word for all, peace.  Secondly, Jesus said love of God is seen through love for neighbor, which includes even the unlovable, and in today's context, with the harassment of minorities, they become unlovable; but this is the challenge for the Christians, to love the unlovable and to offer them peace," the archbishop said.
RELATED: Nun detained in India, in latest anti-Christian incident
The October 2 event was the latest in a series of interfaith gatherings in India seeking to ease tensions between religious communities, and promote the pluralistic nation envisioned in the country's constitution.
In August, an interfaith gathering in Mumbai, India, brought together the Dalai Lama, Archbishop Felix Anthony Machado of Vasai, and leaders from other Indian religions to discuss "World Peace and Harmony."
The event was organized by Ahimsa Vishwa Bharti, an organization founded by Jain religious leader Lokesh Muni.
Around 40 leaders from different religious faiths and civil society met to discuss the growing violence and intolerance in the country at the headquarters of the Catholic Bishops' Conference of India in New Delhi on July 16.
The meeting agreed on a five-point program of action:
The ideology of hate is a reality and needs to be challenged by government, political parties, civil society activists, the criminal justice system, and religious communities in a concerted manner.
Religious leadership must act at the grassroots to assert the inherent unity of the people. This will help restore public confidence and remove the mutual suspicion that had started growing.
The leadership must generate literature as well as content for traditional, mainstream, and social media to challenge falsehood and hatred.
Community leaders must come together at various levels so that tensions can be diffused and trust restored and strengthened. Similarly, national institutions including the National and State Minorities Commissions and other structures must be encouraged to actively work in restoring peace and help strengthen the rule of law.
A National Inter-Faith and Civil society convention will be held as soon as possible to discuss the developments and the measures that the government needs to take at the national and state levels.
India's Prime Minister Narendra Modi has said there is no room for communal violence in the country, and has called on state governments to act against the perpetrators.