U.S. bishop: Congo tensions high; church teaches democratic practices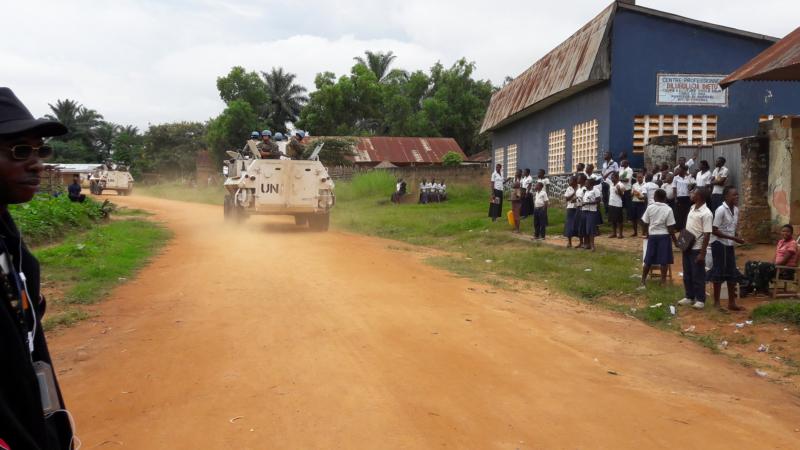 CAPE TOWN, South Africa — While political tensions in Congo are running high, the local church is making headway in teaching democratic practices in remote communities, said an official of the U.S. Conference of Catholic Bishops.
"There is a real sense of desperation in the country, with growing poverty and people not being paid," said Bishop Oscar Cantu of Las Cruces, New Mexico, chairman of the bishops' Committee on International Justice and Peace. In a Nov. 2 telephone interview from Congo's capital, Kinshasa, he said widespread corruption is depleting government coffers.
Church and other leaders are concerned "that there will be violence in the streets or an attempted coup," he said.
Noting that the central African country "needs a stable government, and there don't seem to be many candidates who inspire confidence for effective leadership," he said the local church has a team that focuses on identifying and training community leaders.
Cantu and Stephen Hilbert, the bishops' foreign policy adviser for Africa and global development, visited Congo Oct. 27-Nov. 3 and met with government officials, opposition and civil society leaders, among others.
A two-day visit by U.S. Ambassador to the United Nations Nikki Haley in late October "seemed to light a fire under the government here, which is encouraging," Cantu said.
"The church is trying to re-engage with political leaders, especially after Haley's visit, which has brought a welcome urgency to the government to get the elections done in a timely way," the bishop said.
RELATED:  U.S. ambassador to UN visits Congolese bishops, urges them to help end election deadlock
Haley, the most senior member of President Donald Trump's administration to visit Congo, is reported to have told the government to hold elections next year, rather than delay them until 2019, if it wanted to count on U.S. backing.
"I hope the pressure can be maintained until the situation improves," Cantu said, noting that he plans to follow up with Haley on his return to the U.S.
After a flare in political violence late last year, the bishops helped the government and opposition sign a Dec. 31 agreement that said President Joseph Kabila would remain in office, but elections would be held before the end of 2017. However, Congo's electoral commission has said elections will be held in 2019, which again has raised chaos in the country.
"Questions being asked here are will Kabila relinquish power, and will the transfer of power be peaceful," Cantu said.
The bishop and Hilbert met Nov. 1 with the head of Congo's electoral commission, "who told us that they will publish the electoral calendar within a few days," he said.
"This would help tremendously to ease tensions," Cantu said, noting that in terms of the signed agreement the president must state publicly that he will comply with constitutional provisions barring him from a third term.
Kabila "hasn't yet indicated if he will make this announcement," he said.
During an Oct. 27 visit to the bishops' conference headquarters in Kinshasa, Haley was briefed by the bishops on recent atrocities, particularly in Congo's Kasai region, and "was able to raise these publicly and with the government," Cantu said.
Since October 2016, more than 3,300 people have been killed in the Kasai region in fighting between the army and rebels, Catholic leaders said. The church's findings, including that 20 villages had been destroyed, half of them by government troops, were released in a June U.N. statement.
RELATED: Southern DRC violence has left more than 3,000 dead
The "atrocities are horrific" and, "as always, the poorest people bear the brunt," Cantu said. Nearly 4 million people out of Congo's 82 million people cannot live in their homes because of fighting.
In preparation for a general election, the church has been able to register as voters "more than 4 million people across the country, including in remote villages," Cantu said.
"Community meetings are held where people are encouraged to engage in political processes with the understanding that it is worth raising their voices," he said. "This is tremendously heartening and, even while there may not be a clear pathway to a stable government, we must continue to plant the seeds of democracy."
With dilapidated roads and other infrastructure, "many villages are very difficult to reach," Cantu said.
Archbishop Marcel Utembi Tapa of Kisangani, president of the Congolese bishops' conference, tries to visit every parish in his archdiocese at least once a year and, "to do so, he has to do a lot of walking" as well as use a four-wheel drive, a motorcycle, bicycle, canoe and airplane, Cantu said.
Hilbert told CNS that the Catholic Church "protects its moral authority and legitimacy," so it can play a directing role in Congo's affairs.
Because the church is "held in very high regard by the people of Congo and is understood to be looking after the common good," political and other groups "want to be seen in good standing with the church," Hilbert said.
The Catholic Church makes up around half of the population of the mineral-rich Congo, where up to 6 million people died in conflicts from 1996 to 2003.