Caritas India works with those at the bottom of society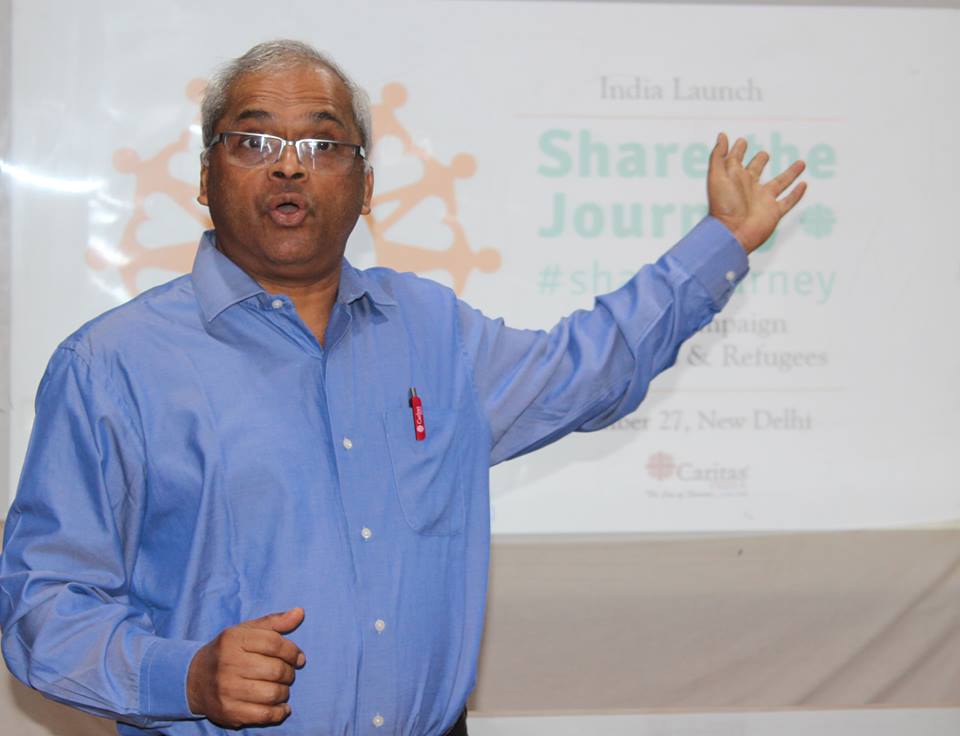 MUMBAI, India – As Father Frederick D'Souza ends his tenure as the head of Caritas India, he says the Christian perspective of volunteering or giving ourself in selfless service stems from Diakonia, "one of the subtle expressions of life of church in the society."
D'Souza stepped down from his role this week.
Caritas India is the official development arm of the Catholic Bishops' Conference of India and is especially committed to serving the underprivileged sections of Indian society, especially those coming from socially excluded communities, including those at the bottom of India's caste system, its indigenous Tribal community, and religious minorities.
Caritas India is associated with Caritas Internationalis, the Church's main international charitable arm.
The priest noted the work of Caritas corresponds with the April prayer intention of Pope Francis: "Let us raise our voices together, asking that economists may have the courage to reject an economy of exclusion and know how to open new paths."
This is a particular problem in India, where the country's historic caste system leaves many at the bottom of society, especially the Dalits, who were once known as "Untouchables." Religious minorities and members of India's indigenous Tribal communities also often face discrimination and prejudice.
"Social exclusion is very painful as it discriminates against an individual in every way. Economic exclusion is the heart of the social exclusion as it denies a person his or her dignity. One needs to make both ends meet," D'Souza told Crux.
"Most crimes are committed against the poor, and minors from poor and minority communities are the most vulnerable. This social exclusion also leads to political exclusion, as it makes people voiceless," he said.
"Youth of the minority groups Dalits and Tribals are more vulnerable than others as they are weaker, and voiceless, and defenseless. The economic exclusion of the people denies them of the opportunity to study, to engage themselves in any meaningful livelihood, and progress in life," the priest said.
"Through irresponsible and conspicuous consumption, people can retain the class system for themselves and continue to enjoy the best of the resources," he added.
Over the years, Caritas India has expanded to serving in the areas of humanitarian response in disaster areas, sustainable agriculture, fighting human trafficking, peace-building and community health. It now has a network of more than 200 partners across India.
D'Souza, a priest of the Archdiocese of New Delhi, was appointed as director of Caritas India in December of 2011, after serving as an assistant in the same organization for seven years.
He was awarded a Master of Arts from Mysore University and Master of Arts in Development Studies in the Netherlands, before getting his PhD from London School of Economics.
D'Souza told Crux that Caritas India has worked to recognize the potential of volunteering as a powerful and practical way to reach out to the most marginalized.
"At its core, volunteering is a powerful expression of a people-centered approach to empowerment and social transformation," the priest said.
Caritas India volunteers help with numerous campaigns, including: The Ashakiranam Cancer Care Campaign, which promotes cancer awareness in Kerala State; the Poshan Mitr –  or friends of nutrition – which helps to counter severe malnutrition in Maharashtra and Madhya Pradesh; the Pani Mitr – campaigners of water security – also in Maharashtra and Madhya Pradesh; the SAKSHAM programme for sustainable drought and climate change mitigation and enlargement of participatory possibilities with marginalized populations, in Uttar Pradesh, Rajasthan and Biha; and the Roshni programme for education of most socially excluded communities in Bihar, Roshni ki Toli (a group of adolescent girls), plays a pivotal role as volunteers to connect Dalit children and parents to school.
D'Souza told Crux that Dalit girl children in Bihar were originally known as 'Mushahar' which means 'rat eaters.'
"Traditionally the community has been a rat-eating community because of their abject poverty and discrimination," he explained.
"Caritas India works among these girls, as they do not go to any school. They are married early: As soon as they attain puberty. One reason they don't go to school is because they consider it a taboo to speak about menstruation, so their parents marry them off immediately," D'Souza said.
Not only has Caritas India initiated an education program for the girls in the community to get them into school, but they have also instituted a campaign of menstrual health education and provided the population with sanitary napkins.
D'Souza said the incidents of mistreatment of young people in India is a "blot on the conscience of the nation."
"We are working on their protection and dignity and their future," he said, including helping their mothers and fathers be better parents.
"We have formed groups of mothers and fathers to encourage them to send their children to school," D'Souza said. "The mothers' groups are involved in overseeing the midday meals for the children, and there is extra coaching for children with learning difficulties."
He said Caritas India is committed to working among the most vulnerable children, who are at risk because of their caste – as well as working to uphold the dignity of women and girls by campaigning for their rights.
"The caste system is a concrete example of social exclusion where a person is discriminated against based on birth, and suffers from crime and often doesn't get justice," he said.
The new director of Caritas India is Father Paul Moonjely, who will serve a six-year term.