On Marshall Plan milestone, Italian pol remembered as possible saint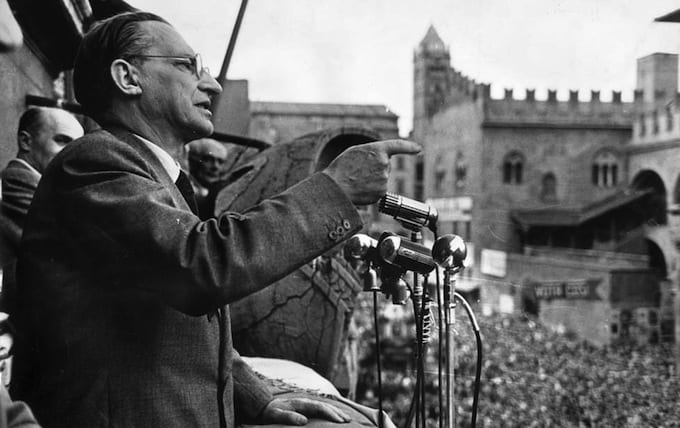 ROME – Seventy years to the day after the signing of the Marshall Plan, which was instrumental in getting Europe back on its feet after World War II, the Italian leader who helped bring it about was remembered Tuesday not only as a key player in creating the European Union, but also as an inspiration for Christian political activism and now as someone who could, one day, be declared a saint.
In January 1947, Italian politician Alcide De Gasperi, the first Prime Minister of the Italian Republic and founder of his country's Catholic-inspired Christian Democrats party, flew to the United States and convinced its leaders to lend a hand to Italy, thereby helping plant the seed of a broader Transatlantic pact.
In doing so, he was able to "take a destroyed nation and bring it to a state of dignity and serenity," said Maria Romana De Gasperi, 95, the politician's "favorite daughter," at a conference titled "Marshall Plan 70 Years Later: Legacy of the Transatlantic Bridge," which took place April 4 at the Center for American studies in Rome.
On April 3, 1948, President Harry S. Truman signed the "European Recovery Plan," better known as the "Marshall Plan," into law, which changed the face of Europe and led to its economic renaissance. In total, the U.S. gave more than $13 billion (more than $110 billion today) to rebuild the economies of Western European nations after the end of World War II, with aid distributed to each country on a roughly per capita basis.
Before the impact of the Marshall Plan began to be felt, De Gasperi's daughter said, Italy experienced extreme poverty in the years after WWII. She recalled once asking her father why men working outside the family house seemed to be tearing up the street one day and repaving it the next, over and over. In response, De Gasperi explained that because the government couldn't afford ambitious building projects, it was forced to pay citizens to do busy-work.
As another example, she said that the police force in the post-war era didn't have enough shoes to go around, so one shift had to get back to the station before the other left in order to switch shoes.
Beyond helping cement U.S./Europe relations, De Gasperi is also credited, along with statesmen Konrad Adenauer of Germany, and Robert Schuman and Altiero Spinelli of France, with being one of the founding fathers of modern Europe, and also with being a highly serious Catholic believer. Today he's a candidate for sainthood, with a cause for his beatification having been opened in his native Archdiocese of Trento in 1993.
Pope Francis has referred to De Gasperi several times, and during a Q&A session with youth in April 2015, placed him among the many Catholic politicians who "have helped to bring peace among nations" and wished "to go forward for the common good."
When Maria Romana hears Francis mention her father, her takeaway is that the pope is encouraging European countries "to get along," she told Crux in a brief interview April 4.
"Kids get along!" she said jokingly. "It seems simple to get along […] It's the politicians who don't always find the right path. It's not easy, and it hasn't been [in the past]."
A Turbulent flight and the American Dream
A rickety four-engine aircraft carrying De Gasperi, his eldest daughter and three other high-profile Italian politicians to the United States back in 1948 encountered a lot of turbulence on the way, causing passengers to land several times on the Azores and Bermuda.
Maria Romana remembers the "infernal noise" of the plane as it shook violently due to strong winds. She had been sent by her mother to "watch over" her father during his ambitious trip across the Atlantic Ocean, a tall task for a 24-year-old. She remembered trying to lift his mood during the turbulence: "Don't worry dad," she said. "I can swim."
Eventually, she arrived in an America which, at the time, seemed to her like heaven. Waking up at the Waldorf Astoria in Washington D.C., she found a tray with yogurt, coffee and fruit, and asked her father to share it before finding out he had his own.
"I thought, how's this possible? They must be crazy!" Maria Romana said. "This tray became the measure that gave me the idea of America."
From there, the young girl was dragged to meetings and cocktail parties with U.S. dignitaries, where she said many Americans were glad to shake hands but not so ready to sign a deal to save the future of Italy.
"How much they made us suffer for days and days, without giving us an answer to what we had asked through diplomacy," Maria Romana recalled.
Close to the last day of their stay she remembers her father feared that they would return empty-handed.
But on that day, the lifeline came through, with a $100 million loan from the Export-Import Bank of the United States, a $50 million payment for Italy's contributions to the war effort during its final phase, and other forms of material support such as buying ships and sending food and fuel to aid the poverty-stricken population.
De Gasperi got off the plane retuning to Rome as a hero, carrying hope for Italy's recovery and having welded together the tectonic plates of Europe and the U.S.
Maria Romana also stepped off the plane, wearing what she described as a horrible white and plumed hat given to her during her American stay. "I was terribly embarrassed," she said, adding jokingly, "But I also had to do it for the homeland!"
The European Union, between wins and losses
What made the Marshall Plan a "truly extraordinary political project," according to Franco Frattini, president of the Italian Society for International Organizations and a former EU commissioner, was that the U.S. administration "looked at Europe so that it might be helped to grow as a promoter of peace."
Frattini said it was an emphasis on human dignity after a dehumanizing war which characterized the founders of Europe, and especially De Gasperi. But the dream of the European Union was never fully realized, he said, in part because members forgot its founding principle of unity and never organized a common system for continental defense and security.
"A European Union without common security is a European Union that does not have a common foreign policy," he said, pointing to what he believes are Europe's many failures in the regions of North Africa and the Mediterranean as a result.
For Antonello Folco Biagini, president of Rome's main public university Sapienza, one of the greatest contributions of the Marshall Plan was the promotion of a market economy. Speaking at the conference, he credited De Gasperi with understanding and implementing the relationship between economic and political freedom.
A picture to remember and a legacy to protect
De Gasperi spent the last days of his life in his modest family home in the Northern Trento region in Italy with his family. "He told me: 'The Lord gives you the strength, gives you the courage, He helps you and lets you work. Then at a certain point He tells you to stop, now you must go, even though you might like to continue working'," Maria Romana said.
She remembered taking a picture of him before he died. "Are you taking a picture to remember me by?" De Gasperi asked. "No," Maria Romana answered at the time, but she said at the conference after a long pause that the real answer was "Yes."
Today, Europe struggles in many ways to remember the legacy of the Italian politician, Maria Romana said. "We have not been able to understand what he wanted from us," she said. "In the future, he would have imagined creating a more united Europe more quickly."
Maria Romana is today the honorary president of the De Gasperi foundation created in 1982 to promote European values, and she told Crux that she believes that after a halt in the EU's functioning, "now, slowly, we are making gains."
Though many of De Gasperi's hopes for Europe have remained unfulfilled, he is remembered by many as an example of Christian virtue in a complex and murky political landscape. He has been recognized by the Vatican as a Servant of God and his beatification cause is in the works.
After the cause began in 1993, it's slowed mainly due to political concerns, confirming that politics and the altar don't easily mix when it comes to halos. In particular, some German-speaking residents of northern Italy object to sainthood for De Gasperi, asserting that he never gave them the choice to be part of Austria after the war and assigned them to a sort of second-class citizenship.
Speaking at the De Gasperi Foundation in June 2009, Pope Benedict XVI said that the politician "paid service to the Church, Italy and Europe," and asked that "his Christian witness" be an inspiration for those who wish to pursue politics today inspired by the Gospels.
In March 2017, Francis quoted generously from De Gasperi while speaking to European leaders, reminding them of the EU's original mission.
Though Maria Romana met with the pope two years ago to present documentation for the beatification of her father, she said not much has changed since then. "Many documents have been collected but there's still nothing new," she said. "Things go slowly," she added, saying that the cause for Shuman, also a devout Catholic, would probably have to be completed before her father's can go forward.
Yet a letter written in March 2017 by Polish bishops appealed to Francis on this precise point, asking that both De Gasperi and Shumann, "fathers of the European Community," be beatified — showing that across the Old Continent, interest in the legacy and message of the Italian politician who, among other things, helped pave the way for the Marshall Plan, lives on.