Papal foundation pushes #MeToo movement on religious violence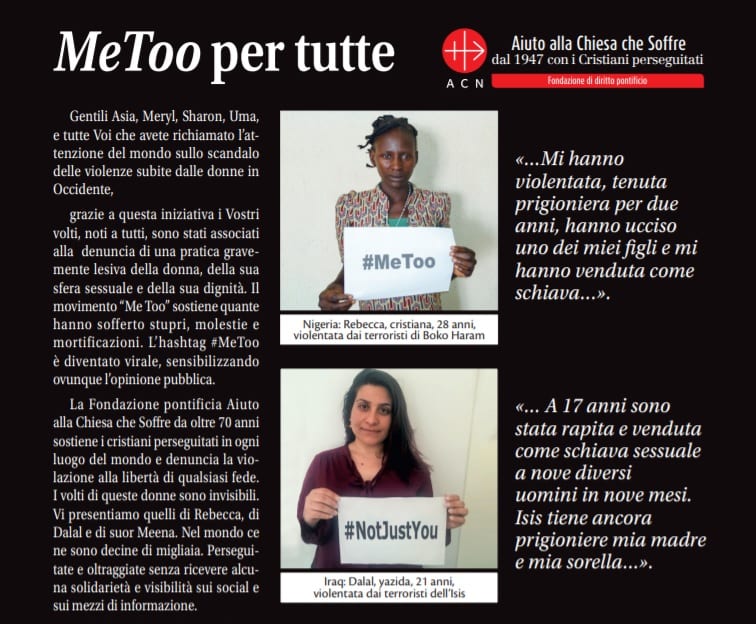 ROME – Rebecca is a 28-year-old Nigerian. The Islamic terrorist group Boko Haram kidnapped her in 2014, then took her into a forest where her three-year-old son was drowned in a river because of her refusal to convert to Islam. She was forcibly "married" to one of her captors, became pregnant, and was eventually sold as a slave.
Sister Meena is a 40-year-old religious sister from India, who, in 2008, was raped and forced to walk naked for more than 30 miles as Hindu extremists continued to beat her during an anti-Christian pogrom in Kandhamal that left at least 100 people dead and tens of thousands stranded in a nearby forest, where more died due to thirst, hunger and snakebite.
Dalal is a 21-year-old Yazidi woman. When she was 17, ISIS kidnapped her and sold her as a sex slave to nine men for nine months. The group that has ransacked Syria and Iraq still has her mother and sister in captivity.
All three women have something in common: They're victims of religious-based persecution, and religious freedom advocates say they want, and need, the world to hear their stories, so that millions of people who risk being killed every day because of their faith can have a chance at living in peace.
For this reason, the papal foundation Aid to the Church in Need (ACN) released an open letter in Vanity Fair Italy on Wednesday addressed to actresses Asia Argento, Meryl Streep, Sharon Stone, Uma Thurman "and all of you who've called the world's attention upon the scandal of the violence suffered by women in the West."
"The solidarity of famous actresses like you would break the indifference" when it comes to religious-inspired violence, ACN writes.
The support of these actresses for the #MeToo initiative, the letter says, has brought to the world's attention a practice that is "seriously prejudicial to women" and their dignity.
The movement supports "all those who suffered rape, harassment and mortification," and #MeToo went beyond social media, bringing the issue to the attention of millions through op-eds in major news outlets, rallies that saw hundreds of thousands in the streets, and even Hollywood's crème de la crème wore black to the Golden Globe awards to support the "Time's Up" movement, aimed not only at raising awareness but at putting an end to sexual harassment against women.
Yet women such as Rebecca, Dalal and Meena are "invisible," the letter published in Vanity Fair says. The missive is illustrated with pictures of the three, each one holding a sign with hashtags they hope go viral: #MeToo, #NotJustYou and #StopIndifference, respectively.
RELATED: Nigerian woman's tale is story of anti-Christian persecution in microcosm
These three women, ACN argues, represent "tens of thousands in the world. Persecuted and outraged without receiving any solidarity and visibility on social media and the media."
"They too need you!" the letter tells Argento, Streep, Stone and Thurman. "[They need your] collaboration to counteract the intolerable hypocrisy of those who are indignant only for what happens in the courtyard of their home but have no thoughts, words and help for those who are also suffering far away because of the silence of many men and women."
Aid to the Church in Need is a pontifical foundation which, for the past 70 years, has been supporting "persecuted Christians everywhere in the world and denouncing violations against any faith."
Earlier this year, Pope Francis donated a Lamborghini to the group that was given to him as a gift. The car, a custom-made white and gold Huracan, was auctioned at Sotheby's in London, and went to an unidentified buyer for $950,000. Most of those proceeds went to ACN to aid in the restoration of villages on the Nineveh Plain in Iraq.
Marta Petrosilo, a spokeswoman for ACN Italy, told Crux that the fact that they chose to buy an ad in an important women's weekly publication can seem like a "provocation," but in reality, "it's a call for help so that 'MeToo' becomes for every woman, including those who are subjected to rape, torture, harassment and mortification" because of their faith.
The high-end estimate for the number of new Christian martyrs every year is around 100,000, while the low end is conventionally pegged at around 8,000. That works out to somewhere between one Christian killed for the faith every five minutes, and one every hour.
Francis has repeatedly spoken about this issue, saying that there are more Christian martyrs today than ever before.
"Even today the Church, to render witness to the light and the truth, is beset in various places by hard persecutions, up to the supreme test of martyrdom," Francis said in Dec. 2016.
"How many of our brothers and sisters in the faith suffer abuses and violence and are hated because of Jesus!"
"I'll tell you something," the pope said. "The number of martyrs today is greater than in the early centuries [of the Church]. When we read the history of the early centuries, here in Rome, we read about so much cruelty to Christians. It's happening today too, in even greater numbers."
Open Doors International, a Protestant watchdog group that tracks anti-Christian persecution, estimates that globally, some 200 million Christians every day are at risk of harassment, persecution, arrest, torture, and murder.