Catholic aid agency tries to tackle malnutrition crisis in Rwanda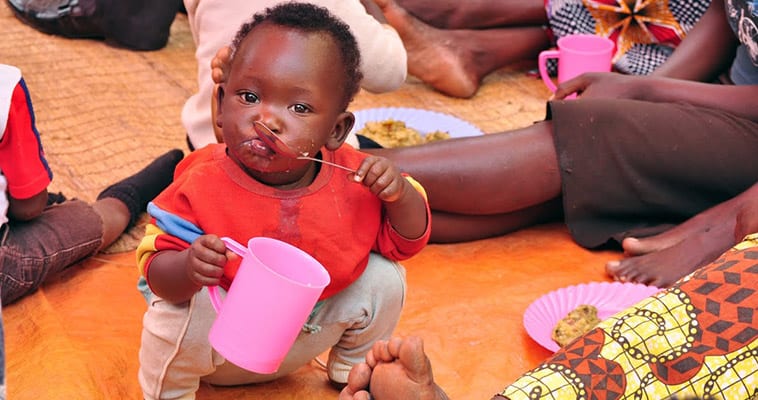 YAOUNDÉ, Cameroon – Despite years of enjoying one of Africa's fastest rates of economic growth, Rwanda still suffers from malnutrition, which can be so severe it causes stunting in the growth of children.
The malnutrition prevalence rate for children under 5 has dropped from 50 percent in 2005 to 38 percent today, but Catholic Relief Services says the situation is still "serious."
Darren Posey, the Rwanda CRS country representative, told Crux that in some regions of the country the rate is 45 percent.
"Stunting limits cognitive growth, which results in lower educational attainment (often resulting in early drop-out rates for schooling) and lower income/earnings over the life of the individual. Also, stunting is often inter-generational in that undernourished mothers are more likely to have stunted children," he said in an email exchange.
Catholic Relief Services is the international humanitarian agency of the United States bishops' conference.
Posey said the Rwanda government recognizes this as a serious issue, both in terms of the negative impact that stunting can have on the physical and cognitive development of children, but also on the overall negative impact on the socio-economic development of the country.
He said the problem isn't just a result of lack of food, because some of the highest stunting rates have been recorded in some of the most fertile parts of the country.
Rather, Posey said it is "a lack of knowledge on appropriate infant and young child feeding, particularly with regard to complementary feeding at the time of weaning; lack of access to clean water and lack of knowledge around appropriate hygiene, such that children suffer from diarrheal disease and are not able to be fully nourished."
In addition, the CRS representative said a "lack of dietary diversity (e.g. meat, fruits, vegetables, etc.) in pregnant and lactating women and young children's diets to ensure that they are getting appropriate levels of essential vitamins and minerals" as well as "household communication/gender issues that prevent pregnant and lactating women and young children from getting essential health ante- and post-natal health services," are also to blame.
Suffering a genocidal civil conflict in 1994, Rwanda has actively worked to develop the country's economy and reform the financial and business sectors, focusing on mining, tourism, and the cultivation of coffee and tea.
Between 2010 and 2016, it increased its rank from 139 to 62 on the annual World Bank Doing Business Report.
The Rwandan government has made a strong commitment to addressing growth stunting and has set an aggressive target to reduce it to 19 percent by 2024.
President Paul Kagame's administration has rolled out a raft of measures to attain the ambitious target.
Recently, it established a National Early Childhood Development Program to speed up the implementation of anti-malnutrition measures in the country.
According to Rwanda's Health Minister, Agnes Binagwaho, the program will distribute fortified flour to vulnerable parents with children under five and encourage lactating mothers to breastfeed their children in the early months.
All districts in Rwanda must sign performance contracts with the central government, and each district is required to have a District Plan to Eliminate Malnutrition embedded into their performance contracts.
Districts are evaluated annually against these contracts and the results are published to ensure accountability.
However, the non-governmental sector still has a vital role to play.
Posey told Crux that Catholic Relief Services is currently implementing a 5-year, $20 million integrated nutrition and water, sanitation and hygiene program entitled Gikuriro, which is funded by the United States Agency for International Development (USAID).
The program, Posey said, seeks to build the capacity of district governments and local civil society to effectively address growth stunting in children across 8 of the 30 districts of Rwanda.
"The program supports districts to develop and implement their District Plans to Eliminate Malnutrition, and it provides an integrated package of direct services to households based on the 1,000 days approach to addressing stunting," he explained.
"This approach ensures that pregnant and lactating women and children under 2 years of age access clean water and a diverse diet; access appropriate ante- and post-natal medical care; use age-appropriate infant feeding techniques (exclusive breastfeeding for the first 6 months and appropriate complementary foods and weaning techniques afterward); live in a hygienic environment; and have access to economic-strengthening  activities that strengthen the resilience of the household and provide income to pay for health care, diverse foods, etc.," he told Crux.
However, Posey said that access to clean water by households remains a huge hindrance to the success of the plan.
"If families have to walk long distances to access clean water, they may find it challenging to follow through on all of the recommended best practices," he said.
Posey said the rather large family sizes was another constraining factor, given that households have to "divide up limited resources across more children."
He called on communities to recognize the fact that the problem isn't limited to women and children, noting that any solution requires a whole household and whole community approach, and "this includes husbands and fathers."
He said men in communities must help ensure that pregnant and lactating women and children under two can access healthcare services and appropriate food and prioritize their family's health when making decisions on household spending.
Posey also said that local governments need to prioritize budgeting and align resources for nutrition services in their local budgets, and that "government programs targeting stunting reduction are coordinated, evidence-based and cost-effective and take an integrated, holistic approach."