Director of March for Life wants to make it more inclusive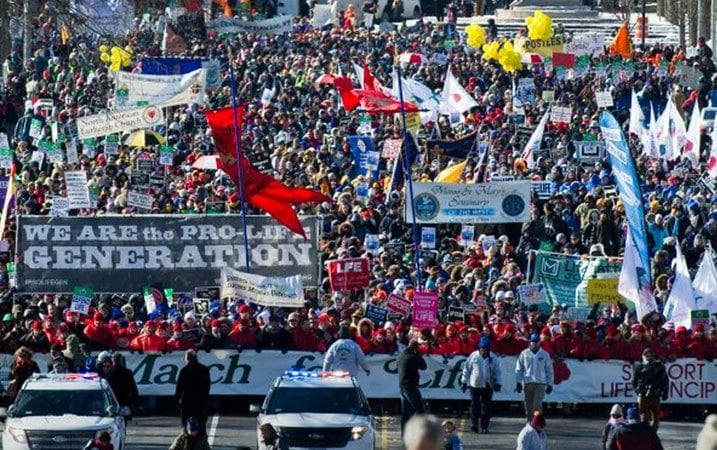 On Friday, an estimated three to four hundred thousand pro-life advocates are expected to descend on Washington, D.C., marching from the National Mall to the Supreme Court to stand in opposition to Roe v. Wade, the critical Court decision that legalized abortion throughout the United States.
Since being named President of the March for Life in 2012, Jeanne Mancini has managed to give this annual March a significant makeover. Originally established to coincide with the first year anniversary of Roe, Mancini took over the reigns following the death of its founder Nellie Gray.
While some criticized Gray's leadership as too Catholic and conservative, Mancini, who previously worked as a policy director at the Family Research Council, has spent recent years trying to transform the March to a more inclusive event—open to people of all faiths and no faith and to folks of all political persuasions.
She's also managed to bring the March into the 21st century by providing a major overhaul of its online presence and utilizing social media to maximize the reach of the March—which also better reflects the core constituency of the pro-life movement: young people.
This year's March-which takes place a week after Donald Trump assumed the office of the President-comes at a delicate time for many involved in the cause. In this interview, I spoke with Mancini about these tensions and what we should expect from the 2017 March for Life.
White: This year's March follows a Presidential election that deeply divided pro-lifers. How are you and the organizers of the March for Life trying to build a program and a movement that transcends presidential and partisan politics?
Mancini: Given that the March has been in existence since 1974, we've existed (and grown) through nine presidents, including President-elect Trump. While we are known for the multitudes of Marchers, mostly young, who come every January we also have the unique honor and opportunity of being the single annual event that nearly every pro-life organization participates in. That is both a privilege and a heavy responsibility.
We take very seriously the ongoing need to build and promote unity within the pro-life movement in election years and every other year. Building bridges among allies is part of our year-round work (although we often do it behind the scenes); we all want to restore a culture of life in the United States but that will only happen if we work together as a unified force.
One small example of this is that we invite leaders of pro-life groups to stand together in unison at the March for Life on the rally stage.
Traditionally the March has had a strong Catholic presence (which is, of course, welcome). But how are you trying to reach out to people of other faiths and non-believers?
We have sought to broaden March for Life awareness in non-Catholic pro-life circles specifically by engaging in strategic meetings with leaders, attending major conferences and exhibiting when possible, choosing diverse speakers from a variety of religious backgrounds, hosting calls about the March for Life, providing tool-kits, and more.
I was delighted when Evangelicals for Life hosted their first annual conference last year and had a very strong attendance; I expect it will grow this year.
One of the 2017 rally speakers I am most excited about this year is Bishop Vincent Matthews of the Church of God in Christ, a primarily African-American denomination with membership over 6 million in the U.S. He has been working within his church to promote adoption in particular for children in the foster care system.
The theme for this year's March is "The Power of One." What's the motivation behind this?
One of my favorite lines from Tolkien's Lord of the Rings is "even the smallest person can change the course of history". The 2017 theme "Power of One" is meant to communicate just that. Even one person can make a difference in the world, whether in the life of another person or many.
Our MfL 2017 logo is a little candle burning brightly in the darkness. Sadly, the reality is that we live in a culture with a cloud of darkness hanging over it in that over 1 million babies are aborted each year in the U.S. and many believe that abortion is a positive thing. We have our work cut out for us!
But we can't get discouraged as we each have our part to play and building a culture of life will take each and every person.
For folks traveling from around the world to attend this year's March, what can they expect?
At the official March for Life rally they can expect a remarkable line-up of speakers that embody our theme in unique ways, including Abby Johnson who left the abortion industry and founded 'And Then There Were None,' Karyme Lozano, a former Mexican novella star, Bishop Vincent Matthews of the Church of God in Christ, who advocates for adoption in the African-American community, Eric Metaxas, author and radio host and others yet to be announced.
At a conference the morning before the March, participants will delve more deeply into the theme with our keynote speaker, Ryan Bomberger from Radiance Foundation and others, as well as learn how to engage with their Members of Congress. Any Marcher can check out the expo (for free) on Thursday or Friday where they will have the opportunity to meet and network and learn about over 80 pro-life organizations.
Activities conclude with the Rose Dinner where this year Cardinal [Timothy] Dolan [of New York] will provide the keynote address.
As you frequently note, this is not merely a pro-life March, but a movement. What are you up to the rest of the 364 days out of the year (besides planning!)?
The flagship program of the March for Life Education and Defense Fund is the annual March for Life, which has taken place in Washington, D.C. every January since 1974. But the organization also seeks to educate the general public on life-related issues.
I regularly travel around the country (and sometime internationally) to speak to groups, in addition to regularly interviewing and commenting on pro-life issues in mainstream print and TV media outlets. We have a very robust year around a digital media campaign.
Check us out on FaceBook, Twitter, Instagram, Snapchat, Periscope and more!
The March for Life Education and Defense Fund also seeks to take the collective voice of Marchers to Capitol Hill throughout the year. As a non-partisan organization, we aim to accomplish this through a variety of means, including regularly educating legislators and staff members about life issues.
We additionally train pro-life visitors to our Nation's Capital, mainly students, to effectively interact with the elected officials on life issues at the federal, state and local level for life-related issues.
Our sister organization, March for Life Action debuted a pro-life policy education commercial this year, "Consensus," played on prime time cable and network television and we have a new exciting advocacy campaign which you can check out at marchforlifeaction.org.