Vatican communications czar says losing money 'robs the poor'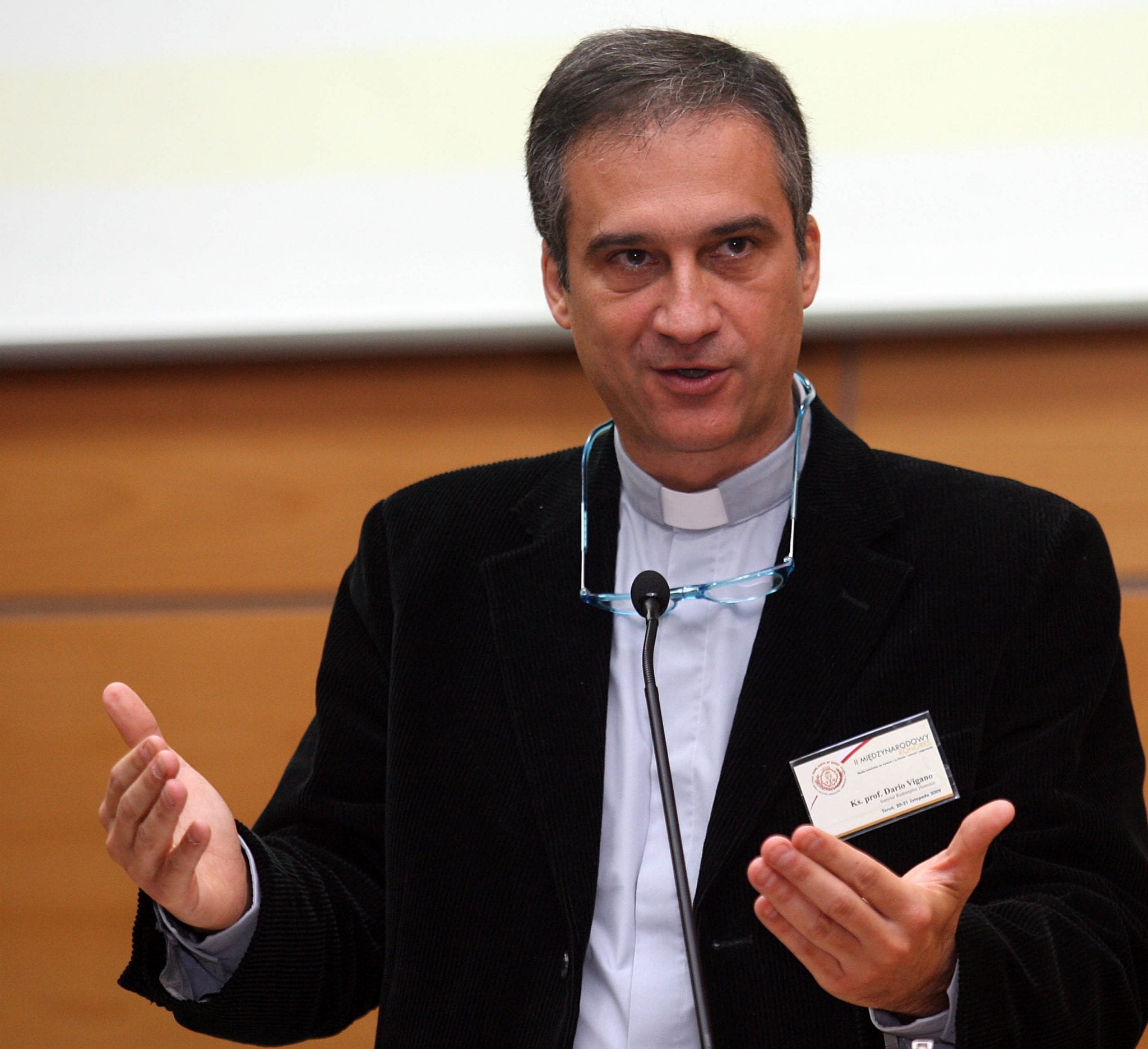 Rapid changes in technology and systems of communication require acute adaptation from the Church. The digital world, described by the last popes as full of both opportunities and dangers, is a reality one can't avoid. Yet, it's also full of uncertainties.
Reform of the communications structures of the Vatican is a response to these changes. On the subject of reform, Monsignor Dario Edoardo Viganò recently gave an interview to O São Paulo of Brazil, at the headquarters of the Secretariat of Communications, of which he's the prefect, on January 30.
Despite having been born in Rio de Janeiro, because his parents spent ten years in Brazil, Viganò is Italian. After three years as the director of the Vatican Television Center (CTV), he was named by Pope Francis in 2015 to lead a profound overhaul of the Holy See's means of communications. He's also a professor of communications and the author of several books.
Viganò's reform proposes to unify the various departments of communications for the pope: Vatican Radio, L'Osservatore Romano, CTV, the Vatican Press Office, as well as web sites and digital applications. The monsignor explains that having a single center of information ("content hub") enables a better flow of news, a coordinated multimedia presence and the simplification of administrative structures.
In the following interview, Viganò speaks in detail of this reform. He explains, for instance, how he wants to apply to the Vatican a famous market model: Disney. Also, he analyzes the communications style of Pope Francis, and Church communications in general.
With good humor, Viganò seeks to pursue a philosophy of leadership based on the Gospel, including a rigorous and more efficient use of money. He says that misuse of money by the Church is "robbing the poor."
"You can't use the money that people give to charity to cover your own costs," he says.
Viganò demonstrates in his own strong managerial vocabulary that the goal is "transforming costs into investments." At the end of the day, for him communication should be the result of really and truly being "seduced by the Gospel."
Domingues: What are the principal points of the reform of the communications systems of the Vatican that you're leading?
Viganò: As it says at the beginning of the motu proprio [by Pope Francis for the institution of the Secretariat for Communications], the principal motive for the reform is the contemporary context of communications. As the context changes, the communications system necessarily must change.
All the media of the Vatican, which are rooted in a great, glorious and antique tradition, have to be renewed in light of the exigencies of a digital culture. However, this reform was born in the 1990s. Pope Francis is carrying it forward, but we've been talking about this for more than 20 years.
You speak about two criteria that orient your work …
The first is apostolic. Vatican media exist to communicate, to make the evangelical messages and the teaching of the pope available to people. This is the criterion, and we want to announce it. Certainly, we have to do that taking account of our possibilities, which aren't infinite.
The second criterion is a priority in the use of economic resources. If on the one hand there's the apostolic criterion, on the other there's an attitude of great prudence in the use of money, because it's not possible or thinkable to use the money people have given to charity or the poor to cover our costs.
What are the most substantial changes in structures?
Words are important here: Structures diminish, but the services remain. We're moving towards the creation of a large and unified "content hub," something that's already happening. It's formed by the professionals in various sectors we already have.
That means journalists of various outlets, such as Vatican Radio and also CTV and L'Osservatore Romano. But I'm also thinking of technological support, for instance those who do video editing. That allows us to process news in a multimedia fashion, and to follow the flow of news from the beginning to the end.
However, there are still two segments reserved to the supervision of the Secretariat of State: the official communications of the Vatican Press Office, and the political articles of L'Osservatore Romano.
Local churches are watching your reform with careful attention. Are you taking the impact on local realities into consideration?
Certainly, I understand there's great attention to what's happening in the Vatican for overhauling the communications system. I have to say, however, that more than duplicating our model, local churches should be encouraged to pursue a reform of their local media.
Today, not unifying [various departments of communications] means not being able to offer a good service. In a digital context, it's natural that professionalism, human resources, means working together, and not just in order to contain costs. Certainly, the money isn't ours and has to be spent well. Indeed, we have to transform those costs from expenses to investments.
However, it's also important that this be an experience of service to the Church. A diocese can put together radio, a newspaper, a weekly journal, and eventually TV. This will reduce the bureaucratic and administrative dimension, such as departments. It's not that you have to watch our reform in order to do the same. Watch it in order to say, if they're doing it, we can try to do it too.
You've talked about adopting the communications model of Disney, a very strong model on the market, well-known …
One that works.
One that works. However, the difference is that Disney is a corporation that exists for making money …
So what? A company that doesn't make money is in trouble. The first moral duty of a corporation is to make money. As it is to divide it, to share. But, the first thing is making money.
The question is: how to apply this model to the Church, in the apostolic spirit of which you've spoken?
First of all, a model is a model. I spoke of the Disney model because from the point of view of the creation of a "content hub," it's the one I like the most, clearly with our own adjustments.
The problem would be if we didn't have a model. The apostolic criterion can't justify ignorance with respect to managerial competence. That has to be very clear. Good will and an apostolic criterion don't authorize anyone to waste money.
Choosing a model, even if it comes from a strongly commercial environment, helps to build a vision of "work flow" to give maximum value to competence and professionality, with the aim of making communications efficient and containing costs. The point is to have a model, and I'm not saying this is necessarily the best, but to me it is.
However, the model has to be adapted …
Of course, and I'm very committed to that.
In general, there's a kind of self-congratulations in the Catholic media: 'In the end we have to proclaim the Gospel, even if we lose money.' No, that's not true, in the most absolute way.
Institutional communications is one thing, which necessarily is an investment in image. Therefore it's not a loss, it's an investment. But take Brazil as an example – I don't believe Canção Nova's goal is just to tell the Church's story. [A Brazilian Catholic TV and radio service.] It's to tell the Church's story while making money.
It's just not true that in order to tell a Catholic story, you necessarily have to lose money. That's the self-justifying rhetoric of those who don't know how to do their work well. This has to be clear. If we lose money, we shut down. Money is hard to earn, and if we don't do it that way, we're robbing the poor.
What's happening with Vatican Radio? Will it continue, not continue, or continue in a different way?
Let me ask you a question: When you say Vatican Radio, what are you talking about?
Of Vatican Radio as a transmission system via radio waves.
Lots of people ask me this question, but it's because they don't know what the radio is today. Radio via radio waves today is a marginal aspect of Vatican Radio. It's been a small thing since the Jubilee of 2000. The radio has been transformed into a series of web sites. Some departments don't offer any service via radio waves, and the great majority only put out about 12 minutes a day for traditional transmission. Others, like the Brazilian department, do more.
'The structures diminish, but the services remain.'
The traditional radio service will remain channel 105 FM in Rome and the surrounding area. Then there's DAB [Digital Audio Broadcasting], probably in terrestrial digital, national and with an app. The radio will be in Italian, with breaking news also in other languages. That's it.  Everything else will be the different linguistic departments of the famous "content hub."
What will they do? It depends on what they're able to do, but in any event it won't be broadcast via radio waves, but as podcasts, which brings tremendous advantages – not just in terms of costs, but also for the bishops' conferences. They can use these podcasts for local radio in the best way they see fit.
That's a big change.
Change always makes some people afraid. However, look at the employment crisis in Europe and around the world, and let's be aware of what it means to have a salary these days, which isn't insignificant here.
Second, in the world of communications, today's terrific young professionals have great technological skills. They go around with a smart phone, they do video editing, they offer services. We want this kind of people. We've got a great opportunity, in which professionals confident in their skills get down to work.
How can the Church take advantage of the context of the new media to get its messages out?
Digital media allows everyone to be a digital storyteller, because there are blogs. Here the problem is to understand the seriousness [of what's being posted.] For example, decontextualization is a big problem. We have to learn to discern well in the digital realm. It's clear that digital media offer occasions to meet people. The Church lives where real men and women live, and therefore it's ready to help from this point of view.
Now, if the question is whether [digital media] can be an environment of evangelization, I'd be a little cautious. Evangelization has something to do with the Gospel, and, clearly, a personal encounter with the Lord Jesus. Certainly [digital media] can help one to know more, to open cultural doors, to undertake a path to understanding. However, it's not enough just to read in order to know everything.
Should Church communications be more pastoral, or go in the direction of public relations?
They're different things. By public relations you mean institutional communication, which is important. It's important to the bottom line of a diocese, to its foundation … that is, all those communications which are important to present with transparency and clarity. Pastoral communication is different, which is the element of involvement.
In Brazil I think a lot about prison ministry, with all the stories of both lay workers and chaplains. That's a beautiful experience I would talk about. In Salvador, Bahia, I met people who despite being delinquents have in their hearts a great desire for God's forgiveness. These are stories to tell.
How do you see the communications style of Pope Francis?
He has the capacity to make people hearing his words perceive the truth of the story he's telling. He's one who doesn't say a lot of words, but his life speaks for him. It's like Mother Teresa: even if you met her and didn't speak her language, just from the sound of her voice you perceived the strength of the truth of a passionate life for the Gospel and for the poor.
The second aspect is that Pope Francis never consigns anyone to the role of being antagonistic to the Gospel. The Gospel is so richly abundant that anyone who experiences anything human, and any man or woman in any situation, can meet it. Certainly, after that, the meeting anticipates a conversion. But anyone, not feeling excluded, feels caught up in it.
Pope Francis says there's a need to break the vicious cycle of 'bad news.' How is that possible?
When he says that, he doesn't mean, 'Tell a world of fairy tales.' The world, Brazil, the daily newspapers, the trauma of the day is marked by wounds and by evil. There's the evil we find in nature that rebels, with earthquakes, cataclysms, flood. There's the evil that happens with violence in the streets, day and night. Evil is out there.
However, the pope asks that while we continue to tell those stories, demonstrating the reality of evil, that those evils don't become such a life companion that they anesthetize our consciences. It's clear that we have to recount what's happening. As part of that, we should tell the story of the good that many men and women do, young and old. Yes, there's violence in São Paulo, but there are also people who stand with persons who are violated, who welcome them and help them recover. There's so much good.
Do you have a message for people who work in Church communications, also in parishes and small communities?
The more you're passionate about the Gospel of mercy, the more you'll feel the urgency of telling people about the beauty and the fascination of an encounter with the Gospel. Let yourself be seduced by the Gospel, because if we allow ourselves to belong to God, we'll become his feet, his hands, his glance.