Cardinal Gracias: Curial reform is nearing the 'end of the tunnel'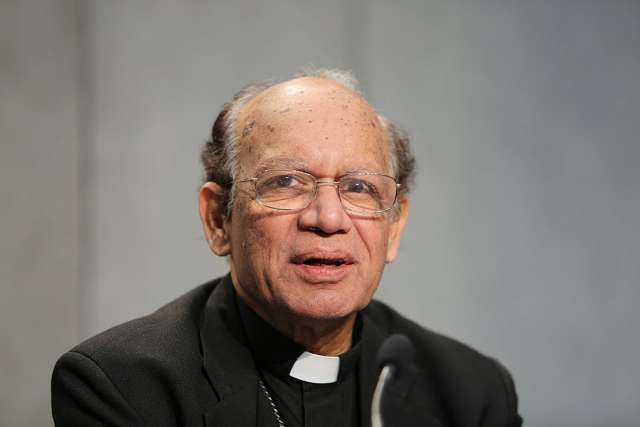 ROME – Nearly four years after the pope established his Council of Cardinal advisers to help him in the task of reforming the Roman Curia, one member of the group said their work is wrapping up, and that it could take only a few more meetings to finish what they set out to do.
The ongoing process of reform "is being done at various stages of development, and I hope we'll come to an end in all of these matters soon," Cardinal Oswald Gracias of Bombay told CNA Sept. 14.
"It will take two or three more meetings more," he said, adding that "by June perhaps we'll be seeing the end of the tunnel."
Gracias is also President of the Asian Bishops' Conference and in 2013 was chosen by the pope along with eight other prelates from around the world to advise him in matters of Church governance and reform.
He spoke to CNA in a lengthy, sit-down interview after the council – also called the "C9" – concluded their latest round of meetings last week.
As far as the reform goes, Gracias said "there won't be very major changes; it's the governance of the Church, we can't just turn everything upside down." Rather, it will be "a gradual change, a change of mentality, a change of approach, restructuring a bit of the departments so that they are more logically suited to the needs of today."
He said a key goal of the C9  is to implement the vision of the Second Vatican Council, specifically when it comes to the importance of the role of the laity and women, and incorporating greater synodality and collegiality into the Church's structures.
From the beginning Pope Francis "made very clear what he wanted this group to do," the cardinal said. "He had no hesitation, he's a good leader. He had a clear vision."
Gracias admitted that in the beginning he had doubts as to whether or not they were going in the right direction, and had started to worry what people on the outside might say, since many fruits of the meetings weren't and likely won't be immediately visible. He said he also struggled with doubts about the pace at which they were moving, and believed that things were going "too slow."
"I will confess that once at the beginning I was wondering, 'are we going in the right direction?' I asked myself. But now I can see it is," he said, explaining that Francis's Christmas speech to the Roman Curia last year was a "tipping point" for him.
More than anything, there is a change in mentality that's needed, which will take longer than simply reforming the Vatican's structures, he said, but said the group is "rather confident that it will happen because the pope is giving very effective leadership."
In addition to the ongoing curial reform, Gracias also spoke about the recent release of Indian priest Father Tom Uzhunnalil 18 months after he was abducted in Yemen. He also spoke about the pope's upcoming trip to Myanmar and Bangladesh, and when a possible papal trip to India might take place.
Below are excerpts from CNA's interview with Gracias:
CNA: You've seen Fr. Tom and you were at his meeting with Pope Francis. How is he doing?
Gracias: I was pleasantly surprised with calmness with which he came out, because he did not know, to my knowledge, that he was being released. But he said I know people have prayed for me, I'm grateful for the people who were praying for me, but he kept on saying 'Jesus is great, Jesus is great.' And then he told the Holy Father. It was a very moving moment. As soon as the Holy Father came he prostrated in front of the Holy Father and kissed his feet, and he said, 'thank you, thank you, thank you. Thank you Holy Father, but just one message I want to give you: Jesus Christ is great. Jesus was with me right through, I could sense the presence of God with me'…And once I thought the Holy Father had tears in his eyes. When Tom kept on speaking about Jesus, this is what he told the Holy Father: please tell the people that Jesus is great!
I would say that he's come out of it with an experience of the presence of the Lord, and I think at that moment the Holy Father had tears in his eyes…I met the Holy Father later that afternoon, and he was telling me how impressed he was. He was also surprised with the calmness of the man, with Tom…He was a man who is perhaps strengthened in the faith after this experience, and not bitter about anything. Particularly about his captors, he was very understanding. It was a special experience, very edifying. He needs rest, certainly, he'll have a medical exam and he'll be with his superiors, but eventually he'll go back (to India). So thank God really. It was an anxious moment for the whole Church in India. We didn't know what was happening, but we understood that putting more pressure, in the perspective of the government, could make things more difficult for him. (But) he's not really stressed in any way you can make out. Physically weak, but spiritually strong. When he met the Holy Father, he was weeping right through it. And the Holy Father was very touched, he kissed his hand and blessed him…He felt the comfort and strength of the entire Church. As he said, there was never a moment when he felt abandoned, either by the Church or by God.
He kept saying, 'Jesus is great.' So he came out spiritually strengthened in that sense. It was a big relief, a big blessing, and the Holy Father was overjoyed. I think the government of Oman did a very splendid job of helping out…they even brought a Salesian to accompany him on the last plane. It was very human of them, so had the comfort of a spiritual companion.
What role did the Holy See play in working out his release?
They only offered help, they kept the issue open and kept sharing. The Holy See was told he was alive, and the Holy See communicated with the Indian government. In Yemen, the political situation is very fragile, and one doesn't know who is in charge. There are bombardments and all sorts of groups are taking over, so there was always a risk I suppose, that if you tried to liberate him you could have harmed him.
But they were always interested, they kept it alive. Every time I came to Rome somebody from the Secretariat of State updated me. The Vatican made sure there was interest. Any information the Holy See had, they shared it with the Indian government, the Omani government, so that was good.
It's interesting that there is still no word on who is responsible…
It's not a terrorist attack, it's a kidnapping. They wouldn't glory in taking him. That has not come out. I spent about half an hour with him before the Holy Father, and he was speaking continuously. I did not at any point attempt to ask him questions, because I think that would be a stress for him. He has got to share…he wants to share it and then I imagine you feel lighter. He's probably just got to rest, and rest and rest, physically and then mentally too, he's got to get it out of his mind. He's not come out of it a broken man at all. I was afraid of that, that he would come out a broken man, but no…It's a moment of grace, a moment of faith, a special experience.
The high point was when he told the Holy Father, 'just tell everybody that Jesus is great, Jesus is great.' Just three simple words. That was like the sum of his whole experience, what he meant and why he meant it…he felt not abandoned, I suppose. I hope recovers. I imagine he needs a couple of months really, or maybe more than a couple of months, to really rest. He needs time with the family also, natural circumstances…I'm not sure about this, but I have a feeling that the Omani government decided to bring him to Rome, because they (wanted) to hand him over to the Vatican.
I think it was better for him, because I think if he had gone to India he would have been mobbed by everybody. He just needs space to recover, and for doctors to examine him. Physically to see if he's alright, and psychologically also, to be investigated. I think it was a wise decision, but I think it was a decision more of the Omani government.
I don't want to exploit your time, but I wanted to ask a few questions about the process of reform and the C9. You just finished your latest round of meetings…
Yes, we just finished the latest round, the 21st meeting. I can't imagine we've had 21. I didn't realize it's 21 already. I think we are working hard. What's nice is that we're a cohesive group now. In the beginning we were all [gestures]. Now we know each other so well and we work together, and of course trying to implement the Holy Father's vision of the Church. Also, one of the things we always say, and it's very clear, before the conclave the cardinals had spoken a lot of their vision of the Church, and we have the texts of what all of the cardinals said, and all the cardinals gave their vision. We picked up from that, the Holy Father picked up from that, his own vision.
We've focused so far … it's for a dual purpose that the group was formed: One is to help him help him in the governance of the universal Church, and the second is to revise Pastor bonus, the papal document of St. John Paul II for establishing the Curia and giving the job descriptions and the vision of each dicastery. It's to revitalize, I suppose that's what Pope Francis wants us to do, and to have a new mentality which is applying Vatican II also; how to make the Roman Curia at the service of the Holy Father more effectively, but the Churches at the local level, the Churches in the dioceses, how to make the Roman Curia assist the local Churches to be more effective pastorally, so they can be more vibrant in that sense. So I think the holy Father is satisfied with what's happening. I'm satisfied too with the way we are going ahead.
We come for three days and work intensely, we work from 9:00 on the first day to 7:00 (pm) on the last day trying to wrap things up, but lots of work has been done. But it's coming to the end. I think it will take maybe two or three more meetings until we wrap up our conclusions about the dicasteries. Then of course the Holy Father will study the thing and decide. So we're going well. The feedback we receive is the Holy Father is happy, he is satisfied, and he has been using the Christmas messages sometimes to give an indication, a little progress report, so this year's Christmas message (2016). I didn't realize it, but when I read it I realized it's practically giving a progress report of what this group has been doing. I hope that it will make an impact.
There won't be very major changes; it's the governance of the Church, we can't just turn everything upside down. But a gradual change, a change of mentality, a change of approach, restructuring a bit of the departments so that they are more logically suited to the needs of today, and also of answering the vision of the Second Vatican Council: the importance of lay people, synodality, collegiality, then concern about women, getting more women involved, then giving importance to the local Churches.
Then reflecting on the role of episcopal conferences in all this, because that's another big issue. So all of this is being done at various stages of development, and I hope we'll come to an end in all of these matters soon. It will take two or three more meetings more, I foresee at least February, June…by June perhaps we'll be seeing the end of the tunnel.
It's been a long process…
It's been a really long process, really, but it's good. I've been in other committees of this sort, in which at the beginning we don't what we're doing, where to begin, and they you find your way and you find your vision. But here it was very clear, the Holy Father had very clear what he wanted this group to do…we were not clear in why we were called and what he wanted to do, but gradually we understood his mind. He had no hesitation, he's a good leader. He had a clear vision and he had his people with him.
He's there with us, he genuinely doesn't take any other appointments. He's there except the general audience. There are emergencies of course, this time there were lots of things happening, but he participates and he listens to discussion, and every now and then he raises his hand when he wants to speak. It's very odd, but now we're accustomed to it, the pope raising his hand (laughs) … it's very valuable, he's part of the discussion all the way through, completely inserted right in the thick of it. Certainly he doesn't speak that much, because I think we would feel inhibited and want to go in his direction. So it's just the right amount and at the right time.
Well he's very much about the process, isn't he? He doesn't want to interrupt the process that's happening…
Yes, absolutely. And he's happy. And everybody speaks their mind. We know each other so well, and we know that the Holy Father wants us to speak our minds, so no one is at any stage (overly) conscious that the pope is there with us, no…but it's going well, I think it's going well. I will confess that once at the beginning I was wondering, 'are we going in the right direction?' I asked myself. But now I can see it is.
He's a man of deep faith, the pope. I remember having spoken to him once about the synod, I was sharing him my anxieties on whether the synods were going well, and he told me, 'Cardinal, I am not worried.' He told me that. I told him I was worried, I don't know what direction we're taking, whether we'll be able in two synods to give your vision. (He said) 'I'm not worried. It'll work out.' He knows what he wants, he's a good Jesuit, and the Jesuits know exactly what they want.
At what point were you convinced that things were going in the right direction?
After about seven or eight or nine meetings, I was beginning to wonder. My worry was what will the world say? Everybody knows we're meeting over here, but we are very limited in what we say are the fruits. What are these eight men – nine, we became nine after the Secretary (of State) joined – the nine cardinals are coming and discussing here, what's happening? They're not just coming here for debate. I was worried about the fruits not being seen, and the process being too slow.
But then, especially after I heard the Holy Father's speech (at Christmas 2016), for me that was it. I was like, wow, there has been a lot done. That was absolutely…this past Christmas, it was like a progress report of this group. I'm in the group, right, but I never realized the number of things we had really discussed. Besides modifying the document, the protection of minors, the economy, updates on these things, general principles of collegiality, synodality, we're thinking about these things. Care of the Curia personnel. It's everything that the Holy Father…he isn't like us, who when we go back home we're fully in the diocese, he has this in mind and he keeps working on this fully afterwards. We go back to our dioceses and are concerned about the local Church, but he certainly follows up with what we say. I've seen it several times. He takes the group very seriously.
Every now and then he would ask us to take up some point on the agenda to discuss it a bit, which he wants advice on. I think it's a new system he has started in which he gets feedback from all over the world, and he gets it from the grassroots. I think,  anyway, I hope. We come from different continents and we bring in our own experiences. But it is going well. In fact I really, really think there has been a contribution to the Holy Father, and then the Holy Father takes decisions. I have a feeling this is shared by all now. I have no doubt, this would be the general feeling of all about it.
The tipping point was really his speech, but already before that, say about six or seven months before that, we began to see really when we reflected that…perhaps the Holy Father knew that that was in our minds. It was in my mind, and maybe I expressed it indirectly. And the Holy Father once commented also, he said 'we have done this much, so don't get discouraged.' So at one stage he sort of answered that doubt in my mind.
You mentioned that there's also a change of mentality needed. Other than the structural shifts, it seems that the change of mentality will be the more challenging task…
That will take longer. But we hope it will percolate down, because once you have a certain mentality you generally don't change unless the circumstances change, the ambiance changes. And in a certain sense not changing dramatically. That will I think take longer. But I'm positive that it will happen.
We're very, very hopeful. We're rather confident that it will happen because the pope is giving very effective leadership, and every now and then there is a clear message from him. But it will come about and suddenly we'll realize, oh there has been a change! That's how it will happen. It won't come overnight, but at a certain point we'll realize things have changed.
He knows what he wants. And he's happy. Certainly the indication I can see is this way; the relationship he has with the group and the joy he has in being with the group. He says he feels that it has helped him. Thank God. We do what we can. I don't know how or why he chose us, but he's happy. I was very surprised when I got a call from him. I said 'why me? What have I done?' I suppose he knows. I don't know why. I did not know the Holy Father before, we've never been in any other committee before. Only at the conclave. I don't even remember having chatted with him at the conclave, or before the conclave. After the conclave it was true that I was with him. It's true that after I was with the pope at Santa Marta for a few days. Then we were having meals together – breakfast, lunch and dinner for four or five days. That's the time we came to know each other. So we were thrown together for about a week.
It struck me that after his election I was at Santa Marta, because there were five or six cardinals. All the American cardinals were there, the European cardinals, all the ones from close by left and came back (for the installation). I stayed for the installation and then went back to India. And then you share, when you speak. He was very comfortable with us, very comfortable with me. But still, he had to make a choice.
Has he mentioned anything about when a visit to India might take place?
He's very interested. We're working it out, and I'm very hopeful. He would like to come and we would like to have him, and the government would like to have him. But now we must see his program, the government's program, but I'm certain he will come. There are no details at all for the moment. I'm rather certainly positive that we will be able to get the Holy Father, he's interested and I think he's getting more interested. And the people will be excited…we are looking forward.
In the beginning, as soon as he was elected, I asked him, 'when are you coming to India?' And he was sort of (disinterested), but gradually he began to like the idea. He's never been to India before. As a Jesuit I think he was supposed to go to Japan, that's what he was telling me. He's going now to Bangladesh and Myanmar. It will be very sensitive. Bangladesh has it's own problems, I believe they have elections next year, and Myanmar has problems to solve, also the refugee problem at the moment. Of late it is continuously on, I believe yesterday or this morning I saw it on CNN, and BBC is reporting on it. It's an issue for the world.
I've been there (Bangladesh) a few times. It's a nice Church, concentrated mostly in Dhaka, a living faith. I've been to Myanmar also, I went as a papal legate there some years back, and I found the Church very vibrant. A simple faith, but I'm happy. I think it will mean a lot to the people. It will also strengthen the people. I think the Church is also very vibrant, it's not have any specific difficulty, in my impression as a papal legate about two or three years back, but I was very impressed by the faith and the organization. It was vibrant. The Church was small, but strong and alive. It will make a difference for the Churches, and for the governments I expect.
Will you be there?
I plan to go to both places yes. In all of these trips in Asia I've come along: Sri Lanka, Korea, the Philippines. At the moment I'm president of the Asian Bishops' Conference, so I suppose in that capacity I'll have to go.