On visit to women's prison, Pope hears children suffer most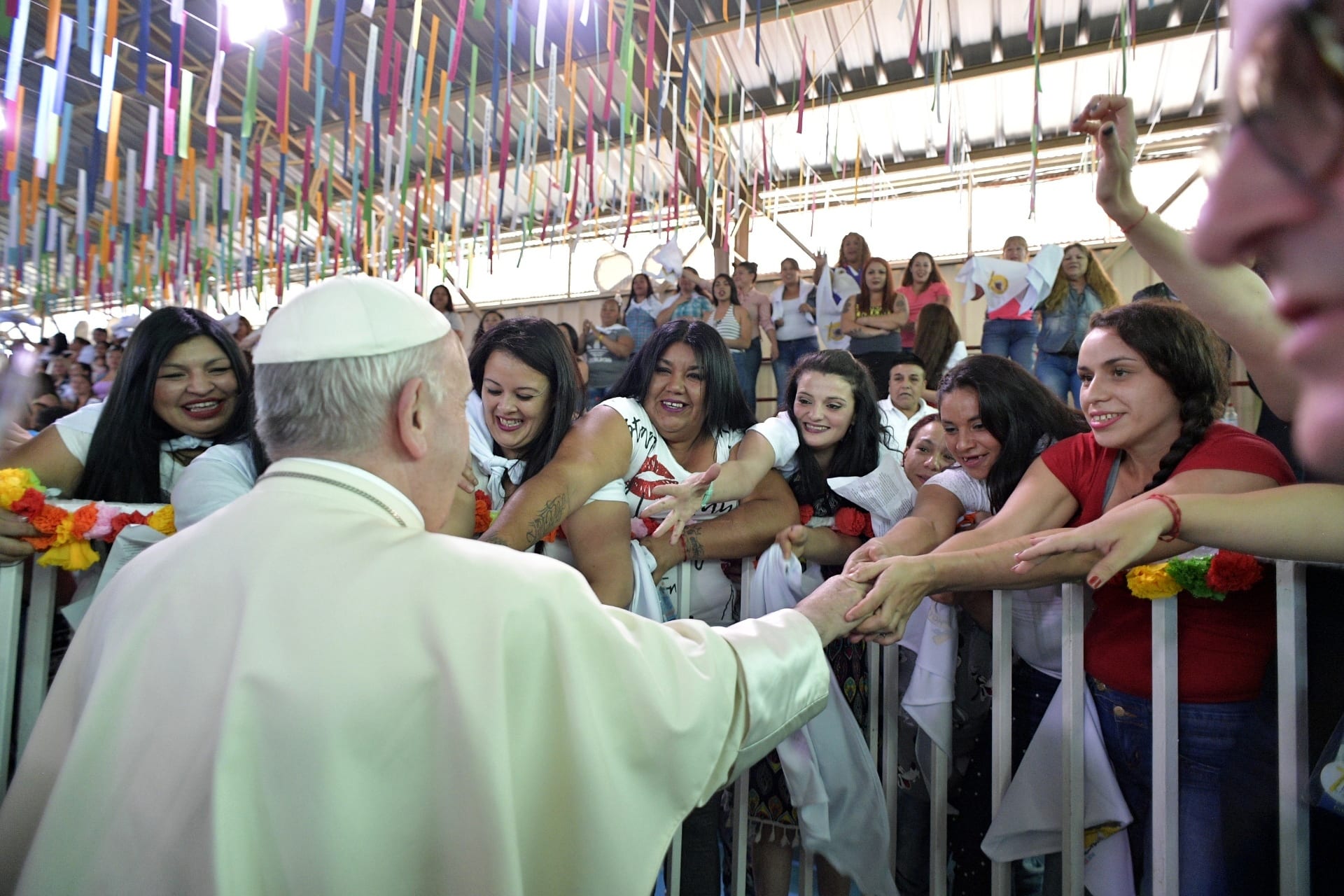 SANTIAGO, Chile – Pope Francis was visibly moved on Tuesday as he visited a prison for women in Chile. Beyond the setting, in itself touching for a man who's made a point of visiting prisons, what seemed to stir the pope most were remarks by Janeth Zurita, one of the inmates.
In her words, which lasted some five minutes, she apologized to those who have been harmed by the misdeeds of the inmates: "Pope Francis, we ask for forgiveness to those whom we've hurt with our crimes. We know that God forgives us, but we also ask the forgiveness of society."
She also told the pope about the dreams and hopes of those who are deprived of their freedom, and thanked him for having thought not only of them, but also of their children, whom she said are "those who suffer the most for our mistakes."
Zurita also told Francis that many of the inmates first encountered the tenderness and mercy of God through the chaplains, pastoral agents and volunteers who help them in the prison.
Calling Francis a "friend of the poor and discarded," Zurita asked him to pray not only for them, but for the children of all those in jail — because, despite being innocent, they too in a sense are serving time. Many of the women in prison, she said, have left their children alone, "condemning them" to follow their steps because they grow up with their hearts filled with pain and resentment.
"Pope-friend, here in prison I've seen many suffer because they hear that their children have been abused, or because one of them has been murdered," she said. "But here we've also found the hope of God, living in our hearts, that allows us to see this as a stage of our lives that will soon come to an end."
"May Diosito also have mercy on us, and may he give us his love and grace to endure so much pain and so kindle our faith [so that] the lights never go down," she said, using a Spanish term of endearment for God.
Francis's encounter with Zurita took place on the first full day of his Jan. 15-18 visit to Chile, part of a tour that will also take him to Peru until Jan. 18-21.
The pontiff thanked the inmate for what she said, saying she was right: "Losing our freedom does not mean losing our dreams and hopes," he said. "Losing our freedom is not the same thing as losing our dignity. That is why we need to reject all those petty clichés that tell us we can't change, that it's not worth trying, that nothing will make a difference."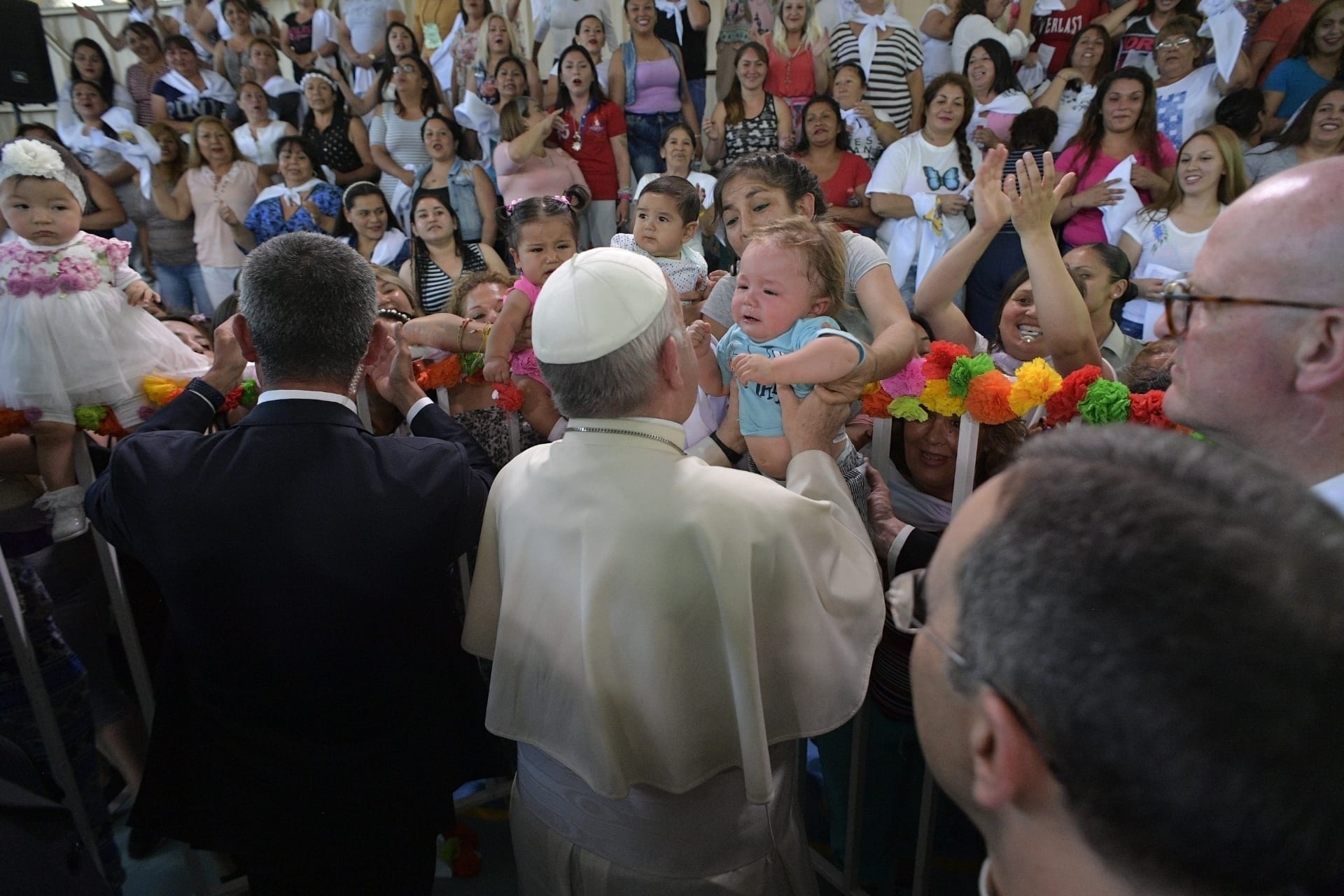 The pope also quoted a passage in the Gospel of John, in which Jesus says "let him who is without sin among you be the first to throw a stone," explaining that with it, Jesus is asking those who follow him to leave behind the "simplistic way of thinking that divides reality into good and bad."
Francis alternated between reading from his prepared remarks and adding some words and anecdotes, even quoting an Argentine tango.
For instance, clearly improvising, he told the inmates that "we're all people, and as people, we have a dimension of hope. Let's not allow ourselves be treated as things. I'm not a number. I'm not inmate X, I'm so-and-so who's looking to deliver hope."
Dignity, he insisted, cannot be touched, it must be guarded: "No one can be deprived of their dignity. You've [not] been deprived of your hope."
At a different moment in his remarks, close to the end, he said "dignity is contagious. More contagious than the flue. Dignity generates dignity."
The pope also acknowledged the suffering many of them have for the fact that they're mothers, and have to face the "very real challenge" of caring for their children, even when they're separated from them.
"Many of you are mothers and you know what it means to bring a new life into the world," he said. "Motherhood is not, and never will be a problem. It is a gift, and one of the most wonderful gifts you can ever have."
Speaking about the lives of inmates after prison, he praised two Catholic projects taking place in Chile helping them train for a future job and to rebuild relationships, calling them a living sign of Jesus.
As he's done before, the pontiff regretted that oftentimes, a jail sentence is only a punishment.
"Public order must not be reduced to stronger security measures, but should be concerned primarily with preventive measures, such as work, education, and greater community involvement," he said.
The encounter took place in the prison's gym, with the place covered by hundreds of colorful strings of papers, prepared by the prisoners, with quotes from speeches Francis has delivered in different prisons around the world.
Sister Nelly Leon, of the Congregation of the Good Shepherd and head of the country's pastoral efforts in the jail system, told the pope that all those on hand had wanted to be present.
"All of us here, Catholics, Evangelicals and of many other religions, men and women, all with a great sense of life, wanted to be here, because we recognize in you a man of good, peace and justice," she said.
Those gathered, the nun continued, witness the certainty that "life triumphs over death."
Speaking to an audience that included President Michelle Bachelet, she also regretted the fact that in Chile, it's "poverty" that is put in prison, a comment that garnered the applause and cheering of the audience.
There were some 500 inmates in the encounter with the pope. After the speeches of Zurita and Leon, they sang a hymn to the pope, that they had written after doing some brainstorming with ideas of what each of them would like to say to Francis.
"God looks at me through your gaze, it illuminates my beauty," the chorus said. "Today I trust in myself again, the sadness disappears, another day of life, one less day of sentence. Your visit is my joy, shepherd with smell of the sheep."