KINSHASA – In his final hours in the Democratic of the Congo, Pope Francis met with the country's bishops, telling them to imitate a famed Congolese Jesuit archbishop who was martyred in 1996, and who's been dubbed the "Romero of Africa."
Archbishop Christophe Munzihirwa of Bukavu, in what was then still called "Zaire," was killed on Oct. 29, 1996, as largely Tutsi Rwandan troops poured into the eastern part of the country, looking for Hutu militants to slay. The civil and military leaders of the region, representing the last shreds of the crumbling autocratic regime of Mobutu Sese Seko, had fled weeks before, knowing that Mobutu was doomed and the Rwandans were unstoppable.
Munzihirwa, a Jesuit like Pope Francis, was all that stood between hundreds of thousands of Hutu refugees and potential annihilation. He had long criticized all parties to the violence. His last hope, shared with the handful of missionaries and diocesan personnel who stayed with him, was for rapid intervention by the international community.
After he was shot to death, Munzihirwa's body was left to decay in the deserted streets of the city he'd served as its shepherd since 1993. It would be more than 24 hours before a small group of Saverian seminarians was able to recover the body and prepare it for burial.
Munzihirwa had surrendered himself in the hope that two companions might be able to get away in his car; they, too, however, were caught and executed.
The day before, Munzihirwa had released a desperate radio message.
"What can we still do these days?" he said. "Let us remain firm in faith. We trust that God will not abandon us, and that a small ray of hope will arise for us somewhere. God will not abandon us if we are committed to respecting the life of our neighbors, whatever their ethnicity."
At his Nov. 29 funeral, someone recalled Munzihirwa's favorite saying: "There are things that can be seen only with eyes that have cried."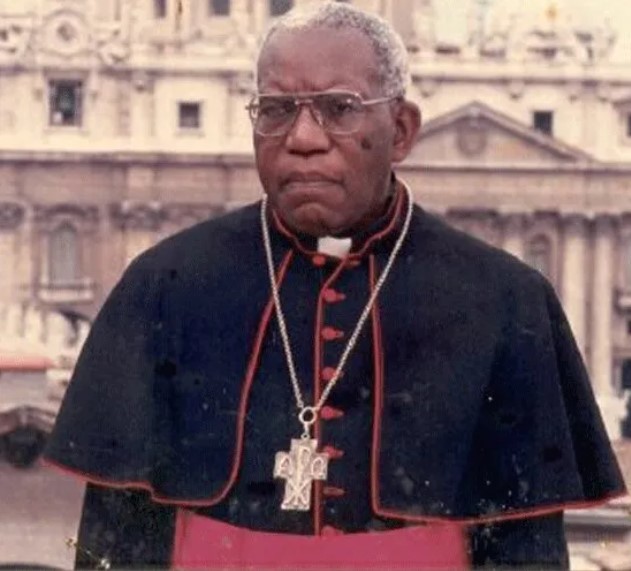 Pope Francis opened a sainthood cause for Munzihirwa in 2016, on the 20th anniversary of his death. On Friday, Pope Francis pointed to Munzihirwa as a role model for the Congolese bishops.
"The seeds he planted in this land, along with many others, will bear fruit," the pope said. "It is good to remember with gratitude the great pastors who marked the history of your country and your Church, those who preached the Gospel to you and went before you in faith. They are the solid roots that strengthen you in evangelical zeal."
Francis also mentioned the late Cardinal Laurent Monsengwo Pasinya of Congo, who served on the pontiff's council of cardinal advisers.
The pontiff was wrapping up a three-day stop in Kinshasa, the capital of Congo, with a speech to the country's bishops Friday morning. Afterwards, he was scheduled to depart for a another three-day visit to South Sudan, this time in the company of Archbishop Justin Welby of Canterbury and the Moderator of the Church of Scotland, Reverend Iain Greenshields.
Congo boasts the largest Catholic population in sub-Saharan Africa, and represents the third-largest population of weekly Mass-goers in the world after the Philippines and Mexico.
The pope urged the country's bishops to an active prayer life.
"Foster your own closeness to the Lord so that you can be prophetic signs of his compassion for your people," he said. "I urge you not to neglect dialogue with God or to let the flame of prophecy be extinguished by an ambiguous relationship to the powers that be, or by a complacent and routine life.
In a country marred by decades of war, exploitation and rampant corruption, leaving social elites wealthy while the vast majority of the population lives in poverty, the bishops, the pope said, must "embrace people's material and spiritual wounds, and make the living and healing water from the side of Christ flow over them."
"May we never think of ourselves as self-sufficient, much less see in the episcopate an opportunity to advance in society and to exercise power," Francis said.
"Above all else, may we never open the door to the spirit of worldliness, for this makes us interpret ministry according to the criteria of our own advantage. It makes us become cold and detached in administering what is entrusted to us. It leads us to use our role to serve ourselves instead of serving others, and to neglect the one relationship that matters, that of humble and daily prayer," he said.
He condemned careerism and spiritual worldliness in a pastor, saying these attitudes "are the worst thing that can happen to the church…worse than worldly popes."
Francis urged the prelates to keep speaking out on behalf of their people.
Christians, he said, "cannot keep God's word to ourselves, we cannot restrict its power: it is a fire that burns away our apathy and kindles in us the desire to enlighten those in darkness. The word of God is a fire that burns within and impels us to go forth!"
"This, then, is what we are as bishops: Men set afire by the word of God, sent forth with apostolic zeal towards the People of God!"
Bishops, the pontiff said, are called "to pluck up the poisonous plants of hatred and selfishness, anger, resentment and violence; to break down the altars erected to money and corruption; to build a coexistence based on justice, truth and peace; and finally, to plant the seeds of rebirth, so that tomorrow's Congo will truly be what the Lord dreams of: a blessed and happy land, no longer exploited, oppressed and drenched in blood."
At the same time, Francis stressed that bishop's task is neither political nor economic.
Preaching the Gospel, he said, isn't a "political activity," also insisted that bishops must "leave business affairs out of the Lord's vineyard! Let us be shepherds and servants of the people, not entrepreneurs!"
"Be witnesses of mercy and reconciliation amid the violence unleashed not only by the exploitation of resources and by ethnic and tribal conflicts, but also and above all by the dark power of the evil one, the enemy of God and humanity," he said, urging the bishops not to be discouraged.
He closed his speech asking for prayers, saying his was a difficult job.