ROME – Following a long period of speculation, but a remarkably brief span for actual preparation, Pope Francis and President Donald Trump met one another for the first time on Wednesday, in a meeting that ran for roughly 30 minutes.
The brief encounter took place on Wednesday at the Vatican's Apostolic Palace, during Trump's first overseas tour that has already taken him to Saudi Arabia and Israel, and later today to Brussels for a NATO summit ahead of a G7 meeting in Sicily.
Both men seemed anxious to meet one another but also slightly tense as the meeting began. Francis welcomed the American president to the Vatican, who uncharacteristically showed a broad smile as he posed with the pontiff for the traditional photo session before entering the papal studio for their private conversation.
By the end, however, both men seemed relaxed, smiling and seemingly at ease with one another.
Later in the day, during a meeting with Prime Minister Paolo Gentiloni, Trump called Francis "something" and said he and the pope had a "fantastic meeting."
Not long after, he updated his Twitter profile to include an image of his encounter with the pope, and spoke about the "honor" of having met Francis:
Honor of a lifetime to meet His Holiness Pope Francis. I leave the Vatican more determined than ever to pursue PEACE in our world. pic.twitter.com/JzJDy7pllI

— Donald J. Trump (@realDonaldTrump) May 24, 2017
Pope Francis was joined by Monsignor Mark Miles from Gibraltar, his usual translator in English-speaking situations.
The meeting began at 8:30 a.m. local, an hour before Pope Francis was scheduled to be in St. Peter's Square, where thousands were waiting for him to deliver his weekly public audience. The large crowd began arriving at 7:00 a.m. amid heavy security measures, which included several Roman streets completely cut off to traffic.
Those arriving for the regular papal audience were almost clueless to the fact that they were mere feet away from an encounter between the heads of the world's biggest temporal superpower and its biggest spiritual superpower.
Newlyweds were coming in early to guarantee a first-row spot for Francis's after-audience greeting, while volunteers were ready to assist those with disabilities. Big groups dressed for the occasion with matching t-shirts and baseball caps, streaming into St. Peter's Square even as Trump's  motorcade was entering the Vatican through a side door known as the "Perugino."
This was the pope's one request, and it was done solely so that it wouldn't disrupt those going into the Square. They came through the famous Via della Conciliazione that leads to St. Peter's Square and then the motorcade took a side route to access the small state, using an entrance next to the pope's residence, Santa Marta.
@Crux watching #Trump motorcade heading to #VaticanCity for meeting with #PopeFrancis #trumpabroad #trumpinitaly pic.twitter.com/U0HSQH8F40

— Claire Giangrave (@ClaireGiangrave) May 24, 2017
Accompanying Trump were First Lady Melania, his daughter Ivanka and her husband Jared Kushner, Secretary of State Rex Tillerson and another seven members of the government, including Director of Strategic Communications Hope Hicks and Louis Bono, the American Chargé d'Affaires ad interim to the Holy See.
Melania Trump was dressed in black, as women taking part in papal audiences traditionally do, and also wore a mantilla, the traditional head covering for women.
Absent from the meeting was White House chief strategist Steve Bannon, who was with Trump on the tour until Sunday, when he flew back to Washington. Bannon spoke at the Vatican via video link in 2014, at the invitation of American Cardinal Leo Burke.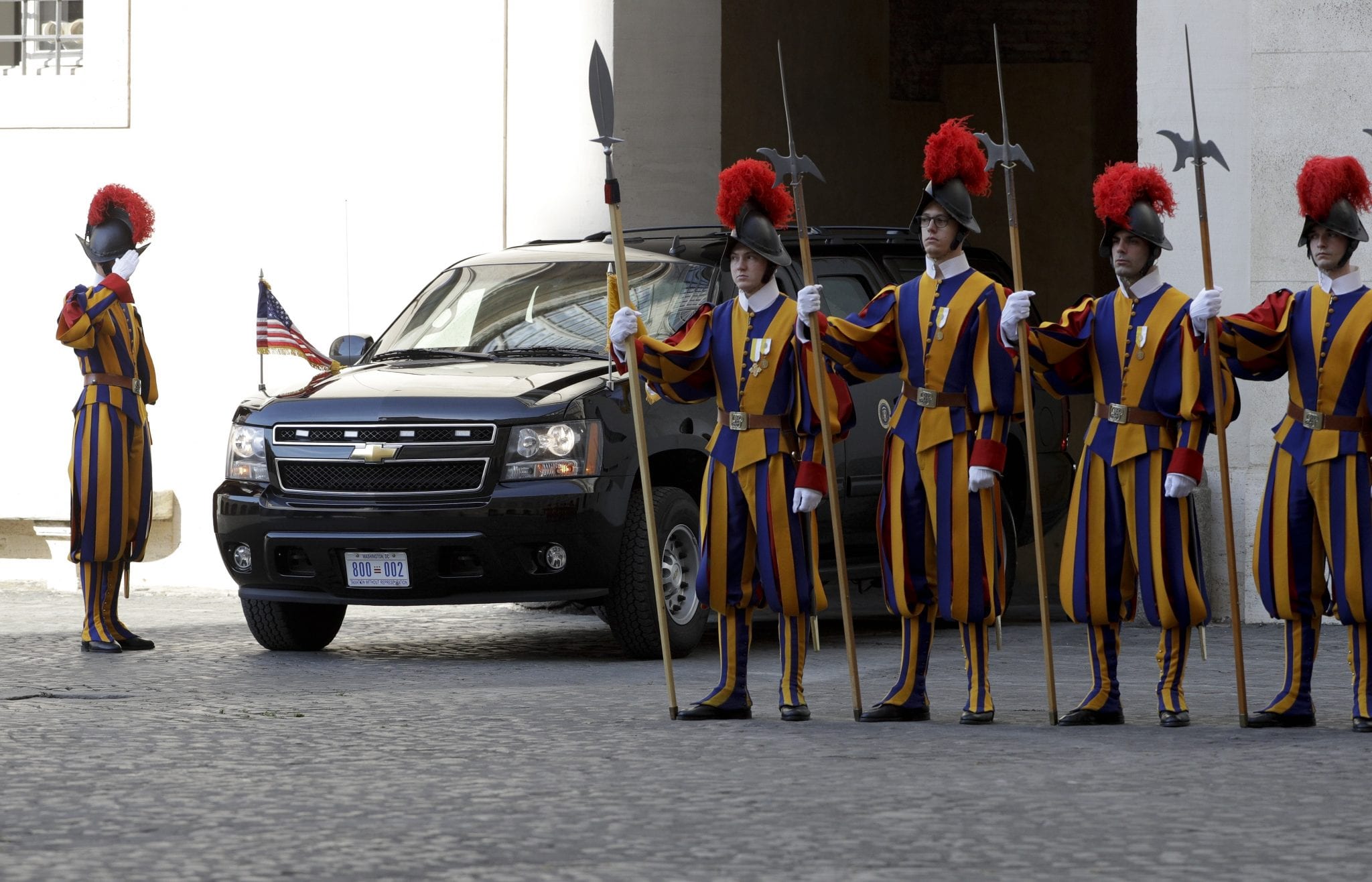 Trump was received in the Saint Damaso Courtyard by German Archbishop Georg Gänswein, Prefect of the Papal Household, at 8:22 a.m., and then he greeted the Gentlemen of the Pope, lay attendants who serve in ceremonial positions in the Vatican's Apostolic Palace and St. Peter's Basilica. From there he went up to the papal library, where the two met in private, and then with the entire American delegation.
Trump also exchanged gifts with the pope. Francis gave the president a medallion by a Roman artist which he described as a symbol of peace. He also gave copies of his three major documents: Amoris Laetitia, on the family; Evangelii Gaudium, on the Joy of the Gospel;  Laudato Si', his environmental manifesto; and his 2017 message for the Church's World Day of Peace.
Among other things, Trump gave Francis a set of books written by Martin Luther King Jr., one of the four American heroes the pope lifted up during his speech to Congress in 2015.
When introduced to the First Lady, Francis asked "What do you give him to eat?" She answered, "Potica!" a national Slovenian sweet.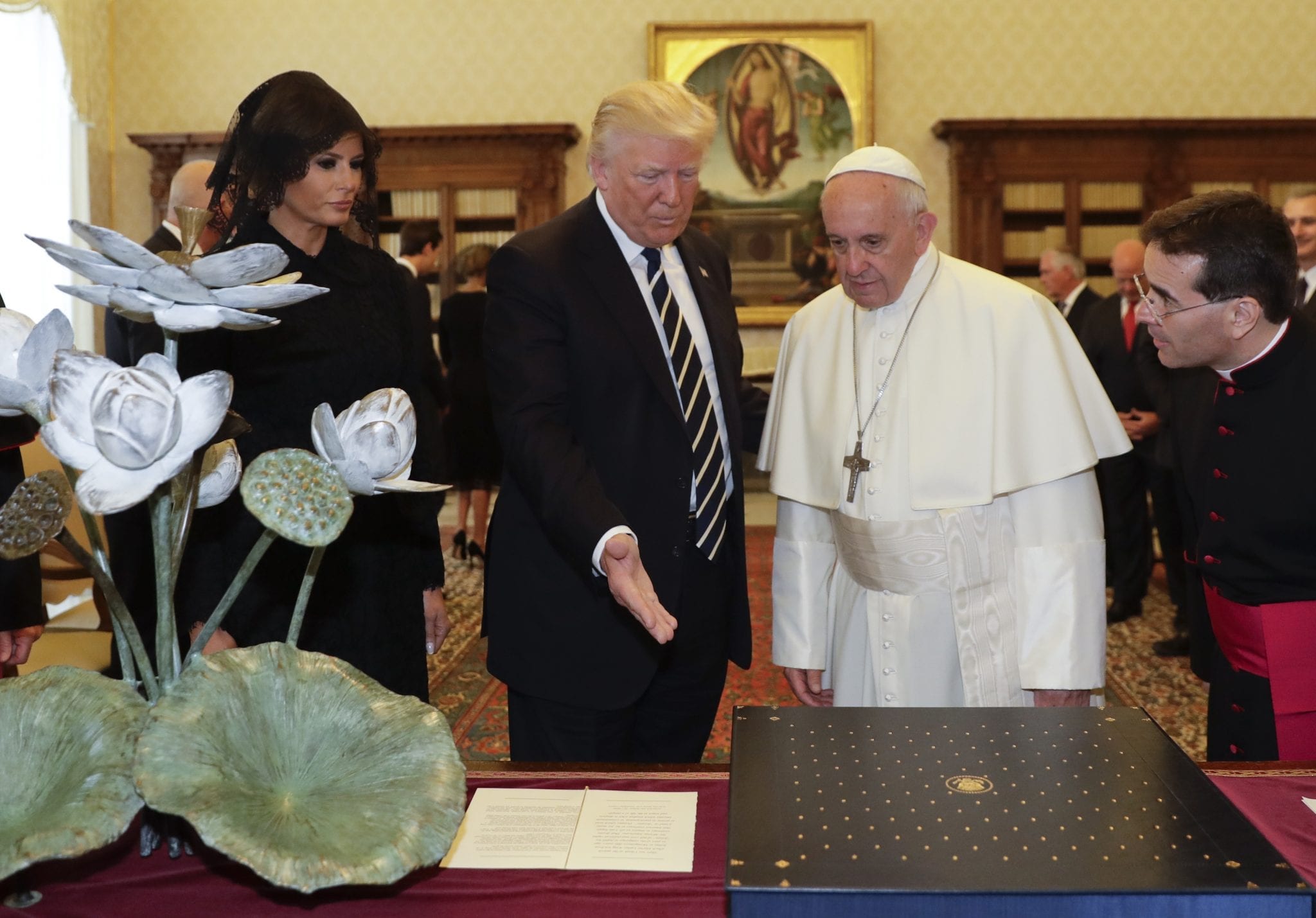 As the two men parted, Trump said "Thank you. Thank you. I won't forget what you said." Francis wished the president a "Buena suerte," or "Good luck!"
Following his meeting with the pontiff, Trump was led to another room in the Vatican where he was to meet Italian Cardinal Pietro Parolin, the Vatican's Secretary of State, and British Archbishop Paul Gallagher, in effect the Vatican's foreign minister. In general, that second meeting is more substantive and focused on concrete issues in the relationship between the two nations.
Although anticipation over the possibility of the meeting began after Trump got elected last year, the encounter was only three weeks in the making. It wasn't until May 4 that the meeting was confirmed, reflecting ambivalence by Trump's advisers about the advisability of a meeting with a global leader perceived as hostile to Trump's agenda on multiple fronts, including immigration, climate change and anti-poverty efforts.
Pres. Trump has arrived at the Vatican for his first audience with Pope Francis. https://t.co/qiJAkWQtHx pic.twitter.com/gvxwCGujXl

— ABC News (@ABC) May 24, 2017
"The importance of this meeting lies in the fact that the Holy Father is able to make contact with the new occupant of the White House. It's important that the head of the Catholic Church is able to do that," said Luis Badilla Morales, who runs the widely read new site Il Sismografo, speaking to the TV service of the Italian bishops' conference Wednesday morning.
Agostino Giovagnoli, a historian at the University of Milan, said his sense is that both Francis and Trump brought a "reciprocal mutual curiosity" to their encounter.
"The question is whether there can be some form of dialogue between these two men," Giovagnoli said, adding that "we shouldn't expect immediate results."
In the run-up to the meeting, one senior Vatican official put an issue on the table explicitly: religious violence in the Islamic world.
Cardinal Peter Turkson of Ghana, who leads the pope's new Dicastery for Promoting Integral Human Development, tweeted out a message late Tuesday night Rome time ahead of the meeting suggesting that Francis and Trump represent different approaches: "One offers peace of dialogue," Turkson wrote, "the other security of arms."
Pope Francis & Pres Trump reach out to Islam-world to exorcise it of rel. Violence. One offers peace of dialogue, the other security of arms

— Card Peter K Turkson (@CardinalTurkson) May 23, 2017

This story is will be updated throughout the day.
Editor's note: an earlier version of this story had "pizza" instead of "Potica."