In another sign of the Vatican's positive approach to marking the 500th anniversary of the Protestant reformation, the Vatican's Philatelic and Numismatic Office on Nov. 23 released a postage stamp featuring Martin Luther and one of his closest collaborators.
The stamp features Luther and Philip Melanchthon, considered the first systematic theologian of the Protestant Reformation and one of the founders of Lutheranism. In the image, Luther holds a Bible, and Melanchthon holds a copy of the Augsburg Confession, the primary confession of faith for the Lutheran church.
The two men are kneeling in front of Jesus on the cross.
Melanchthon is the person who publicized the story that Luther nailed his Ninety-five Theses on the door of the All Saints' Church in Wittenberg on October 31, 1517, thus beginning the Reformation, which split the Church in Western Europe.
The Catholic Church and the main Protestant denominations have been jointly marking the occasion since last year.
The website of the Philatelic and Numismatic Office drew attention to Pope Francis's visit to Sweden last year to begin the year-long commemorations of the anniversary.
On October 31, 2016, Francis visited Lund Cathedral to join the World Lutheran Federation in marking the occasion, becoming the first pope to visit the country since St. John Paul II in 1989.
"We have the opportunity to mend a critical moment of our history by moving beyond the controversies and disagreements that have often prevented us from understanding one another," Francis said at the time.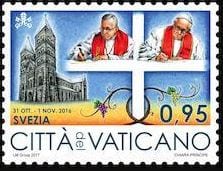 A joint statement that was signed during the visit noted in the past "that Lutherans and Catholics have wounded the visible unity of the Church. Theological differences were accompanied by prejudice and conflicts, and religion was instrumentalized for political ends. Our common faith in Jesus Christ and our baptism demand of us a daily conversion, by which we cast off the historical disagreements and conflicts that impede the ministry of reconciliation."
The postage stamp featuring Luther and Melanchthon was not the only one featuring a Lutheran released by the Vatican on Nov. 23.
The Vatican also released a series of stamps marking the pope's international trips for 2016, including a postage stamp commemorating the visit to Sweden.
The stamp depicts Francis and Bishop Munib Yunan, President of the Lutheran World Federation, when they were signing the joint declaration in the Cathedral of Lund.