Auxiliary bishop serving top papal aide resigns after sex misconduct allegations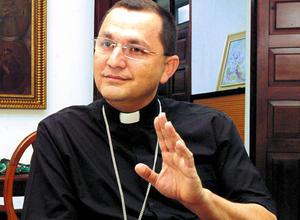 An auxiliary bishop serving a top advisor to Pope Francis has resigned from office in Honduras after allegations that he sexually abused seminarians.
Bishop Juan José Pineda Fasquelle served under Cardinal Oscar Andrés Rodríguez Maradiaga in the Archdiocese of Tegucigalpa, the Honduran capital.
The cardinal is the coordinator of the C9 Council of Cardinals which advises the pope on the reform of the Vatican curia and the governance of the Church, and he is considered one of Francis's closest confidantes.
The July 20 statement from the Vatican press office simply stated that Francis had accepted the resignation of Pineda Fasquelle, without giving a reason. However, the bishop is only 57, well below the retirement age for bishops, which is 75.
In March, the National Catholic Register reported that two seminarians had accused Pineda Fasquelle of attempting to have unwanted sexual relations with them.
The written testimony was submitted to a Vatican-appointed official sent to investigate financial irregularities in the archdiocese.
The Register quoted several other sources that stated that it was commonly known Pineda Fasquelle often attempted to have sex with seminarians, and that efforts had been made to keep the bishop away from the seminary.
Last week, the New York Times reported on similar allegations against Cardinal Theodore McCarrick, the retired Archbishop of Washington who was ordered to refrain from public ministry after a "credible and substantiated" allegation of abuse with a minor was made against him.
Like Pineda Fasquelle, there were long-standing rumors of McCarrick's sexual activity with seminarians.
Pope Francis sent Argentine Bishop Jorge Pedro Casaretto to Honduras after allegations of financial impropriety were lodged against Rodríguez Maradiaga.
The cardinal was accused of investing over $1.2 million dollars in dubious financial deals, losing much of it. He was also receiving hundreds of thousands of dollars from his role as Grand Chancellor of the Catholic University of Tegucigalpa – a purely ceremonial position which traditionally doesn't receive remuneration.
According to L'Espresso, an Italian weekly, Casaretto interviewed fifty witnesses, including administrative staff of the archdiocese and university, priests, seminarians and the cardinal's driver and secretary.
The weekly quoted a source in the Vatican as saying the report "saddened" the pope.