After Pell verdict, Pope prays for 'all persons who suffer an unjust sentence'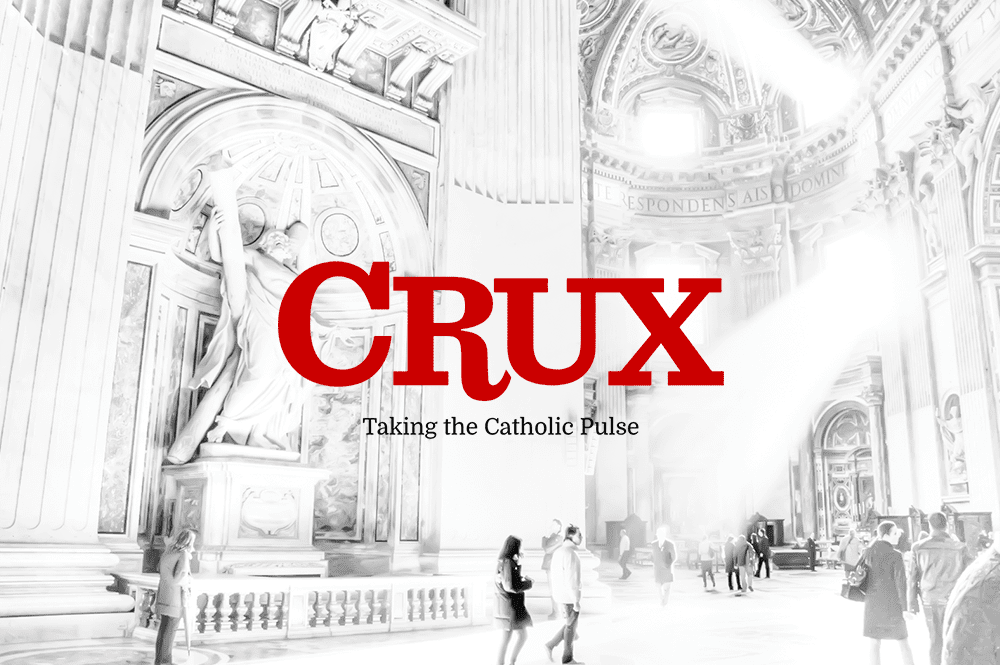 ROME – On the day Cardinal George Pell was acquitted by Australia's High Court on charges of sexual abuse, Pope Francis opened his daily Mass by praying for "all persons who suffer an unjust sentence because of intransigence."
"In these days of Lent, we've seen the persecution Jesus suffered and how the doctors of the law were intransigent against him," the pope said during his 7:00 a.m. livestreamed Mass from the Vatican's Casa Santa Marta, the residence where Francis lives.
"He was judged under intransigence, with intransigence, being innocent," the pope said. "I'd like to pray today for all persons who suffer an unjust sentence because of intransigence."
Pope Francis made no direct reference to the Pell case, but his prayer came just hours after the High Court unanimously set aside a guilty verdict in Pell's case, holding that "the jury, acting rationally on the whole of the evidence, ought to have entertained a doubt as to the applicant's guilt."
RELATED: Pell acquitted of abuse charges and will be released from Australian prison
The pope repeated his message in a tweet from his official @Pontifex account.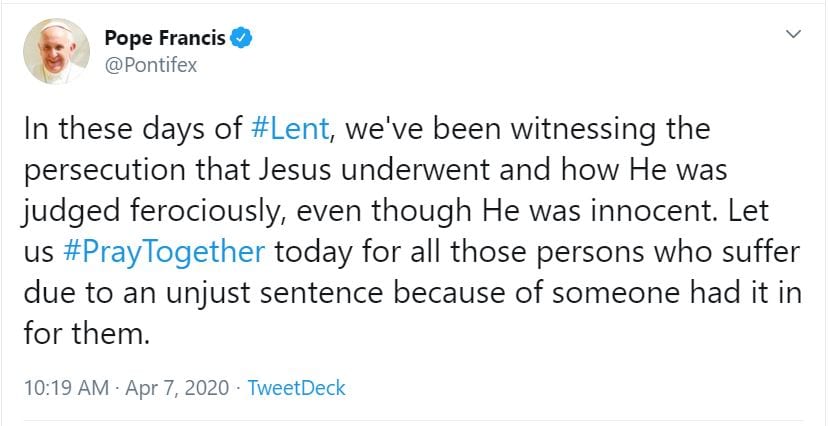 In a statement released shortly thereafter, the Vatican welcomed the verdict in the Pell case while insisting that its commitment to the fight against child abuse remains undimmed.
"The Holy See … welcomes the High Court's unanimous decision concerning Cardinal George Pell," said Vatican spokesman Matteo Bruni, adding that the Vatican "reaffirms its commitment to preventing and pursuing all cases of abuse against minors."
RELATED: Vatican welcomes Pell verdict, affirms anti-abuse resolve as survivors protest
Though Pope Francis has never commented directly on the merits of the charges against Pell, he has made statements of broad support at crucial junctures.
When Pell was first charged by prosecutors in the Australian state of Victoria in June 2017 with "historical sexual offenses," for example, Francis granted Pell a leave of absence from his role as the Vatican's finance minister and thanked him for his "honesty."
"The Holy Father, who has appreciated Cardinal Pell's honesty during his three years of work in the Roman Curia, is grateful for his collaboration, and in particular, for his energetic dedication to the reforms in the economic and administrative sector, as well as his active participation in the council of cardinals," a Vatican statement said at the time.
"It is important to recall that Cardinal Pell has openly and repeatedly condemned as immoral and intolerable the acts of abuse committed against minors; has cooperated in the past with Australian authorities (for example, in his depositions before the royal commission); has supported the pontifical commission for the protection of minors; and finally, as a diocesan bishop in Australia, has introduced systems and procedures both for the protection of minors and to provide assistance to victims of abuse," that statement also said.
The decision means that should the Vatican eventually open its own canonical inquest regarding Pell, it will not find itself in the position of breaking with the Australian justice system should it conclude the 78-year-old prelate is innocent.
RELATED: Why the Vatican might want to send a thank-you note to Australia's High Court