Meeting pope a 'divine moment', Canadian Indigenous say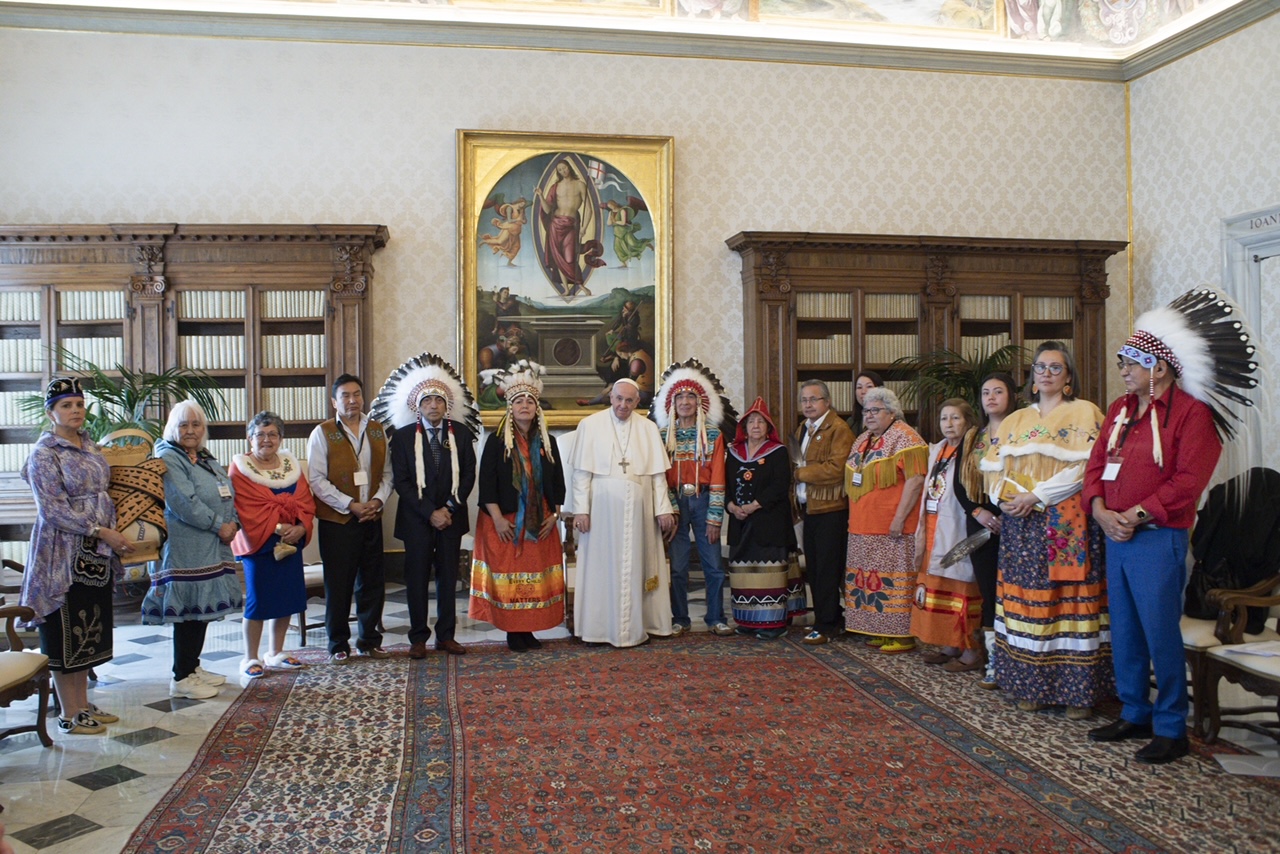 ROME – Members of Canada's Assembly of First Nations met Pope Francis Thursday, calling the exchange an important milestone on the path of healing. They voiced hope that the pontiff will soon issue an apology for past wrongs on Canadian soil.
Speaking to journalists shortly after the meeting concluded, Chief Gerald Antoine of AFN Northwest Territories, described the meeting by referring to the image of Michelangelo's Creation of Adam on the ceiling of the Sistine Chapel, which illustrates God giving life to Adam as the two reach toward one another.
"This is the day that was painted for… It's a very special, divine moment for all of us," he said, calling the invitation to visit Rome for a private meeting with the pope "long overdue."
"It's a very special day. It's also a truly historical milestone in the journey of our original nation of families," Antoine said, calling it "a milestone for the journey of reconciliation, which the Catholic Church is going to be joining us on."
"We very much hope that these discussions will be the beginning of discussion and dialogue in which we can learn from the past and share our vision for a hopeful future," he said.
Pope Francis met with approximately 20 representatives of the Assembly of First Nations Thursday for a meeting that lasted two hours.
The meeting follows two private audiences held Monday with the Métis and Inuit nations in Canada, all of whom are participating in a March 28 – April 1 visit meant to further the process of healing and reconciliation for the Catholic Church's role in Canada's residential school system.
Members of each delegation included Elders, "knowledge keepers," residential school survivors, and young people, who shared their stories and raised key issues of concern, including the desire for a formal apology made on Canadian soil, the opening of residential school records, and the payment of compensation to survivors.
Phil Fontaine, former National Chief of AFN and a vocal advocate for Indigenous rights who played a key role in negotiating the Indian Residential Schools Settlement Agreement, said Pope Francis was given "a plateful of issues that are of concern and importance for our people," including access to residential school records, and the restitution of land from the Canadian government and the Catholic Church to Indigenous communities.
Pope Francis, he said, "didn't respond directly to the call for an apology; neither did he say yes, 'I will be in Canada,' but we heard from other sources that he's made a commitment to come to Canada."
The papal visit is expected to happen over the summer, Fontaine said, adding he suggested to Pope Francis that he make the apology in Winnipeg.
The topic of a papal apology has been heavily discussed since last summer, when the remains of 15 children were discovered in unmarked graves on the grounds of the former residential school in Kamloops, prompting searches at other schools that unearthed hundreds more bodies.
Ever since the visit of the delegations – which has been in the works for several years but was postponed due to the coronavirus pandemic – was announced, there has been speculation that Francis might make some form of public apology during the visit, perhaps during Friday's collective audience with all three organizations represented.
Last year the pope expressed his willingness to visit Canada as part of the country's healing and reconciliation process and is expected to make an apology while there if the visit happens.
If he does so, it would be a direct response to Canada's Truth and Reconciliation Commission, which at the conclusion of its work in 2015, issued several action points for reconciliation with Indigenous communities, one of which is for the pope to make an apology on Canadian soil.
Many of the AFN delegates who met the pope Thursday shared the recognition of the significance of their meetings, and echoed Fontaine's call for a papal apology.
Cree Grand Chief Mandy Gull-Masty of Waswanipi said during a press conference after Thursday's meeting with the pope, that she wanted an apology, but "a meaningful apology that includes acknowledgement of wrongdoing."
"We cannot ignore the power of an apology," she said, saying it can help spur forward efforts aimed at "transforming anger and hurt into a process of peace, love, and freedom."
Kukpi7 Rosanne Casimir, British Colombia representative for the Tk'emlúps te Secwépemc First Nation, said the meeting with Pope Francis provided delegates "the opportunity to share the truth of the past," including the pain and trauma experienced by survivors.
She asked the church to apologize "for the wrongs that have been committed, and to recognize the strength and resilience of (First Nation) communities who have suffered because of the residential schools."
Wilton Littlechild, a Cree Nation chief, residential school survivor, and lawyer who has worked extensively at the national and international level, including with the United Nations to promote Indigenous rights and treaties, spoke of the contribution of Indigenous to global society and the need to face the challenges of the future together.
"This morning we didn't just come to complain; we offered solutions," he said.
Littlechild said he spent 14 years at three different residential schools, and that Friday's meeting with Pope Francis and all of the delegations coincides with his birthday.
"Tomorrow is my birthday, and the gift we received today, that I received today, it is a good day. Tomorrow will be the first day of reconciliation, not only with ourselves, our families and communities, but with our neighbors and indeed with all of Canada," he said.
"I'm very, very encouraged by the audience we had today going forward into our relationship – a new relationship, a better relationship, that of peaceful coexistence," he said.
While there are still significant hurdles in the path toward healing, delegates and Elders said they have a positive impression of where things are going.
"It gave me a real sense of optimism, that we're on the verge of finally turning the corner on this issue that befuddled so many in the past," Fontaine said.
During Thursday's meeting, "We heard the Holy Father say to us very clearly, the church is with you. That's an incredibly important statement, because the next thing we will hear is, I am sorry. I'm absolutely convinced of that," he said.
"I don't know if it will be that direct, the apology, but I'm also convinced that this very important moment in the lives of our people" will take place soon, and will happen "on Canadian soil," he said, adding, "I'm convinced it will be the summer, and I'm extremely happy."
Fred Kelly, a survivor who is traveling with the delegation as a spiritual advisor and a self-described "born-again-Pagan" – he returned to his cultural spirituality after leaving the residential schools and abandoning the Catholic faith – spoke about the resentment he still holds over wounds inflicted on him and his family and his struggles to make peace with the past.
"It's hard to talk about reconciliation. It's almost a cliché, and if I sound bitter, it's because the truth is not always pretty," Kelly said, saying he feels he has not done enough in the fight for justice and for an end to systematic racism, a struggle he said is far from over.
Yet he was hopeful after the meeting with Pope Francis, whom he said "listened carefully, attentively" to the stories he was being told.
"I know he's got sciatica, I know he's getting frail in his old age, but here he is, the head of the church, who was anointed to succeed [Peter], the anointment of Jesus Christ that I read about as a child telling him, on this rock I will build my church. That is an honor," Kelly said.
Although he struggled with resentment toward the Catholic Church and his perception of God after leaving the residential schools, Kelly said he respects all spiritual beliefs, including those of the Catholic Church, and believes that during the meeting with Francis, he was speaking with a "holy man."
"I'm not holy, but he is…because he has a human heart with compassion," Kelly said, saying he invited Pope Francis to "walk with us, and may the creator, and God, as we each understand, allow us to walk together, in action, toward reconciliation and healing."
Kelly said he gave the pope several gifts, including a large white feather, which he said symbolizes the spiritual name he gave Pope Francis – "White Feather" – chosen "to commemorate the eagle that now flies with the white dove toward peace and harmony, reconciliation and healing."
Pope Francis was also given a traditional cradleboard representing the children who died at the residential schools, which the pope was to keep overnight while he reflected on what to say to the delegates in his audience with them Friday.
Follow Elise Ann Allen on Twitter: @eliseannallen