Papal aides scramble to deliver relief to quake victims in Turkey, Syria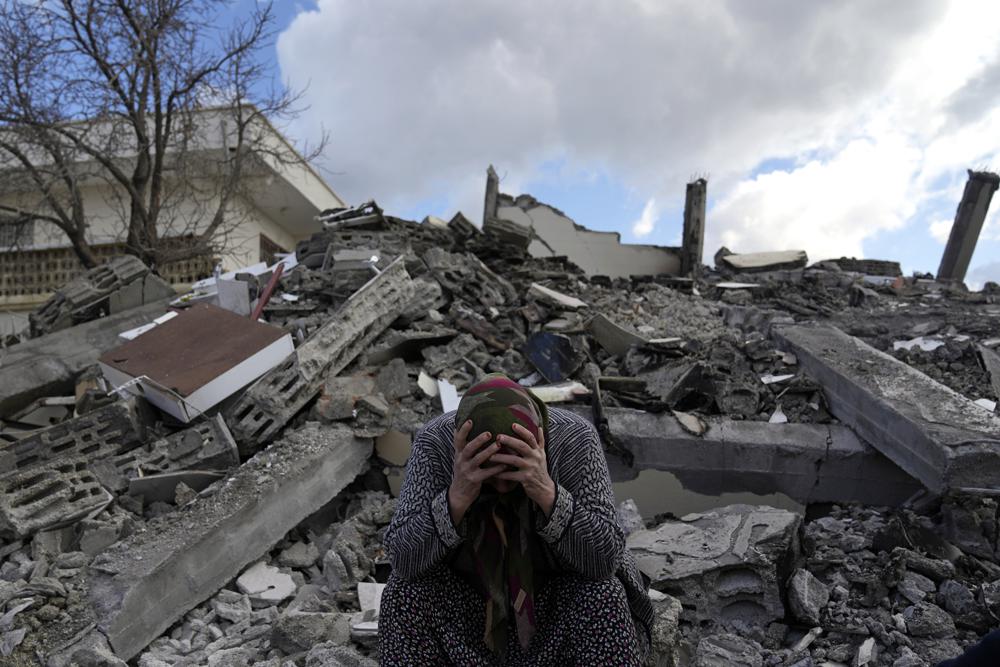 ROME – With rescue operations now giving way to longer-term recovery nearly two weeks after a massive earthquake in Turkey and Syria, papal representatives are on the ground providing aid and comfort to victims.
On Saturday, a fresh delivery of supplies from Pope Francis arrived in Turkey, where two papal representatives – Polish Cardinal Konrad Krajewski, head of the Vatican's Dicastery for Charity, and Archbishop Claudio Gugerotti, head of the Vatican's Dicastery for Oriental Churches – have been on official visits to meet with locals and to convey the pope's closeness.
A massive earthquake hit southern Turkey and northern Syria Feb. 6, leaving a death toll of at least 45,000, with that number still expected to rise. Despite miraculous rescues of people being found alive under the rubble throughout the week, the prospect of finding more survivors appears grim as first responders shift from rescue to recovery mode.
In Turkey, rescue efforts have already ended in all but two provinces, with search efforts continuing only in the southern areas of Kahramanmaras and Hatay. According to local authorities, people were still being pulled from the rubble Friday, but the likelihood of anyone else being found alive is increasingly fading.
Hundreds of thousands of apartments were destroyed in the 7.8-magnitude quake, which was followed by several less severe, but still strong aftershocks, and countless people are still missing.
Pope Francis has repeatedly offered words of comfort to the Turkish and Syrian people, saying in his Sunday Angelus address that, "The love of Jesus asks us to let ourselves be touched by the situations of those who are tried."
"I am thinking especially of Syria and Turkey, of the many victims of the earthquake," as well as those suffering due to the war in Ukraine and the devastating cyclone in New Zealand, he said.
On Feb. 16, the new Turkish Ambassador to the Holy See, Ufuk Ulutaş presented his credentials to the pope, who at the time offered his thoughts and prayers "to the noble Turkish people in this moment of so much pain."
Speaking to Vatican News, the official information platform of the Vatican City State, Krajewski said that roughly an hour after Ulutaş met the pope, he also met the ambassador to compile a list of most-needed items. That list, Krajewski said, included thing such as canned food, rice and tuna, as well as diapers and other materials to aid people stranded with no homes in the cold, winter temperatures.
"Immediately everyone in the Vatican got busy preparing, in a single day, ten pallets of foodstuffs loaded onto a truck and destined for Fiumicino airport," Krajewski said, saying volunteers and airport staff worked round the clock to ensure the aid would arrive to Turkey on Saturday.
"In the Gospel, it always says today, not tomorrow. When Jesus performed miracles, He did them immediately. He did not say in a week or in a while," the almoner said, saying, "we provided immediately, thanks to the Vatican car park, donations, with so many people helping. In 24 hours, everything was done."
Applauding the effort, Krajewski voiced his conviction that "love without charity does not exist."
In addition to the aid sent this past weekend, Pope Francis several days ago sent some 10,000 thermal sweaters to earthquake victims in Turkey and Syria, where millions are now sleeping outdoors with no place to go as temperatures drop below freezing.
Personally delivered by Krajewski, the sweaters were scheduled to arrive Feb. 17 at the Kilis refugee camp in southern Turkey, which currently is home to around 60,000 people and has hosted refugees fleeing Syria's civil war since 2012.
The pope also sent an undisclosed amount of financial aid to the apostolic nunciature in Syria to support the Syrian people, who according to the Vatican are "already exhausted by so many years of war and now by the devastating earthquake."
In addition to Krajewski, Gugerotti has also been on an official Feb. 17-21 visit to the region in order to "express the Holy Father's closeness to the populations seriously affected by the recent disastrous earthquake," and to meet with the bishops and charitable organizations providing frontline aid, according to a communique from Gugerotti's department.
Gugerotti first traveled to Aleppo, Syria, where he visited both civil and ecclesial organizations assisting earthquake victims, and celebrated Mass with local Catholic and Orthodox bishops, as well as some Muslim leaders in the area.
Sunday morning Gugerotti met with local charity organizations, including Aid to the Church in Need; the AVSI Foundation; CNEWA-PM; Catholic Relief Service; Caritas Syria; the Jesuit Refugee Service; and the Pro Terra Sancta Association, among others, and he visited an area mosque that is hosting quake victims.
He then celebrated Mass in the Greek Melkite cathedral and met with members of a local community of the Missionaries of Charity, the order of nuns founded by Mother Teresa, and then left for Damascus.
Gugerotti is scheduled to meet with local patriarchs and bishops, both Catholic and non-Catholic, who reside in the quake-affected areas in Damascus Monday, before traveling to Istanbul, where on Tuesday he is scheduled to meet with Turkish bishops and the directors of local Caritas offices engaged in relief efforts.
Follow Elise Ann Allen on Twitter: @eliseannallen