ROME – Pope Francis's medical team reported Friday morning that two days after undergoing surgery for an abdominal hernia, the pontiff is continually improving and spent the morning reading following a lengthy rest the day before.
A June 9 statement from the Vatican said that Pope Francis "rested well during the night," and that his medical team says his clinical status "is progressively improving and the post-operative course is regular."
Francis breakfasted Friday morning and got out of bed after, spending most of the day in an armchair in his room, allowing him "to read the newspapers" and to begin "the initial resumption of his work."
Pope Francis underwent abdominal surgery Wednesday afternoon for what the Vatican described as "a lacerated incisional hernia" causing recurrent pain "and worsening sub-occlusive syndromes," meaning there is a hernia in the abdominal wall at the place of a previous surgical incision in which the intestine goes out and comes in, creating discomfort.
The pope spent Thursday resting, and maintained a liquid diet, apart from receiving communion for the Catholic Feast of Corpus Christi, which commemorates Jesus's death on the Cross.
He also voiced gratitude for the many well-wishes and messages of support that have come in from around the world.
A Vatican statement Thursday evening said Francis was particularly moved by a message he received from the family of infant Miguel Angel, who was baptized by the pontiff on March 31, while Francis was admitted to the Gemelli hospital for bronchitis.
During his hospital stay, the pope paid a brief visit to the hospital's pediatric oncology and child neurosurgery wards. He met Miguel Angel and his mother in the latter, where the infant was undergoing tests.
The family, who come from Peru, sent Pope Francis a poster wishing him a speedy recovery that contained photos of the family, including their two older sons holding their Miguel Angel, as well as the photo taken of the pope and Miguel Angel's mother standing over him at the hospital in March.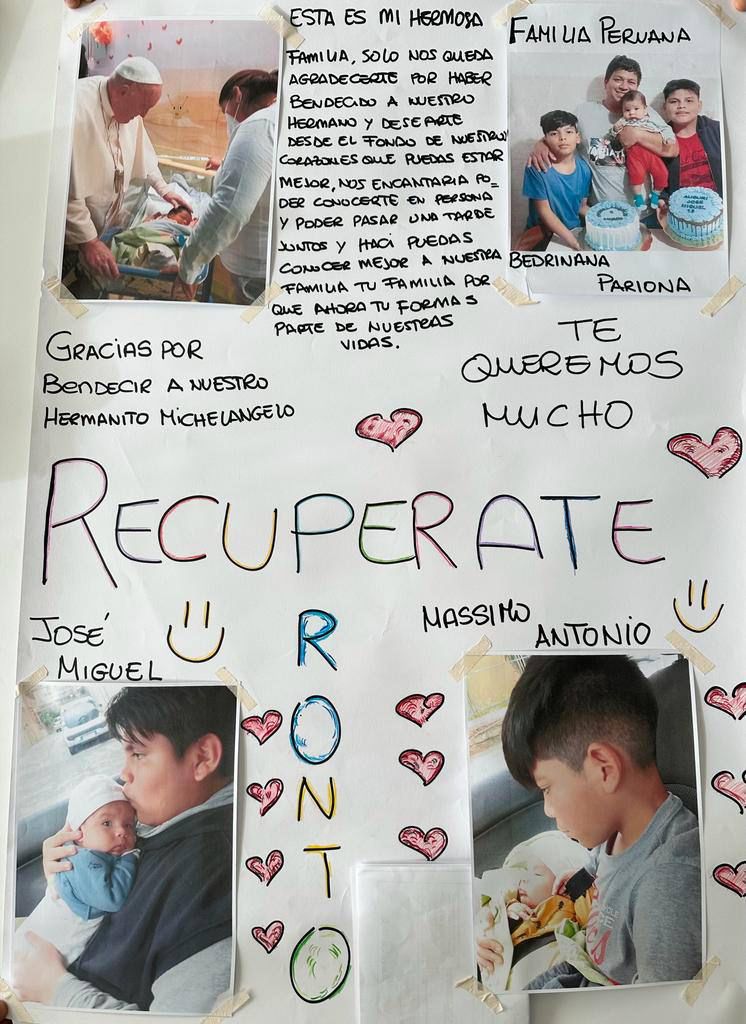 Phrases such as "get better soon" and "thanks for blessing our little brother" accompanied the photos, along with colored hearts and with the names of the couple's two older sons.
On the poster was also a hand-written note saying, "This is my beautiful family, we only want to thank you for having blessed our brother and we wish from the bottom of our hearts that you can get better. We would love to meet you in person and spend an afternoon together, so you can know our family better, your family, because now you are a part of our lives."
Pope Francis made a brief phone call to the family to personally thank them for the poster and for their message of support.
Follow Elise Ann Allen on Twitter: @eliseannallen