Cardinal who served the Polish pope readies for his swan song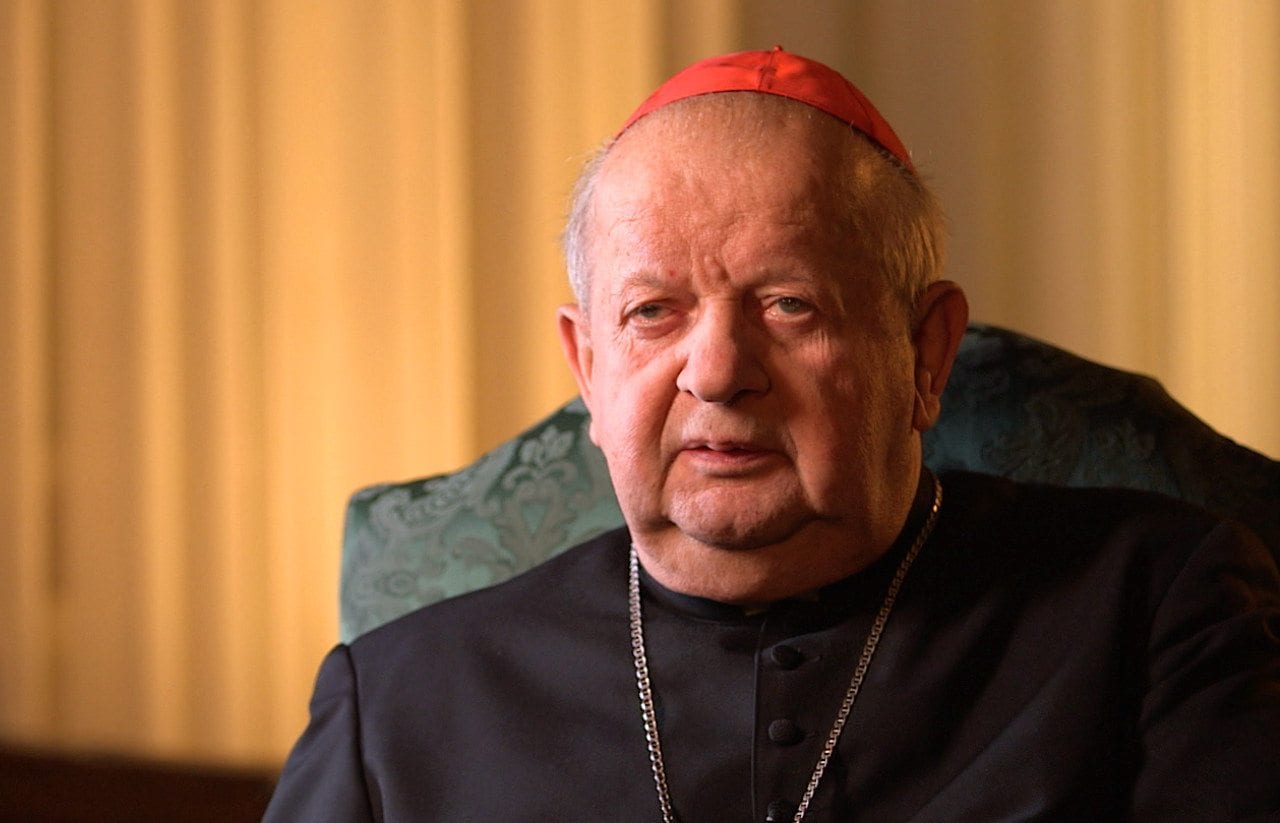 KRAKOW, Poland— Arguably, few men in modern history were as destined to live in the shadow of a great personality as the current Archbishop of Krakow, Cardinal Stanislaw Dziwisz. Next week he will be the host of Francis' first visit to Poland, the land of St. Pope John Paul II, whom Dziwisz served as private secretary for over 40 years.
On the eve of Dziwisz's swan song, the first World Youth Day in the city that belongs to John Paul II, his loyal aide and spiritual heir told Crux that this encounter is about building a Europe of peace.
"I hope this World Youth Day is a beginning of a new atmosphere in Europe, with great hope and love. And I tell the doubtful that they have to come to be with the pope and the youth, to experience the joy of being Christians," Cardinal Stanislaw Dziwisz, 77, said on Wednesday.
He told Crux during a conversation at Krakow's bishop's residence, the same place where Archbishop Karol Wojtyla, later John Paul II, lived from 1962 until 1978, not only Catholics will participate in the event, as there are delegations coming from the Russian Orthodox Patriarchate and also from various protestant denominations.
"We want to create an atmosphere of solidarity and peace, to show the world that it can be different: happier, more invested in peace and the poor, as the Holy Father Francis says," Dziwisz said.
The prelate also said that the terrorist attacks in France and Brussels haven't deterred the pilgrims. On the contrary, more French pilgrims registered after the violent events in Paris and Nice.
Having served as the Archbishop of Krakow since June 2005, Dziwisz is in one sense the spiritual head of this city which is getting ready to welcome millions, but in a deep, more spiritual sense, he's the heir of the pope who looms over this World Youth Day like none other: St. John Paul II, founder of these youth rallies that in the last 30 years have been attended by over 16.7 million people.
According to Dziwisz, who'll host Pope Francis from July 27-31, John Paul II has left a "doctrinal inheritance of great importance, particularly on the family." But he was also this greater-than-life person who today inspires the youth who, not having encountered him, "want to come to Krakow to meet this country that was his birthplace."
First as chaplain and secretary of Wojtyla, and later as his personal secretary in Rome, Dziwisz was closely tied to St. John Paul II, who as auxiliary bishop ordained him to the priesthood in 1963.
Dziwisz worked as the Polish saint's personal secretary for over 40 years. The almost 27 years he held this position under John Paul II made him the longest serving papal secretary, at least in modern history. In 1998, he was ordained bishop and appointed prefect of the papal household.
For years he was considered not only the pope's shadow, but at the time, and still today, he's perceived as the most authoritative voice to interpret what John Paul II wanted, thought or felt on any issue. The pope's agenda, schedule and work, became his own.
For instance, when earlier in the year news broke about an alleged romantic interest between John Paul II and a Polish-American philosopher, Dziwisz killed the buzz with a statement saying that those who lived closely to the pope knew he "had no place in his life to search for evil. He was a free and transparent man."
Dziwisz was there for his mentor's final moments, administering him the last rites.
Only two months after the death of his longtime friend, Dziwisz was appointed as archbishop of Krakow, so he found himself working the same job, living in the same home and praying in the same private chapel where John Paul II once prayed, carrying on his legacy and keeping his flame alive.
When Francis arrives on Polish soil, Dziwisz will be there to receive him, and although time has gone by and he's today too significant a figure to revisit his former role, in many ways, during the five days of the papal visit once again his agenda will be that of the pontiff.
The pope will stay at his house, and he'll probably stand by Francis' side as he greets the pilgrims who will undoubtedly gather every night under the window of Franciszkanin 3, arguably Poland's most famous window, from where the last two popes addressed thousands during their visits to Europe's cultural capital.
He will be there when the pope visits the German Nazi concentration and extermination camp of Auschwitz and when he celebrates Mass for millions on Sunday.
In other words, during the five days of the papal visit, for all intents and purposes, Dziwisz's life will, once again, be taken over by a pope's.