English bishops after papal meeting: Francis 'serene' in this 'time of turmoil'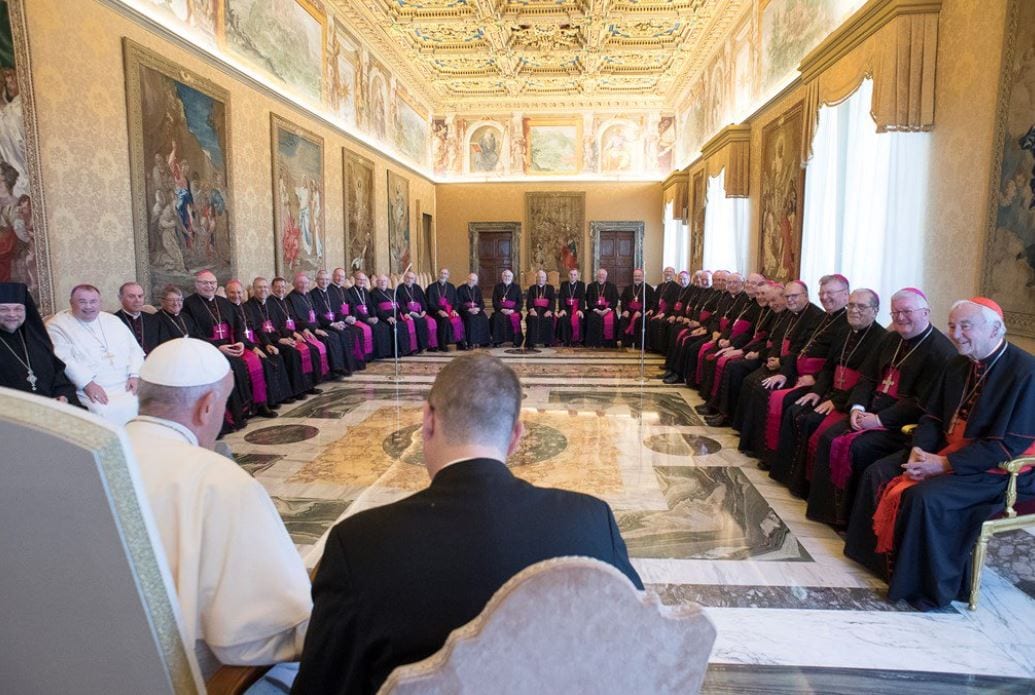 LEICESTER, United Kingdom – Even in "this time of turmoil" Pope Francis is "serene" – according to a statement from the Catholic Bishops' Conference of England and Wales after their meeting with the pontiff on Friday.
Giving a summary of their ad limina visit – a trip to Rome to meet the pope each bishop takes every five years – the bishops' conference said they spoke with Francis for over two hours.
"Even in this time of turmoil, the Holy Father is so clearly rooted in God and blessed by God. His peace is secure. His life is serene. We know, because he showed us his heart. It is the heart of a loving father. In our turn, we affirmed our deep communion with him and promised him our love, support and prayers. We expressed confidently these sentiments on behalf of all the faithful Catholics of England and Wales," the Oct. 1 statement said.
Ahead of the trip to Rome, the bishops said they were going to bring up the issue of sexual abuse with Francis.
In the United Kingdom, an Independent Inquiry into Child Sexual Abuse (IICSA) has been looking into abuse at Catholic institutions – and others – since 2014.
The inquiry was established by the British Home Office – which oversees similar areas as the U.S. Departments of Justice and Homeland Security – but is independent and does not answer to the government.
The bishops' statement said Francis "spoke movingly of the wounds inflicted by abuse and neglect, wounds that wreak such harm in the lives of its victims and in the life of the Church."
"Wherever they are found, these are wounds in the Body of Christ and are painful to touch. He encouraged us, in our pastoral work, never to neglect even the tiny flames of faith that exist in so many communities and people," the bishops continued.
The bishops said they asked the pope for a message to take back to their dioceses in England and Wales.
"His message was simple: we are to live the gift of our faith with joy. Joy was his great emphasis. He explained that this joy is rooted firmly in our relationship with Jesus. It is a joy of knowing that he is with us; of knowing the presence of the Holy Spirit at work in our lives, drawing and guiding us towards the will of God; a joy of knowing our Heavenly Father is waiting for us, longing to hold us in his embrace of loving mercy. This is the joy of the faith by which we are to live. He added that this joy is the source of lasting peace in our hearts and lives, no matter our circumstances," the bishops' statement said.
RELATED: Scottish prelate voices shame, resolve on sex abuse crisis
Last week, the bishops of Scotland – who have a separate bishops' conference – met with Francis on Thursday.
The president of the conference, Glasgow Archbishop Philip Tartaglia, said they spent two hours speaking with the pontiff about a number of subjects.
"We updated the pope on the ecumenical work being done in Scotland to ensure that friendship, prayer and common witness among Christians will grow and flourish and he encouraged us in that work. We also discussed nuclear disarmament and explained that the issue of nuclear weapons had a special relevance in Scotland and was of particular concern to the Church," the archbishop said.
Like their English and Welsh counterparts, the Scottish bishops also spoke to Francis about the sex abuse crisis.
"I was able to present Pope Francis with a copy of In God's Image, the Church's new Safeguarding document and the culmination of two years' work designed to create a robust set of safeguarding procedures and protocols. The pope thanked us for this work and urged us to continue with it." Tartaglia said.