Q&A on the 'unplanned pregnancies' of the Catholic Church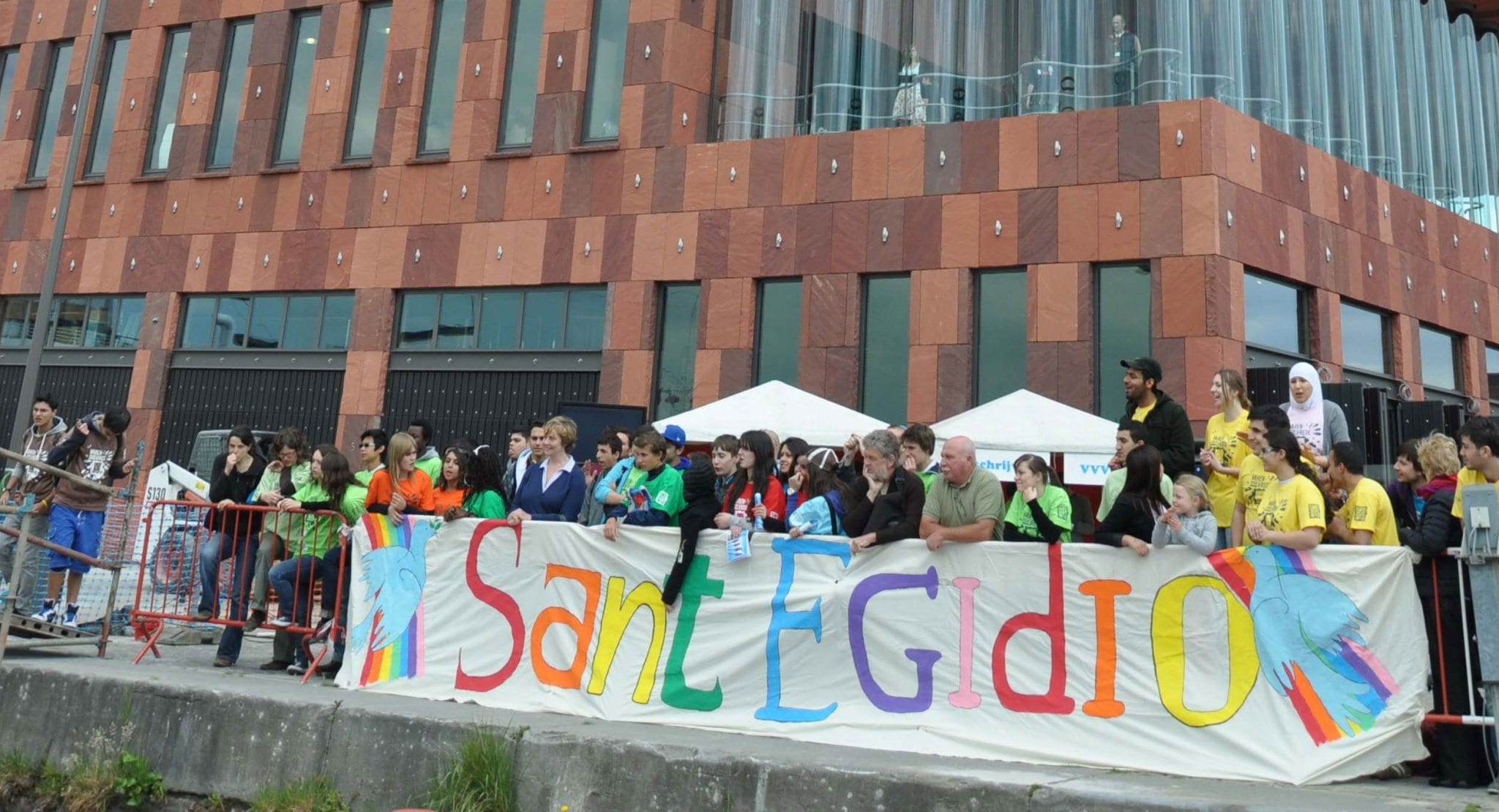 On Tuesday, the Vatican released its latest reflection on what German Cardinal Gerhard Müller amusingly has called the "unplanned pregnancies" of the Catholic Church, meaning its sprawling galaxy of new lay movements, most of which have been born in the last 100 years and have had their real growth since Vatican II.
One has to say "latest" because this is hardly the first time various departments and officials in the Vatican have issued documents, released interviews, given talks, organized meetings, etc., on the relationship between the hierarchy and what English-speakers often call the "new movements."
The document is titled Iuvenescit Ecclesia, which roughly means "The Church Rejuvenates." It was prepared by the Congregation for the Doctrine of the Faith, the Vatican's powerful doctrinal watchdog agency.
Acknowledging the movements as a "great source of renewal," the document says they "fill the heart of the Church with joy and gratitude."
At the same, the clear thrust is to warn the movements that if they want to be around for the long haul, they can't set themselves up as a sort of "parallel church" outside the control of the hierarchy. To be Catholic, it argues, means in part accepting the authority of the bishops and the pope, and seeking their official recognition.
These are theologians, so it's never put quite this clearly, but the bottom line, as an old friend of mine in Rome always said, is this: "If you want to swim in the Catholic pool, sooner or later you have to make your peace with the lifeguard!"
Basically, Iuvenescit Ecclesia calls for both the bishops and the movements to give a little bit in order to make the relationship work.
The hierarchy, the document says, must avoid "juridical straitjackets that deaden the novelty which is born from the specific experience." The movements, on the other hand, have to avoid "running parallel to ecclesial life or not [seeing themselves as] ordered in relation to the hierarchical gifts."
In an interview with the Vatican newspaper L'Osservatore Romano before the document appeared, Müller said the birth of the movements in recent decades was "often a disruptive novelty, in need of purification," but fundamentally they're a gift.
"They've been a little bit like children who came into the world unplanned," he said. "Whoever's truly a mother or a father loves that child once it arrives and cares for it, just like, and sometimes even more than, all the rest."
Herewith, five questions and answers about the new movements to help make sense of the new Vatican document.
What are the new movements?
In 1988, then-Cardinal Joseph Ratzinger, later Pope Benedict XVI, put it this way: "Movements generally derive their origin from a charismatic leader and take shape in concrete communities inspired by the life of their founder; they attempt to live the Gospel anew, in its totality, and recognize the Church without hesitation as the ground of their life."
You're not going to do much better than that.
Of course, exactly the same thing could be said for religious orders in the Catholic Church. What makes the new movements "new" is that they are primarily for laity, who remain fully immersed in the secular world, keep their jobs and families, etc., even if they also include priests and religious in their extended families.
In 2005 the Vatican put out a directory listing 122 lay associations and movements that had pontifical recognition, and they keep adding new ones all the time. In May, for instance, the Pontifical Council for the Laity officially recognized "Jesus Youth," a movement born in Kerala, India, in 1970. Like many of the new movements, though by no means all, it's part of the vast galaxy of the charismatic renewal.
Here are a few of the better-known movements with a large international following:
Communion and Liberation
Focolare
Schoenstatt
The Neocatechumenal Way
Community of Sant'Egidio
Catholic Charismatic Renewal
L'Arche
Regnum Christi
Cursillo
Emmanuel Community
Complicating things for Americans is that sometimes in Catholic parlance we use the word "movement" for something that really isn't. Opus Dei, for instance, is commonly lumped in with the movements, but technically it's a personal prelature. The Legionaries of Christ also are sometimes put in this category, but they're a religious order – Regnum Christi is the affiliated lay movement.
Why are the movements controversial?
First of all, they're not as controversial today as they once were, for instance when journalist Gordon Urquhart referred to them in 1995 as "mysterious and powerful new sects" constituting "the pope's armada."
During the St. John Paul II years, they were often seen as part of a supposed effort to turn the clock back on reforms unleashed by the Second Vatican Council (1962-65). It didn't help that many of the best-known movements were seen as politically and theologically conservative, with Opus Dei (again, not actually a movement), the Neocatechumenate, and Communion and Liberation being classic examples.
Further, there have been recurrent accusations that some of these movements operate basically as "Catholic cults," emphasizing extreme levels of obedience and secrecy, fostering unquestioning devotion to founders, invading the consciences of their members, and so on.
There's also been an occasionally off-putting air of zealotry about some of the movements, who at times project a sense that they're the only hope for the Church. That's often left others, trying to do their best too, a bit cold – perhaps especially religious orders, whose members have been tempted to ask, "Hey, you do realize we've been at this for centuries, right?"
Finally, many of the movements have their own idiosyncratic ways of doing things, such as celebrating the Mass or offering lay formation, and when they blow into a diocese they haven't always been role models for going along to get along.
The Neocatechumenate, which was born in Spain in 1964 and has a special genius for missionary work among people from Mediterranean and Spanish-speaking cultures, has been a special focus for this complaint. Over the years, they've been banned for periods of time in various places, including Japan, the Philippines, Nepal, as well as a number of individual dioceses in both Europe and North America.
That's one of the reasons it took until 2008 for the Neocatechumenate to obtain final approval for its statutes, and to this day some of their practices for the Mass remain controversial.
In the main, however, much of this criticism has dropped off in recent years, as many of the movements have gotten older and become "normalized." In part, that's because several have lived through the deaths of their founders, and have had to move on to a more "institutional" phase of their existence.
Why is the Vatican putting out a document on their relationship with the hierarchy?
Fundamentally, because there's a built-in tension between movements and local bishops, and somebody has to lay out guidelines for how to manage it.
Since the bigger and more developed movements enjoy pontifical recognition, they've got a degree of insulation from control by local bishops, just like religious orders. However, they also have to operate in local dioceses, just like religious orders, and so the bishop has got a legitimate interest in knowing what they're up to and making sure that in some big-picture sense it serves the interests of the local church.
At best, what the Congregation for the Doctrine of the Faith can do is lay out the theological and pastoral case as to why each side in the tension ought to be concerned about the other. Precise rules will always be elusive, because each of these outfits has its own identity and presents its own unique challenges.
To be clear, Iuvenescit Ecclesia does not provide any new Church law or any procedures for recognition. It's a big-picture text, leaving it to others to fill in the details.
As a result, anybody expecting Iuvenescit Ecclesia to solve all the problems will almost certainly be disappointed. After all, the Catholic Church has had centuries to figure out the relationship between local bishops and religious orders, and just go ask anybody today on either side of that divide if absolutely everything is hunky-dory.
For the movements, what they gain out of a healthy working relationship with the hierarchy is access to dioceses, institutional support, and long-term viability. For the bishops, what they gain, aside from the fresh blood of gung-ho lay missionaries and a reliable way to boost Mass attendance, is a degree of quality control and a way to handle problems when they arise.
A recent story out of Peru illustrates why that's important for both sides. As documented in Crux by Austen Ivereigh, a large movement there called the Sodalitium Christianae Vitae has been rocked by an abuse scandal involving its founder, Luis Fernando Figari.
Ivereigh reported that a local church tribunal tried for four years to get the Vatican to act on those allegations before anything happened. Had there been a more cooperative relationship, it's possible the problems could have been flagged and resolved earlier.
Probably, that story should also be a wake-up call for bishops with new movements in their own backyards to take a closer look, in the spirit of trying to defuse a possible bomb before it goes off.
Does Pope Francis support the movements?
That's been a debated point, with some observers assuming that Francis doesn't like them, either for political reasons (given the reputation of some movements for being fairly conservative) or simply out of loyalty to his heritage as a member of a religious order (the Jesuits).
On the other hand, many have noted that before his election to the papacy, then-Cardinal Jorge Mario Bergoglio had very good relations with several of the movements in Argentina.
One of the last people he called before leaving Buenos Aires for the 2013 conclave was the local head of the Neocatachumenate, to give his blessing for a project; he presented books on multiple occasions by Don Luigi Giussani, founder of Communion and Liberation; he celebrated liturgies for Sant'Egidio; he prayed the rosary with Schoenstatt; and he took part in prayer meetings organized by various charismatic groups.
I have a personal theory that each of the last three popes wanted to be equally benevolent to all the movements, but each, when you drill down, clearly had a personal favorite.
For John Paul, it was Opus Dei (for the third time, yes, I know, technically not a movement.) A pope from a Communist-occupied nation, for whom reflection on the Marxist analysis of labor was a constant, couldn't help but admire the emphasis in Opus Dei on ordinary work as a path to holiness. Probably, John Paul also saw in Opus some of the qualities he cherished in Poland's Solidarity movement – the same spirit of unity, the same "all in" commitment.
Like clockwork, John Paul gave Opus Dei a major gift once a decade: In 1982, he made it a personal prelature; in 1992, he beatified its founder, Josemaría Escrivá; and in 2002, he canonized Escrivá.
For Benedict XVI, it was Communion and Liberation. The women who served his personal household were drawn from Memores Domini, a consecrated body of lay women affiliated with the movement, and he was a deep admirer of the works of Giussani, the founder. One of Ratzinger's last acts as a cardinal before becoming pope was to volunteer to lead Giussani's funeral Mass.
For Francis, it's Sant'Egidio, born in 1968 to serve the urban poor of Rome's peripheries, and it's gone on to become leader in ecumenical and inter-faith dialogue, conflict resolution, anti-AIDS efforts, and many other fronts. It's exactly the kind of socially engaged, dialogic Catholicism Francis likes.
In one of his early audiences, Francis spotted a banner from the movement in St. Peter's Square and spontaneously exclaimed, "They're great, these people from Sant'Egidio," and nothing suggests he's changed his mind.
In his L'Osservatore Romano interview, Müller firmly rejected the idea that Francis is hostile to the movements.
"I believe that Francis is profoundly united with John Paul II and Benedict XVI in the desire to give value to all the novelties that the Holy Spirit is arousing in the Church," he said.