Iraq's beleaguered Christians face 'sneaky enemy in the ground'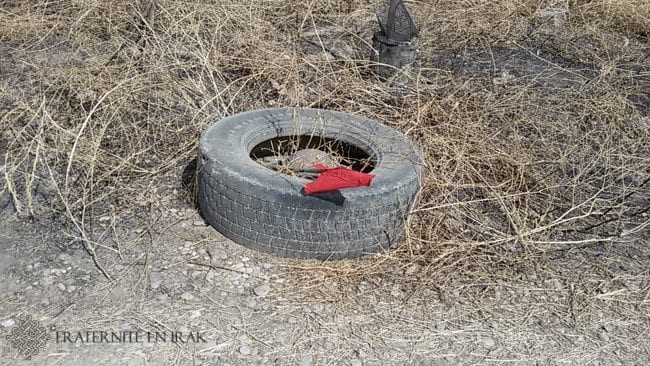 Even if the Islamic State is vanquished in Iraq and Syria, many other things will be required in order for Christians and other minorities to be able to go back. They'll need support for rebuilding homes, they'll need jobs so their children perceive a future, and, of course, they'll need stability so they don't feel they're taking their lives in their hands every time they walk down the street.
None of that, however, will matter until what Chaldean Patriarch Louis Sako has called the "sneaky hidden enemy in the ground" is cleared away – the proliferation of landmines, which presently make a safe return all but impossible even in areas where IS has been dislodged.
Since the end of May, Peshmerga forces have succeeded in freeing several villages in the Nineveh Plain, theoretically making it possible for people driven out of those villages to go back. A French NGO called Fraternité en Irak ("Brotherhood in Iraq") recently travelled to those villages with the idea of helping with reconstruction, only to discover that every village and its surrounding land have been mined and booby-trapped.
Already in 2014, a young 14-year-old Christian boy had died while helping his father plow a field in an area that had been briefly occupied by IS. Scores more have perished after May in a near-desperate attempt to get home.
Since May, the Fraternité has been working with the U.N. to develop a mine clearance program. Earlier this week, it announced that two Christian villages and four villages of the Kakai minority, located nearby, will be demined by a specialized NGO funded by the Fraternité and the French Ministry of Foreign Affairs.
(The Kakai are recognized as a distinct ethnic and religious minority in Iraq, though their actual belief system is unclear as there's a strong emphasis on secrecy about their teachings, which are revealed only to initiates.)
In a recent article published by the Fraternité, one member of the Kakai said eleven people have been killed in his village alone by landmines in efforts to return – in some cases, the fatalities struck villagers who had turned themselves into amateur mine-clearers, with disastrous results.
It's indicative of the climate that the new NGO doesn't wish to reveal the precise location of the demining effort, or, for that matter, even its own name. Obviously, the fear is making them and the newly demined villages targets.
Galvanized by the brutal attack on Our Lady of Salvation Syriac Catholic Cathedral in Baghdad in October 2010, when six jihadists opened fire and eventually left 58 people dead, including a priest shot dead at the altar, a group of young French students created the Fraternité en Irak as a way of responding.
Its aim is to assist minorities in Iraq, both with immediate humanitarian needs and also long-term development projects that will allow them to remain in the region.
They forged ties with Sako, who's alerted to the threat posed by the mines that cluster many traditionally Christian areas, as well as zones inhabited by other minority groups.
"Once the fighting is over, a great humanitarian project will have to be undertaken," Sako said in an appeal issued in May, as a battle for the Nineveh Plain was heating up. "For over two years, hundreds of thousands of people from the Nineveh plain – about 120,000 Christians, tens of thousands of Yezidis, kaka'is and all other inhabitants of the region – have been hoping to return to their homes."
"Yet before thinking about reconstruction, before returning to revive our beloved cities in the plain of Nineveh – Teleskuf, Bqaofq, Batnaya, Tell Keff, Bartala, Ba'ashiqa, Karamless and Qaraqosh –, a big obstacle will have to be removed," Sako said.
"This obstacle is a sneaky hidden enemy, under the ground and sometimes even in everyday objects. I mean mines and many Islamic State booby traps left when they are forced to leave an area. Wherever it pulls out, it sows death by leaving hidden mines and explosive devices."
"If I wish to draw the world's attention to the tragedy, it is because I do not want our children to grow up amid minefields," Sako said. "Our people has suffered too much for there to be more people injured, amputees, death by mines."
"Rebuilding schools or clinics brings greater rewards, but if mine clearance is not done before, we can rebuild nothing," the patriarch said, who also serves as president of the Iraqi bishops' conference.
"I invite all those who read these words to believe in Christ, our Savior, and in the resurgence of Mosul and the Nineveh Plain one day. Working step by step, stage by stage, rebuilding after clearing, we Iraqi Christians can return to live here."
The perils of digging up all those "sneaky enemies in the ground" offer a reminder of the staggering challenges facing the Christians and other minorities of Iraq and Syria, even in a post-IS future. The Fraternité en Irak, however, is also a reminder that when good people get serious, those challenges are not insurmountable.
Information about the mine-clearing program in Nineveh can be found here.