UK cardinal says on 'Amoris', we follow the pope's lead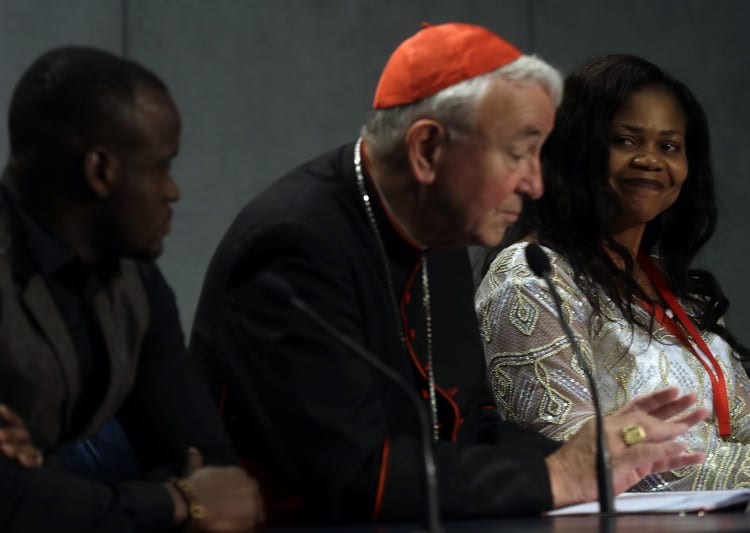 Amoris Laetitia has not changed Church teaching and draws directly from Catholic tradition, according to the Archbishop of Westminster, Cardinal Vincent Nichols, who has also praised Pope Francis's "patience and reserve" in response to vehement criticism.
Asked in an interview with The Irish Catholic following a lecture in Belfast to respond to a threat made by Cardinal Raymond Burke to issue a "formal correction" of the pope, Nichols, 71, expressed his firm support for Francis.
"The pope is the one who has been chosen under the influence of the Holy Spirit to lead the Church, and we will follow his lead," he said, adding that "the pope's patience and reserve about this whole matter is exactly what we should observe."
Asked if the exhortation modified church teaching, Nichols said: "There is no question of that…The issues raised by Amoris Laetitia are not core doctrinal issues, these are about how do we live, in very traditional terms actually, everything in Amoris Laetitia is drawn from the tradition of the Church: how do we live the mercy of God and how do we enable people who feel judged, feel excluded, feel as if they have no place, to begin to explore that."
The cardinal attended both synods on the family, and now sits on the synod's general secretariat.
In his lecture at St. Brigid's parish in Belfast on February 7, he said the two words 'accompaniment' and 'discernment' were "at the heart of the Holy Father's drive to see the Church become a place of mercy and salvation."
"[Those two words] are central to Amoris Laetitia; they are central to the Year of Mercy and he has made them central to the next Synod of Bishops on 'Youth, Faith and Vocational Discernment,' by which is meant the task of helping youngsters to see the way in which the call of the Gospel is to take concrete expression and shape their lives," he said.
Nichols added, "Pope Francis says that the whole point of the Church is to bring us to the Father …. God is trying to build in the lives of every one of us a pathway by which we reach Our Father's home."
The bishops of England and Wales have not yet produced guidelines on Amoris Laetitia because they were unable to reach consensus in their meeting last fall. Two traditionalist conference members, who are often at odds with the conference's agreed positions, have issued pastoral letters either ignoring chapter 8, which deals with the issue of Communion for divorced and civilly remarried Catholics, or insisting that it changes nothing.
One of those prelates, Bishop Philip Egan of Portsmouth, said in a pastoral letter last year that while Amoris Laetitia called for a "more compassionate pastoral approach," it had not changed church teaching or practice and did not readmit the divorced and remarried to Communion.
After a meeting with priests earlier this month, Egan took the unusual step of revealing on Twitter that he had been asked whether to obey the bishop or the pope. "I'd say both," he tweeted. "But there's a growing problem: let's pray for the Church."
In his own pastoral letter letter last year, on the other hand, Nichols said that the exhortation could not be reduced to a question of whether or not the divorced and remarried could be admitted to the sacraments. Instead, it should be seen as a clear invitation "for every person to understand much more deeply their situation before God."
"When we hide nothing from the Lord, when we reflect carefully in prayer, when we open our hearts to the wonder of God's plan for our happiness, we begin to sense the call of our conscience, that inner core and sanctuary where God's voice echoes within us," he wrote.
In reply to an audience question following his Belfast lecture as to whether the Church in England and Wales would follow the German and Maltese bishops' example and issue guidelines, the cardinal said they were still reflecting but planned to do so further down the line.
"We will come in due course to express some guidance," he said.
In his Irish Catholic interview, published Wednesday, he said: "We must never forget that Pope Francis is a Jesuit formed in the Ignatian discipline, a very demanding discipline of trying to discern the Spirit. There is nothing novel about it — it is deeply rooted in the Church — but we've never had a pope before that has been formed by this Ignatian discipline."
On the male, celibate priesthood and the possibility of women deacons, Nichols said he personally valued both celibacy "and the fact that [the priesthood] is restricted, as I would believe is the wish of the Lord, to men."
Nichols also appeared to express skepticism about the idea of women deacons, saying, "I also find it difficult to separate the diaconate out of the one Sacrament of Holy Orders."
He added that he welcomed more women in Church leadership roles, and is pleased that the "vast majority" of Catholic schools and other organizations in England and Wales are female-led.
"What I would fear, frankly, is that the leadership of women in the Church would simply be channeled into the order of deacon. And I think across the Church, the leadership of women should be broader and more varied than that."