Cameroon cardinal says schools boycott turning people against Anglophone separatists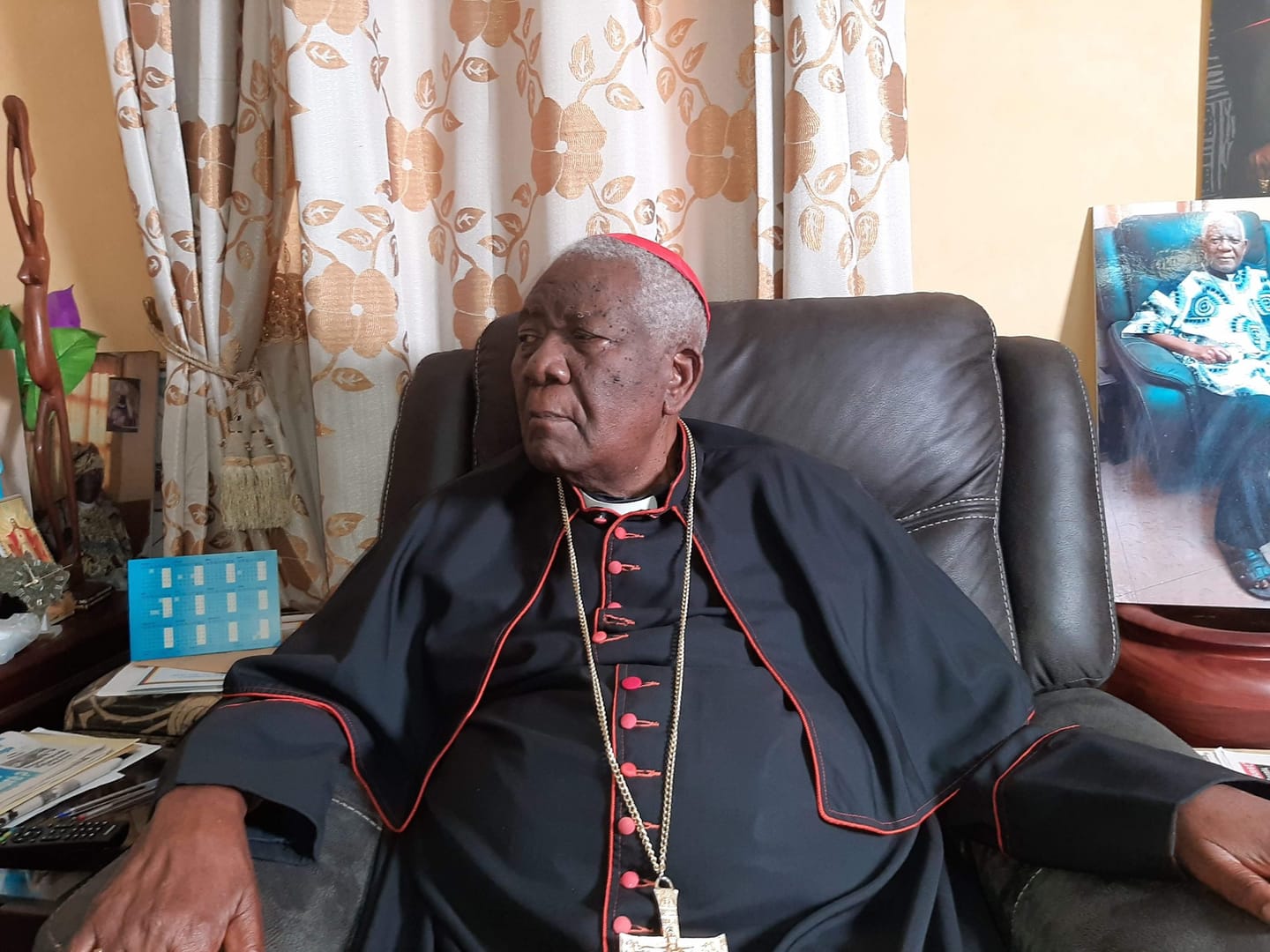 YAOUNDÉ, Cameroon – Cameroon's Cardinal Christian Tumi says a violently enforced schools boycott is tuning the population against separatists in the country's Anglophone regions.
On Feb. 6,  gunmen struck in a school in Elak Oku in Cameroon's North West region, taking four children away. The children have since been released, but the attack once more demonstrates just how difficult it is for children in Cameroon's English-speaking North West and South West regions to pursue education.
Separatists had made a school boycott the cornerstone of their fight for independence from the French-speaking majority nation. For the past four years, the rebels have been attacking schools, kidnapping students and teachers, and even committing murder as a way of enforcing the school ban.
The most gruesome act was on Oct. 24, 2020, when gunmen stormed the Mother Francisca International Bilingual Academy in Kumba in the country's South West region, killing seven children and wounding thirteen others, although separatists denied responsibility for the bloodshed.
"It's a mystery for me," Tumi said about the incident. "Why kill children in school?"
Tumi, 90, is the Archbishop Emeritus of Douala and Cameroon's only cardinal.
"The suspicion is that it's the separatists who killed the children, but they say it's the army. How can the army enter a classroom, and kill innocent children? And to date, people have not been arrested in connection with this heinous act," he told Crux.
The Cardinal said he could understand that separatists who had been campaigning against the reopening schools could carry out such an attack, but was at a loss as to why the military would be involved.
"There was a case when the hand of a girl was cut off in Bamenda. She had gone to write the GCE [an academic qualification in Commonwealth countries]," Tumi said. That act was committed by separatist fighters.
"Because schools are not functioning, many people are turning against the separatists,' Tumi added.
To illustrate this point, the prelate cited a case "when the boys went and kidnapped a priest and the parents who went to register their children in school. The entire village came out in protest to demand for their immediate release. They (the separatists) took fright and freed them."
Tumi himself was kidnapped and held for a day on Nov. 5, 2020. Tumi was driving from Douala to his home town of Kumbo with ten other people when they were abducted.
"They forced us on their motorbikes, and we did not know where we were going. They took us through the bush until we got to one abandoned house, with neither chairs nor beds. We stayed the night there, not knowing what would happen next," Tumi told Crux.
He said his driver wanted to revolt stage a revolt against their captors.
"I told him to calm down. You (the driver) have a wife and child, so if they kill you, you have so much to lose. As for me, I have nothing to lose, given my advanced age," Tumi told Crux.
-"I slept on the floor. No matter the conditions, when sleep comes, I sleep," he added.
"When day broke, the kidnappers said they were going to free me, but that we couldn't go the same way we came because the army was already tracing the hideout. So they asked me to call the governor of the North West region. I didn't even have a telephone, but they gave me the governor's number and a phone and told me what to tell the governor. I had to tell the governor that the army shouldn't try to free us by force, because if they got into a confrontation with the army, a bullet could hit one of us. I told the governor and the governor said he had instructed the army not to react. So they took me on a motorbike over several kilometers to one village, left me there, and disappeared into the forest using yet another route," the cardinal explained.
But the kidnapping, despite its discomforts, offered Tumi an opportunity to talk to the rebels.
"I told them: you can have your political stance in Cameroon, but you have to understand that you could also have other Cameroonians who hold opinions that contradict yours. Looking at you, I don't agree with you on just two points: The first, you are intolerant. When you say yes, and the other person says no, you condemn him/her to death, because his opinion is different from yours. If you say yes and another person says no, you have to ask him why he is saying no. That way, you would be ready for dialogue. If you don't ask the other person to explain why their opinions differ from yours, then you aren't ready for dialogue," he remembered.
"I also spoke to them about the school boycott. I told them you are fighting against your brothers and sisters and for that, I shall never be in accordance with you," the cardinal said.
He said some of the separatist had remained in the bush simply because they don't know where else to go.
"There are some of them who don't know why they are fighting," Tumi told Crux.
He cited the case of one separatist commander who came and met him and said he would leave Cameroon for good, because he had lost trust in the military, and worse, didn't have faith in the struggle anymore.
"He said they thought it was going to be a one-year fight, but that now, they don't know where the fight is leading. Many are there because they are afraid that if they come out, they could be killed," he said.
Tumi called on the fighters to not be afraid, and they could either travel or meet him in Douala, or meet the archbishop of Bamenda and their security would be guaranteed.
"I give them my word: come out and come to me. Nobody will touch you," Tumi said.
"Since the archbishop of Bamenda was installed and it's not long, he has already welcomed 400 fighters. Some of them who came here have been given some money to establish themselves wherever they wish within the country," the cardinal said.
Cardinal Pietro Parolin, the Vatican Secretary of State and the chief advisor of Pope Francis, visited Cameroon two weeks ago to bestow the pallium – the sign of office for a metropolitan archbishop – on Archbishop Andrew Nkea Fuanya of Bamenda.
The Vatican ambassador to a country usually performs the function, and Parolin's visit was seen as a move by the Holy See to pressure both parties to find a just and peaceful resolution to the crisis.