Amid carnage of Boko Haram violence, a Christian love story blossoms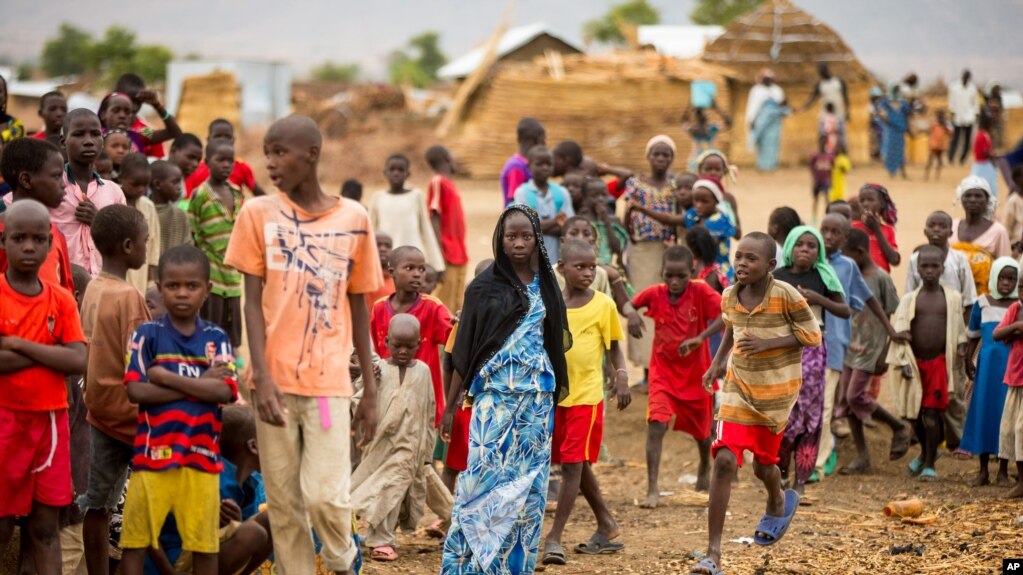 ON THE NIGERIA/CAMEROON BORDER – As the Minawao Refugee Camp comes alive in the early morning, the aroma of cooking fills the air. It's rare moment of cool in the sprawling, 1,500-acre camp, located on an open plain amid rolling hills, where daytime temperatures can soar as high as 104 degrees.
Residents shoulder tools and exchange greetings as they head to the small farms they have established in the vicinity. Others are opening makeshift stalls they've set up around the camp, selling various basic items to fellow residents.
Lady, 27, scoops out breakfast for her four children and her husband. The simple meal consists of yeasted fritter accompanied by beans.
Her husband, Isaac, who was a budding young attorney back in Nigeria, quickly eats, gulps down a bowl of fresh water and arms himself for work on the farm, with a shovel carried on his shoulder and a machete in his hand.
"If we don't cultivate some crops, it's hard to see how we will survive," he says, flashing a smile at his wife.
The 7.5 kilos of rice the UN High Commission for Refugees provides for each person per month just isn't enough, he said, to feed his family of six.
Isaac and Lady are a happy Catholic couple, paradoxically brought together by the desperation of a war both were forced to escape.
Isaac was among the first arrivals when the Minawao Refugee Camp was established on Cameroon's northern border with Nigeria in 2013. Originally designed to accommodate 10,000 people, today it's home to an estimated 75,000.
His village had come under arrack by Boko Haram, a terrorist group that seeks to establish an Islamic caliphate across the Sahel desert, and their prized targets are Christians such as Isaac.
"It was a horrific situation," Isaac recalls of the day his village was attacked. He said he fled, bare-footed, stepping and stumbling over dead bodies.
"We ran for our lives. When you hear the sound of a gun, it is alerting you that something bad is happening, so you have to run away. I went for about 16 miles, running all the way."
Lady also fled violence, from another part of Nigeria.  On arrival at the camp, Isaac was among those who received her. It took just that fleeting moment for Isaac to determine he had met his soul-mate, he confesses.
"When I saw her, I told her, 'I love you'," Isaac recalls with a big laugh.
"The day he proposed to me, I was very happy, because every girl waits for such a day in her life. I accepted him because he is a kind and understanding person," his wife, Lady, told Crux.
"We agreed to get married, and we got married," she adds.
"I got married here in the camp," Isaac says, a smile sweeping his face.
It was a small ceremony, and Isaac says their love can only grow stronger, driven not only by the intense love they share, but, as Isaac puts it, "We also draw strength from our Catholic faith."
"We have four children," he says.
As Isaac watches his children grow, he is fearful that the environment won't allow them live out their dreams.
"There are far too many influences at the camp," he says. "It's pretty difficult to give your children, in a camp, the best education they need."
He says limited resources, a lack of privacy and the constant threat of violence are the factors that prevent parents like him from giving children the best education.
"I shudder each time I see these children. It's so difficult to master all the people they associate with," he said as he picked his way amid the thick refugee population.
With reports of attacks intensifying in Nigeria, there are concerns that the numbers in the already badly overcrowded camp could continue to rise.
Nigerian President Muhammadu Buhari came to power in 2015 promising to defeat Boko Haram, but has come under increasing criticism, including from the Catholic bishops of Nigeria, not only for failing to handle the security situation, but also for appearing to empower Islamist fundamentalists so that Christianity could dwindle.
As Nigerians head to the polls February 25, Isaac hopes voters will look for a candidate with the capacity to frontally address the security challenges facing the nation.