With an unstable government and with many still in shock from the ISIS occupation of the region from 2014 to 2017, Iraq's Christian villages on the Nineveh Plains largely have been left to fend for themselves in picking up the pieces.
However, if one thing has become clear in the months since the extremist group was suppressed, it's that without the Church, nothing at all would get done.
In villages such as Qaraqosh, Karamless and Teleskoff, it is the local priest who runs the show in the absence of city or federal government representatives, acting not only as spiritual guides but also often as de facto mayors when decisions need to be made, judges when disputes arise, and managers when it comes to overseeing reconstruction plans and costs, not to mention city planners in finding solutions to challenges such as unemployment.
Reconstruction efforts in these and other villages are overseen entirely by the Church through the "Nineveh Plains Reconstruction Project," organized and led by local churches on the ground and supported by donors such as the papal foundation Aid to the Church in Need and the Knights of Columbus.
(The Knights of Columbus are a principal partner of Crux.)
In Teleskoff, for example, the man running the town is Father Salar Kajo, who is more or less a celebrity. People on every street waive as he walks by and come out of their shops and homes to say hello.
Although the town actually has two official mayors, they are really there "only to sign documents, letters and papers," Kajo told Crux. The Church, he said, "is the only one working here."
"Only the Church has helped people to return, not any government – not the Kurdish, not the Iraqi government. We also pay for municipal services," he said, adding that if the Church were not there to run things, the villages would be filled up with Muslims and Yazidis, but "they would be here but without a house, without electricity, without services."
In these villages, "the priest is not just a priest, he is everything, and I have grown very tired," he said.
And after sitting with Kajo for ten minutes, it is not hard to understand why, as he is interrupted every 2-3 minutes either by a land line phone call, a buzz on the cell that he chooses to ignore for the moment, or a worker rebuilding the church that ISIS burned during their 8-day occupation of the village.
The situation is difficult, Kajo said, and the people "can't follow just anyone…for example, if there's a problem with two neighbors, they come to the Church. If there is a political problem, they come here. There is no judge, there are no police, everything is the priest. He has to intervene in everything."
While the circumstances may be unique given the emergency situation, Kajo said "I think this [emergency] will continue."
In total, 69 houses in Teleskof were completely destroyed either during ISIS's week-long stay in 2014, or during an attack they launched against the town in May 2016. Additionally, 29 other houses were burned and 1,055 partially damaged.
So far, 850 houses have been rebuilt and more than 1,000 families are back in the town. However, only about half of these are the city's original inhabitants, with the rest being internally displaced persons from either Mosul or other surrounding villages.
Although there are many young people in the city, they face major challenges such as unemployment and a lack of basic infrastructure and services. Currently, Kajo said he's launched a small food factory to offer young people work, and is trying to raise funds to launch other similar enterprises.
Kajo said he is happy to wear many hats because it brings him closer to his people, but at the same time, "it makes you tired. The priest cannot read, he cannot pray well, he cannot do pastoral activities for the youth because he is busy with other things."
The priest is also the one to bear the burden of the community troubles, he said, explaining that he tries to encourage his people by telling them there is always at least a small hope that things will change, "but I'm not even so convinced of this."
With the government still struggling to pull itself together after the country's general elections in May, there has been nothing but empty promises, Kajo said.
"They have not done anything – they don't give us signs of hope. But we don't say this to our people [because we want to] support them, to keep them alive," he said.
Similarly, in neighboring Alqosh, the only Christian village on the Nineveh Plains not occupied by ISIS and which sits just about 6 miles from Teleskoff, Father Aram Rameel Hanna, 38, played a key role in holding down the fort while they were waiting for ISIS to be defeated, and since then he's launched several programs aimed at helping his people recover from the trauma of the past three years.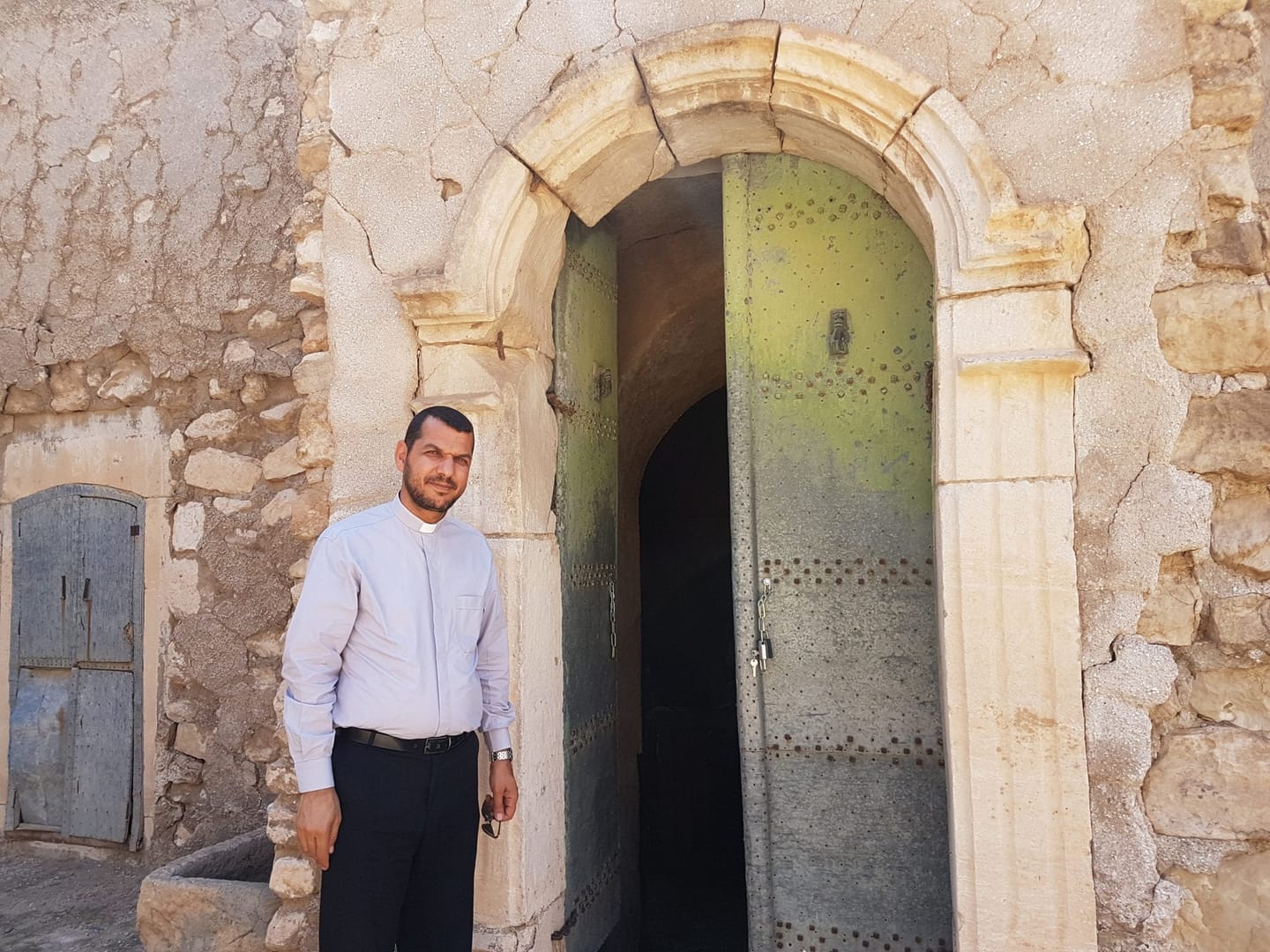 After frequently seeing people "irritated, angry and fearful" even after ISIS had been defeated, Hanna decided to launch the "New Hope Trauma Center of Iraq," which is headquartered in Alqosh and has a branch office in Teleskoff.
"I realized people were suffering from PTSD," Hannna said, explaining that he enrolled in a medical program at Harvard and traveled to the United States for two months in order to be trained in how to build and structure a trauma center.
RELATED: Trauma forms the invisible ruins ISIS left behind on the Nineveh Plains
"If we lose towns, okay, but if we lose people, they are harder to get back." Hanna said the center is not meant to be an answer to "solve the whole problem, but to have a normal life."
Hanna said the center used to host volunteer psychologists to meet with people interested in therapy, but they have all come from abroad. The 2017 referendum vote in favor of Kurdish independence has made it harder for them to come due to border problems and increased complications in obtaining a visa.
And while the Church has been offered some support through NGOs, "now we need more," he said, adding that whether it is structures or people, "we have to rebuild step-by-step."
But for this to happen, the Iraqi government must be made aware of "the need for greater respect here," he said, noting that NGOs have given more support to the villages on the Nineveh Plains than the federal government, "and it makes us feel like IDPs in our own country."
Yet despite the difficulties, as priests, Hanna said, "the first thing for us is [to ensure] that people should never lose hope."