Pro-lifers call SCOTUS abortion decision a 'new low'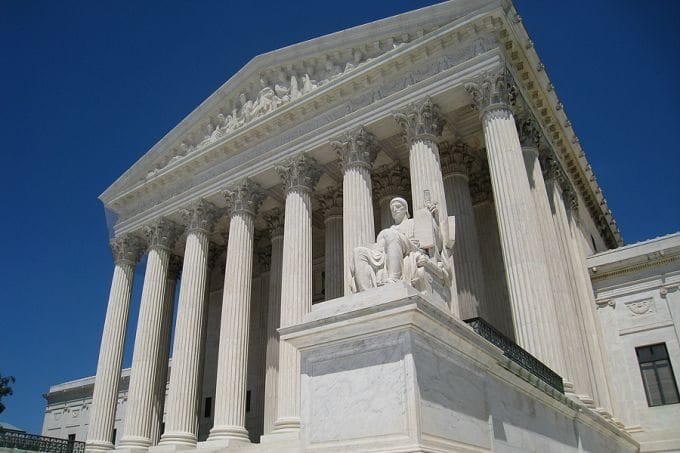 Catholics and pro-life activists expressed disappointment but little surprise over Monday's Supreme Court ruling that struck down parts of a Texas law placing restrictions on the conditions in which doctors could perform abortions.
"This is a new low in abortion jurisprudence," said Lucia Silecchia, a professor of law at Catholic University of America's Columbus School of Law.
"Today, all who care about the dignity of human life, not just the Catholic community, should mourn a decision that combines disrespect for the life of the unborn with a cavalier attitude toward the well-being of women," Silecchia said.
Some Catholics see the ruling not only as a blow to pro-life causes to protect the life of the unborn child, but as negligence to protect women's health as well.
"The Court has rejected a common-sense law protecting women from abortion facilities that put profits above patient safety," said Deirdre McQuade, assistant director for pro-life communications at the U.S. Conference of Catholic Bishops' Secretariat of Pro-Life Activities.
"Abortion claims the lives of unborn children, and too often endangers their mothers, as well. This ruling contradicts the consensus among medical groups that such measures protect women's lives," McQuade said.
Some pro-life advocates see the Supreme Court ruling as especially incongruous with laws in states like California which require licensed pro-life pregnancy facilities to post publicly advertisements notifying clients about the availability of abortion services provided by the government or else face a fine.
"It's an irony for us," said Sandra Palacios, Associate Director for Governmental Relations at the California Catholic Conference. "Abortion clinics are run with a double standard. The courts continue to reject restrictions on abortion services, but they impose restrictions to operate pro-life centers," Palacios said.
"For pro-life centers, the right to freedom of speech and religious freedom is taken away, while abortion clinics are promoted," Palacios said.
In a 5-3 decision, the Supreme Court declared that the Texas law's restrictions on access to abortion made for an "undue burden" and "impermissible obstacle" on the rights of women seeking abortions.
The ruling also garnered blunt criticism from Rep. Tim Huelskamp (R-Kan.), a Catholic.
"According to the U.S. Supreme Court, there is no higher moral right than the "right" to kill your baby. As a Catholic – and it is a biological fact – I know there can be nothing further from the truth," Huelskamp said. "The sanctity of human life, especially the most innocent, should be society's first priority."
"This decision, once again, makes it abundantly clear: this Court will do, say, or oppose anything, including common sense health and safety standards, to promote their dedication to abortion as the sacrament of the Left," Huelskamp said.
In 2013, the Texas Legislature enacted a law requiring that doctors who perform abortions have admitting privileges to nearby hospitals for medical emergencies and that abortion facilities must meet the same building standards as ambulatory surgical centers.
The Supreme Court ruled that neither of these provisions offered enough medical benefits to outweigh the burdens they impose on women trying to access an abortion facility.
And that raises a double standard that undermines states' efforts to include abortion facilities in health regulations, advocates of the Texas law argue.
"Unfortunately, this decision goes against the critical interest Texas and other states have in passing basic health and safety rules for abortion facilities," said Steve Aden, senior counsel and director for the Center for Life Alliances at the Alliance Defending Freedom.
When then-Governor of Texas Rick Perry signed the law in 2013, there were around 36 abortion clinics in the state. By 2015, that number had dropped to ten, according to the website Fund Texas Choice.
Proponents of the law said its requirements were intended to protect women's health and raise abortion clinics to the same standards as similar outpatient surgical providers.
"Justice Breyer's decision ignores the fact that Texas merely sought to raise abortion providers to the same level as other similar outpatient surgical providers," Aden said.
"In doing so, the Court seems to be saying that whether an abortion regulation is "undue" depends on how many facilities can comply with it – a dubious proposition in a health market where providers like Kermit Gosnell seem to be common," he added.
In 2013, Gosnell, an abortion provider in Pennsylvania, was charged with first-degree murder in the deaths of three infants who were born alive and then killed outside of the womb after botched abortions.
A Grand Jury report issued in 2011 found that Gosnell operated his clinic in extremely unsanitary conditions without improper equipment and fraudulently employed unqualified staff.
But abortion rights proponents said that the Texas laws created unnecessary burdens on women without protecting their health and had little basis in sound medicine.
"There is absolutely no evidence that any abortion facilities provide below-standard care," said Ana Sandoval, a spokesperson for Planned Parenthood Affiliates of California.
"In fact, the reverse is true. Abortion is one of the safest medical procedures in America with a miniscule complication rate," Sandoval said.
The Supreme Court rarely considers cases about abortion. The last time it considered an abortion case was in 2007, when it upheld a partial-birth abortion ban.
The previous ruling from the Supreme Court regarding abortion was Planned Parenthood v. Casey in 1992, when the court allowed states to enact laws restricting abortions as long as they did not create an "undue burden" or "substantial obstacles" to a woman seeking an abortion, affirming its previous 1973 decision in Roe v. Wade.
Although yesterday's Supreme Court decision was important, it did not directly address the key issue itself: the ethics of abortion, according to Silecchia, the law professor.
"Ultimately, though, the unintended reminder from the Court is that while the intricacies of abortion restrictions are important, they do not mask the need to take a deep, honest look at the morality of Roe itself," said Silecchia.
"There is no moral way to do a wrongful act," she said.